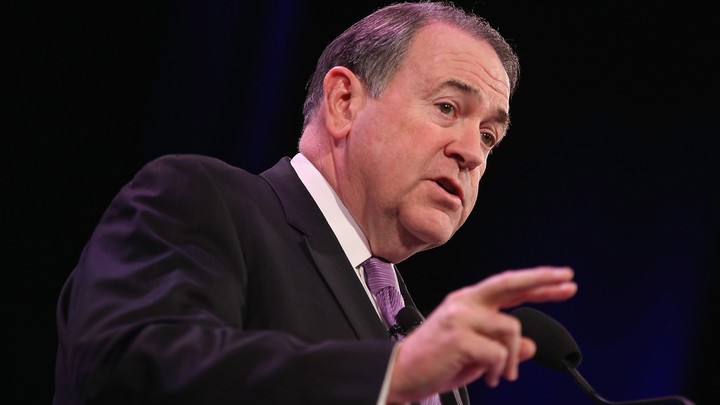 "Dear Wayne," Arkansas Gov. Mike Huckabee wrote in January 1997 to a convicted rapist with a record of murder and sexual-abuse charges that reached back 25 years. "My desire is that you be released from prison." Huckabee soon got his wish and Wayne DuMond was freed to move to Missouri, where he almost immediately raped and murdered Carol Sue Shields. Her mother blamed Huckabee.
The complex and sordid DuMond case, which I covered from Arkansas in the late 1980s and early 1990s, has always struck me as a window into Huckabee's judgment as chief executive. Convinced that DuMond had experienced a religious awakening in prison, the former Baptist minister defended a sexual predator—defying public opinion and common sense to side with a vocal minority of evangelicals.
That might ring a bell. Today, the GOP presidential candidate is standing behind the Duggar family of Arkansas following the admission by eldest son Joshua Duggar that he molested children, including his own siblings, as a teenager. "No purpose whatsoever is served by those who are now trying to discredit Josh or his family by sensationalizing the story," Huckabee wrote in a Facebook post. "Good people make mistakes and do regrettable and even disgusting things."
Kudos to Huckabee for embracing forgiveness, a virtue sorely lacking in public life. While I could be snarky and ask whether he still thinks homosexual couples shouldn't raise children, I don't think hypocrisy is the issue as much as judgment.
Taken with the DuMond case, Huckabee's full-throated defense of the Duggars fits the pattern of a thin-skinned leader blinded by faith and opportunism.
From Politico:
"No one needs to defend Josh's actions as a teenager, but the fact that he confessed his sins to those he harmed, sought help, and has gone forward to live a responsible and circumspect life as an adult is testament to his family's authenticity and humility," (Huckabee) continued, noting that those enjoying the revelation of Josh's "long ago sins" only "revealed their own insensitive bloodthirst, for there was no consideration of the fact that the victims wanted this to be left in the past and ultimately a judge had the information on file destroyed—not to protect Josh, but the innocent victims."

Huckabee said he and his wife love the entire family.

"They are no more perfect a family than any family, but their Christian witness is not marred in our eyes because following Christ is not a declaration of our perfection, but of HIS perfection," he wrote.
Loyalty and spirituality are traits to be admired in a leader. Huckabee could have checked those boxes with a "no comment" and private prayers. Instead, he made the strategic choice to defend a mother and father who did not respond immediately to sexual abuse inside their own home—and he deflected for them with a dishonest attack-the-messenger gambit.
A police report shows that the parents, Jim Bob and Michelle, waited at least a year after finding out about the abuse to take any action. The father, a former state representative who worked with Huckabee in Arkansas, initially said the son was sent to a "Christian ministry" for counseling. Michelle Duggar later said they simply sent him to stay with a family friend.
How do you defend that? Huckabee didn't, exactly—but he gave the family cover with an outlandish attack against their critics. His hyperbole—"enjoying the revelation" "... "own insensitive bloodthirst"—is vintage Huckabee, reminiscent of how he responds to reports of his numerous ethics lapses in Arkansas.
For all his strengths (he was a popular and relatively successful governor), there is a prickly side to Huckabee that twists facts and events to fit his self-loving version of the truth.
On the DuMond case, for instance, Huckabee still suggests he had nothing to do with the rapist's release. The facts are different.
Less than a decade after his first sexual assault conviction, DuMond was convicted and sentenced to life in prison for raping a 17-year-old cheerleader and third-cousin of then-Gov. Bill Clinton. In 1985, after his arrest and before his trial, DuMond claimed he was attacked in his home by two men and castrated. The local sheriff publicly displayed Dumond's testicles.
In 1990, Clinton refused a recommendation of the state parole board to commute DuMond's sentence to time served. After Clinton became president, some conservatives circulated absolutely unfounded allegations that Clinton had framed DuMond for the rape. Clinton's successor as governor, Democrat Jim Guy Tucker, commuted the sentence to 39 years, which made DuMond eligible for parole.
Elected by Clinton-loathing conservatives, Huckabee supported DuMond's release and wrote the "Dear Wayne" letter, explaining why he was insisting that parole come with supervision. In violation of state open-meetings laws, Huckabee met secretly with the state board and, according to participants, strongly encouraged DuMond's release. Huckabee denies that he pressured the board, which granted parole the same month Huckabee wrote his "Dear Wayne" missive.
Huckabee's denial rings hollow to anybody who's examined the case. When Huckabee recently told CNN, "The only action I had in the case of Wayne DuMond was to deny clemency," National Review countered with a fact check: "Huckabee is about as accurate in this account as the little boy who insisted he didn't steal the cookie from the cookie jar; it was just his hand that had done it."
Huckabee thinks he can sell snake oil even to water moccasins, the conservative outlet concluded. "Neither the moccasins nor Republican voters should buy what he's selling."
Now he's selling his self-righteousness in defense of the Duggars. Don't buy it.
We want to hear what you think about this article. Submit a letter to the editor or write to letters@theatlantic.com.