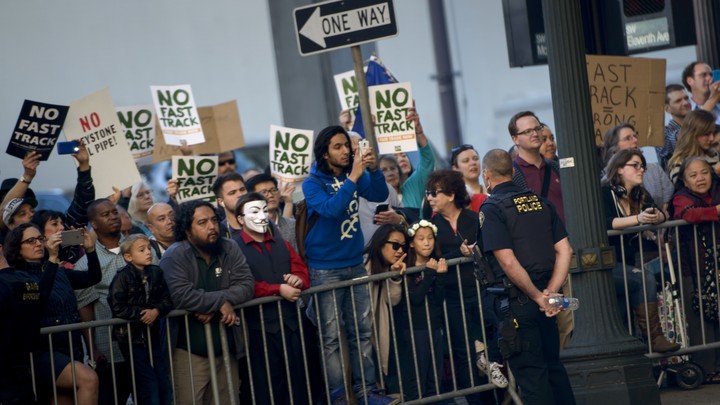 As the Senate votes on the Trans-Pacific Partnership today, the paradox of the trade debate is that President Obama is facing the most resistance from congressional Democrats, even though polls now show more support for free trade among rank-and-file Democrats than Republicans—and new economic data show that exports are generating the most jobs in blue urban strongholds like New York, Los Angeles, Chicago, and Seattle.
A Next America analysis has found that Democrats hold a clear majority of House seats in the 20 metropolitan areas that derive the most jobs from exports. Moreover, the Democrats from those export-dependent areas now represent a preponderant majority of all House Democrats. Yet even Democratic supporters of the expedited legislative authority Obama is seeking to complete the Asian trade deal say he faces an uphill climb to win support from as many as one-quarter of House Democrats.
This disconnect underscores the influence among Democratic legislators of liberal groups and unions deeply skeptical of free trade as well as the disappointment in the party about the economic payoff from the North American Free Trade Agreement Bill Clinton completed during the 1990s. But it also captures how many Democrats may be operating with obsolete assumptions about the preferences and interests of their supporters as the party's demographic and geographic base of support evolves.
The importance of exports to metro economies has opened a revealing divide between House and Senate Democrats, who are mostly resisting Obama's request for expedited Trade Promotion Authority, and Democratic mayors, who are mostly supporting it. The U.S. Conference of Mayors, which is dominated by Democrats, has endorsed the Trans-Pacific Partnership deal and the trade-promotion authority for Obama. Providing Obama with expedited legislative authority and completing the Asian deal, which would lower trade barriers among 12 countries including America, "is a critical step to ensuring that the United States and its metro economies remain leaders in the global market place," conference president Kevin Johnson of Sacramento and vice-president Stephanie Rawlings-Blake of Baltimore, each African-American Democrats, wrote to Senate leaders on May 12.
Houston Mayor Annise Parker, also a Democrat, was even more emphatic in a conference call with reporters. "We live on trade," Parker said of her city. "It is important to our economy, it keeps people employed, and we absolutely believe it's our future."
New data released May 13 by the Brookings Institution's Metropolitan Policy Program helps explain the mayors' tilt toward trade. Though overall U.S. exports first slowed, and then declined after early 2014, Brookings found that fully 86 percent of U.S. exports now originate from urban areas. Moreover, exports drove more than one-quarter of all metro area economic growth from 2009-2014. "This has metro leaders and elected officials placing an increasing focus on exports as a way to grow and maintain their regional economies," said Bruce Katz, the Metropolitan Policy Program's codirector, in an email. In their letter to Senate leaders, Johnson and Rawlings-Blake indicated the conference's own forecast projects that exports will account for one-third of metro areas' economic growth in coming years.
The cities at the very top of the list for export-related jobs overwhelmingly tilt toward the Democrats. The Metropolitan Policy Program's analysis found that the cities that generate the most jobs from exports include such Democratic bastions as New York, Los Angeles, Chicago, Houston, Seattle, Dallas, Boston, San Francisco, Washington, D.C., Detroit, Philadelphia, Atlanta, Portland, San Jose, and Minneapolis.
In all of those cities, Brookings calculates that exports support at least 132,000 jobs. Export-related jobs account for around one-in-six of all jobs in the Seattle metro area, about one-in-seven in Portland, Oregon, and San Jose, California, about one-in-eight in Houston and San Francisco, and roughly one-in-nine in Los Angeles, Miami, and Detroit, the analysis found. Exports contribute just over one-in-ten jobs in New York, Boston, Charlotte, and Las Vegas, and just slightly less than one-in-ten in Chicago, Dallas, and San Diego. (The Metropolitan Policy Program calculates metro-area jobs linked to exports by adding the direct jobs supported by export revenue, the jobs created by businesses supplying parts or services to the exporting industries, and jobs in freight and transportation related to shipping goods abroad.)
Democrats now control the mayor's office in 18 of the 20 cities that anchor the metro areas that Brookings found derive the most jobs from exports. (The only exceptions are Republicans Kevin Faulconer in San Diego and Tomas Regalado in Miami.) More relevant to Obama's immediate challenge, a Next America analysis found, Democrats control 121 of the 203 House seats mostly situated in those 20 metropolitan areas. That means Democrats now control about three-fifths of all the House seats in the metro areas producing the most jobs from exports. Put another way, representatives from just these 20 high-export metro areas account for almost two-thirds of all 188 House Democrats.
(Next America assigned members of Congress to each metropolitan area using the Missouri Census Data Center's Geographic Correspondence Engine, which overlays congressional district with 2013 Census data. In cases where districts overlapped metropolitan areas, Next America allocated the seat to the metro with the largest share of the district's population.)
Though House Democrats are heavily dependent on the regions most dependent on exports, Obama in his push for expedited trade authority is struggling to attract enough of them to fill a few minivans. His difficulties distinctly echo Bill Clinton's troubles with House Democrats over the same issues. In 1993, a majority of House Democrats voted against NAFTA; in 1998, four-fifths of House Democrats voted to deny Clinton the same expedited legislative authority to pass future trade deals that Obama is seeking now.
What makes the continued Democratic resistance to Obama especially striking is that since Clinton's day, the party's underlying incentives have shifted even further toward supporting trade. Compared with Clinton's era, Democrats now are even more reliant on the urban areas that benefit most from exports. And relative to the 1990s, Democrats are less reliant on the voting blocs, especially blue-collar whites, usually the most skeptical of trade agreements.
The unexpected result is that a series of recent surveys have found that Democratic partisans now express more support for free trade than rank-and-file Republicans—inverting the historic party stereotypes. In last month's national NBC/Wall Street Journal poll, a 43 percent to 26 percent plurality of Democrats said that free trade has done more to help than hurt the United States, while Republicans narrowly split in the opposite direction (33 percent said it helped, 36 percent said it hurt). Similarly, a Pew Research Center for the People and the Press poll in 2014 found that 63 percent of Democrats (including independents who leaned toward the party) compared with 57 percent of Republicans (and leaners) believed "free-trade agreements between the U.S. and other countries have been a good thing" for the country. In 2001, by contrast, Pew found that more Republicans than Democrats thought NAFTA had been a good thing for the country.
The shift, of course, may partly reflect Democrats rallying around Obama as he more visibly makes the case for expanded trade. But the role reversal began before Obama's spotlighted the issue. The change also reflects the Democrats' diminishing electoral reliance on blue-collar whites generally dubious of free trade and their increasing dependence on both the college-educated whites and minorities who are more open to it. In last year's Pew poll, for instance, fully 71 percent of Democrats holding at least a four-year college degree and 64 percent of nonwhite Democrats, said free trade had done more to help than hurt the country.
Despite those numbers, Obama is facing stony resistance from most congressional Democrats. Jim Kessler, vice president for policy at Third Way, a centrist Democratic group that supports the Trans-Pacific deal, says that active lobbying from mayors supporting expanded trade may prod some additional Democratic representatives to back it. But, he says, Obama's ceiling for support when the House votes on expedited trade authority may be as low as one-quarter of Democrats. The core of Obama's problem, Kessler argues, is institutional: The most powerful organized groups within the Democratic coalition are all trade skeptics.
"If there was a secret ballot on [trade authority], half of the Democrats would vote for it in the House, is my guess," Kessler says. "[But] nearly all of the Democratically aligned interest groups that can really bring both grassroots and money into campaigns are opposed to trade deals, whether it's the labor unions or the online grassroots organizations. So if you are sitting in a congressional office, it doesn't feel like there is as much support [in the party] as public-opinion polls say. And that still has an effect."
The trade debate hasn't been completely immune to the parties' shifting demographic and geographic incentives. Against the backdrop of the GOP's growing reliance on rural and blue-collar whites, conservative populists like presidential contender Mike Huckabee have denounced Obama's push for trade-promotion authority. Still, the Senate and House debates over trade will almost certainly end with most Republicans in both chambers supporting Obama's request and most Democrats opposing it. That's an alignment both parties would have recognized in 1970.
---
Janie Boschma and Stephanie Stamm contributed to this article
We want to hear what you think about this article. Submit a letter to the editor or write to letters@theatlantic.com.