The Reinvention of Summer School
A new wave of free programs let lower-income students brush up on academics while having some summer fun.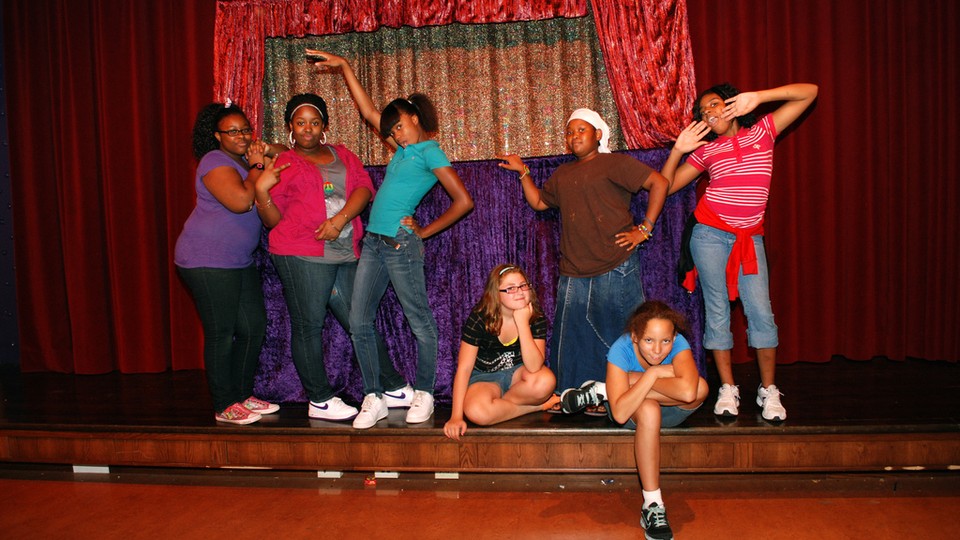 School buses in Pittsburgh don't stop rolling in the summer. From late June to early August, they transport children from all over the city to school buildings transformed into quasi-summer camps. In the morning, kids study reading and math. In the afternoon, they might go kayaking or swimming, try out fencing or pottery, visit a museum or learn about local architecture.
Urban school districts like Pittsburgh Public Schools are hoping that fun, academically rigorous summer programs can narrow the academic achievement gap between affluent and low-income children. Now Pittsburgh schools are participating in a foundation-funded study that will shed light on how well such programs work.
Pittsburgh school-district leaders created Summer Dreamers Academy after reviewing the research on summer-learning loss. By the end of the three-month summer break, most kids have forgotten about a month's worth of knowledge from the previous school year, a 2011 report from the RAND Corporation found.
But while all children tend to lose math skills over long breaks, low-income kids tend to lose both math and reading skills. "Those losses are cumulative," says Sarah Pitcock, chief executive officer of the nonprofit National Summer Learning Association. One Baltimore study found that summer-learning loss accounted for most of the growth in the reading achievement gap from first through fifth grade.
Pitcock says there's a common-sense explanation for the disparity. "Higher-income kids are going to museums, they're going to the library, they're taking trips, they're in print-rich environments, and they have age-appropriate books in the home, but they don't necessarily practice math over the summer," she says. Low-income children are less likely to get any kind of enrichment.
Pittsburgh Public Schools already offered a summer-learning program when it rolled out the Summer Dreamers Academy in 2010. But the existing program only served elementary-school students and wasn't well attended or particularly innovative, says Christine Cray, project manager for Summer Dreamers.
The new program—which is voluntary, and free to students—combines classroom instruction with activities provided by community groups and infuses fun throughout the day. The morning might begin with a dance-off, and every school site has a theme; one of Cray's favorites was "Hollywood."
Initially, Summer Dreamers was funded by federal stimulus dollars and was open to only to students in the middle grades. Since 2012, it has been funded by a mix of district and foundation funds, and it has expanded to serve students from kindergarten through seventh grade. Currently, the 27-day program serves some 1,800 students at a cost of roughly $1,200 per student. Enrollment preference goes to students with low test scores and students from low-income families. Approximately three-quarters of the campers each year are African-American (the district's overall student population is just over half African-American).
The same year the Summer Dreamers Academy opened, a Boston nonprofit called Boston After School and Beyond launched a collection of summer programs hosted by community organizations across the city, from college campuses to local YMCAs.
Like the Pittsburgh program, the Boston Summer Learning Project blends academics and fun activities, is voluntary, and is free to students. But it puts more emphasis on using the city as a classroom. "What we've been focused on is using opportunities outside of schools to build these so-called noncognitive skills"—like perseverance and team work, says Chris Smith, president and executive director of Boston After School and Beyond. Right now, the Summer Learning Project relies on a mix of philanthropic funding and financial support from Boston Public Schools, serves about 1,500 students directly (more students are served through a wider network of community organizations), and costs about $1,500 per student.
Programs like these can open up a space for education innovation, encourage teachers to create more engaging lessons, and get community groups more involved in helping children learn.
But they're not easy to establish or to maintain. For one thing, high-quality summer experiences cost money. And most cities don't have a dedicated summer-learning infrastructure—like an office run by the school district. "The problem is, it's not somebody's job," Pitcock says.
A stigma still surrounds traditional, remedial summer school, and some parents are reluctant to sign their kids up for an academic program during what is primarily seen as a vacation for kids. "We even deal with it with our own staff and parents—'Summer is a time for my kid to relax,'" says Cray. It's crucial, she says, to create programs that kids actually want to attend.
Parents and funders might change their minds if research showed a clear benefit to summer-learning programs. To that end, The Wallace Foundation—a funder of the Boston Summer Learning Project and the 2011 RAND study—is sponsoring a randomized controlled trial of summer-learning programs in five cities, including Boston and Pittsburgh. Researchers have already collected data on some 5,600 children over two years, starting the summer after third grade.
Early results suggest that city programs are helping kids build math skills but aren't doing much to improve reading skills. Cray says the finding has pushed Summer Dreamers to take a closer look at its literacy program and make changes.
There may be limits to what a four- or five-week summer intervention can accomplish. "Concentrated poverty at the neighborhood level—those conditions are ever-present in children's lives," says Karl Alexander, a sociology professor at Johns Hopkins University. Helping low-income kids keep up with their more affluent peers requires support every step of the way: during early childhood, after school, and during the summers.
But if summer programs aren't a silver-bullet solution, they're still a piece of the puzzle. "It's frankly what middle-class families do for their own kids," Smith says. "That's where we put our money, in the summer time."
Next America's Education coverage is made possible in part by a grant from the New Venture Fund.