The Problem With Hillary's 'Old Friends'
Newly released memos from Clinton-loyalist Sidney Blumenthal, sent during Clinton's tenure at the State Department, are raising eyebrows.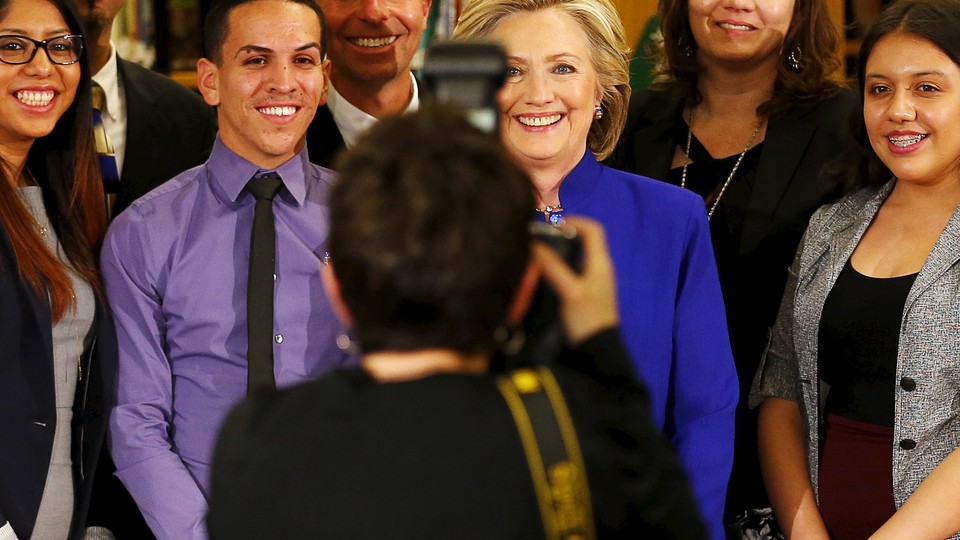 First, it was Hillary's private server. Now, it's her private network.
On Monday, The New York Times reported on Libya-themed memos from longtime Clinton friend Sidney Blumenthal, which were sent to Hillary Clinton during her time at the State Department. The two dozen or so missives are said to "make up about a third of the almost 900 pages of emails related to Libya that Mrs. Clinton said she kept on the personal email account she used exclusively as secretary of state."
In the memos, Blumenthal dishes warnings, business gossip, and intelligence assessments relating to Libya. Clinton forwarded some of them along to staff as credible or noteworthy, but her state-department staff often dismissed or derided them for their poor sourcing.
The substance of Blumenthal's memos, though, isn't as noteworthy as the fact that Blumenthal was working with people trying to do business within Libya when he sent them, and not laboring as a bona fide public official at Foggy Bottom.
"Much of the Libya intelligence that Mr. Blumenthal passed on to Mrs. Clinton appears to have come from a group of business associates he was advising as they sought to win contracts from the Libyan transitional government," a later Times report noted. "The venture, which was ultimately unsuccessful, involved other Clinton friends, a private military contractor and one former C.I.A. spy seeking to get in on the ground floor of the new Libyan economy."
The memos covered everything from warnings about possible terrorist attacks and the rise of the Muslim Brotherhood within Libya to the potential training of Libyan rebels and the hiring of new economic advisers by the Libyan premier. As the National Journal reports, the House Benghazi Committee is already seeking Blumenthal's testimony.
So what to make of all of this? Blumenthal's associates don't seem to have profited from his efforts. Clinton herself has long touted her ability to leverage longtime friends and informal relationships as a key asset. Here, she seems to have used her network to supplement the often-limited views she receives through formal channels.
That, at any event, is the benign view. To her critics, it is just the latest episode in a long pattern of similar behavior, blurring the lines between public service and private profit. Back in 2013, Huma Abedin's status as a special government employee in the Clinton state department drew attention and scrutiny. Abedin served as a senior adviser at the same time she was paid by the Clinton Foundation, by a consulting firm run by a Clinton retainer, and as a personal assistant to Hillary Clinton.
"This raises important questions about whether her dual role was adequately disclosed to government officials who may have provided her information without realizing that she was being paid by private investors to gather information," Iowa Senator Chuck Grassley wrote at the time.
Speaking of the Hawkeye State, on Tuesday, a court filing revealed the State Department's plan not to make all 55,000 pages of Clinton emails from her tenure public until January of next year, just two weeks before the Iowa caucus. The federal judge overseeing the case found that unacceptable, and has ordered the department to submit a schedule for releasing them in batches, as soon as possible. That raises the prospect of further revelations at regular intervals through the summer and fall, keeping the story in the spotlight, at a time when Clinton would rather be focusing on her campaign.
L'affaire Blumenthal also coincides with another transparency-related mini-drama over Clinton's ostensible unwillingness to field questions from the press. To dispel that criticism, Clinton spontaneously took questions from the press in Iowa on Tuesday afternoon. In response to a question about Blumenthal, Clinton characterized his memos as "unsolicited emails which I passed on in some instances." She took the tack that her ability to include outside perspectives was an important part of avoiding "the bubble."
"I'm gonna keep talking to my old friends no matter who they are," she said. With some emphasis, she also declared, "I have many, many old friends."