The Pentagon Gets Two New Top Generals
Marine General Joseph Dunford and Air Force General Paul Selva have been tapped to serve as chairman and vice-chairman of the Joint Chiefs of Staff.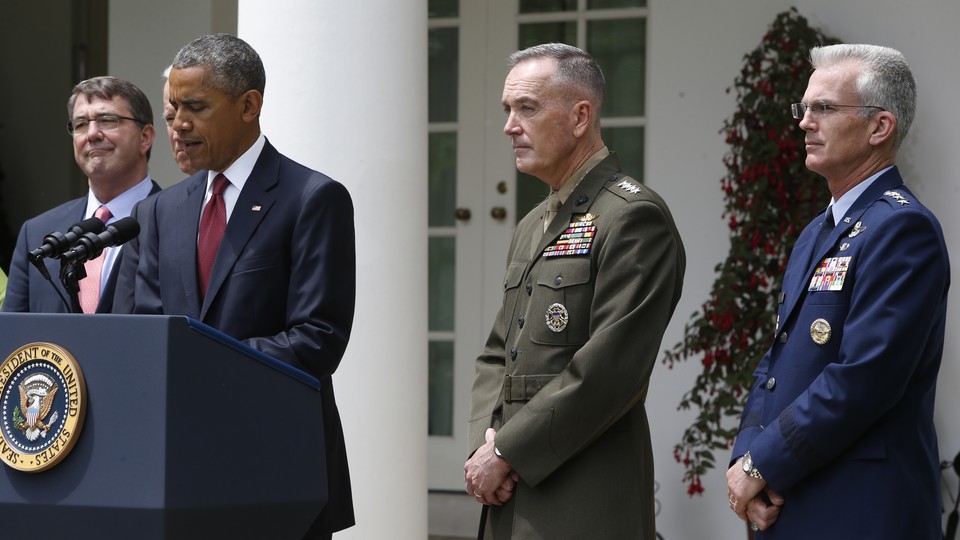 On Tuesday, President Obama nominated Marine General Joseph Dunford and Air Force General Paul Selva to the Pentagon's top two posts.
Dunford, known as "Fightin' Joe," served as the top American officer and coalition commander in Afghanistan during the 2013-2014 transition period when Afghan forces took over operations from American troops, and is currently the commandant of the U.S. Marine Corps. Dunford, who would replace General Martin Dempsey as the Chairman of the Joint Chiefs of Staff, has enjoyed a meteoric rise through the ranks, going from the single star of a brigadier general to four-star rank in little more than three years.
"I know Joe. I trust him," the president said during an introduction ceremony at the White House Rose Garden. "He's already proven his ability to give me his unvarnished military advice." Dunford's selection was quickly praised by leading Republican lawmakers including Senators Lindsey Graham and John McCain.
Paul Selva's nomination for vice-chairman slot was a little bit more curious. Selva's distinguished career included a stint as the top military aide to Hillary Clinton during her time as secretary of state; should Clinton prevail in 2016, she would find a trusted assistant near the top of the Pentagon's hierarchy. Marcus Weisgerber at Defense One offers some other points of interest:
While Dunford's nomination was widely expected, Selva's nomination is perhaps more significant: no Air Force general has held either of the top two slots on the Joint Chiefs since General Richard Myers stepped down as chairman in 2005. As well, Obama's nomination of Selva—a cargo and aerial tanker pilot—is unusual for a service that has historically recommended only fighter and bomber pilots for its highest billets.
Selva's nomination, like Dunford's, was applauded on both sides of the aisle. "General Selva's extensive experience as an operational and strategic leader would be a welcome addition to the Joint Chiefs of Staff," said Senator John McCain. "The Senate Armed Services Committee will give these nominations prompt and thorough consideration."