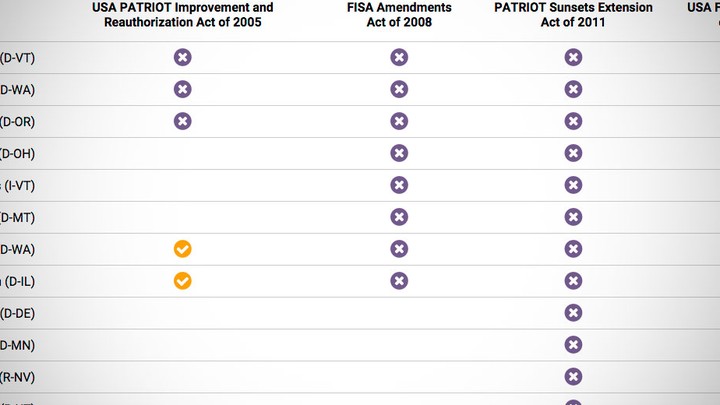 With the Senate's failure early Saturday to address the expiring provisions of the Patriot Act, we now wait for next weekend, when debate will begin anew.
What senators decide will shape the future of electronic monitoring in the United States—either by extending surveillance privileges unchanged, passing a reform bill, or letting three spy powers of the Patriot Act, including Section 215, expire.
So who stood where? To find out, we pulled the Senate's votes overnight on the USA Freedom Act and a proposal to extend the status quo through July, as well as four past pieces of USA Patriot Act legislation, including three requests for reauthorization and the doomed 2014 reform bill.
Votes in orange advanced the Patriot Act. Votes in purple opposed or sought to reform it. Question marks mean a senator was in office but didn't vote.
We want to hear what you think about this article. Submit a letter to the editor or write to letters@theatlantic.com.
Andrew McGill
is a former senior product manager at
The Atlantic
.