The Patriot Act's Last Defenders
A determined band of Senate hawks faces the White House, the House, and public opinion.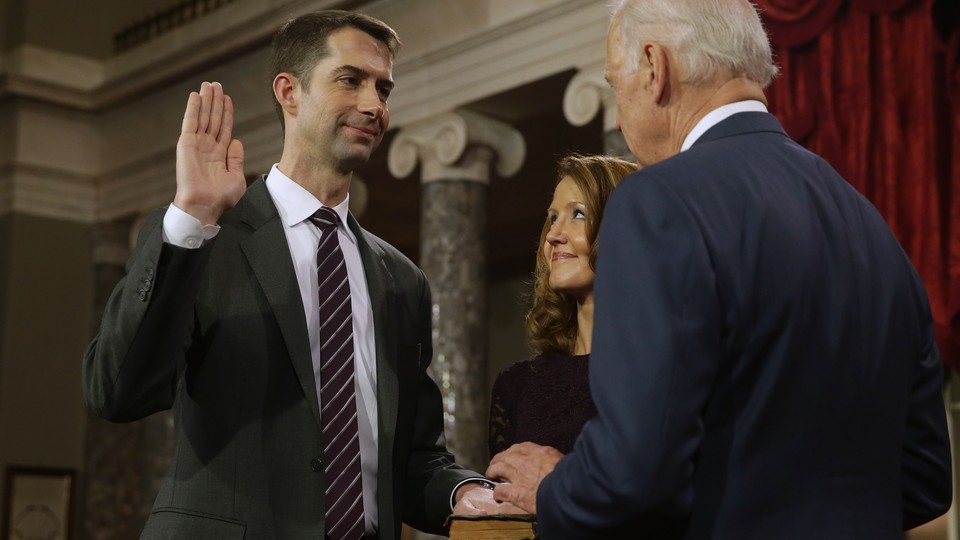 On one side are the president, the public, a recent appellate-court decision, and an overwhelming bipartisan majority of the House. On the other is a cast of Senate Republican hawks, pushing for the federal government to continue the bulk collection of phone-call records from millions of Americans.
While their clout has diminished since the devastating Edward Snowden leaks— as recently as 2011, the majority of Democratic senators joined Republicans in reauthorizing key provisions of the Patriot Act —these senators' actions have thrown into doubt the outcome of a bill to reform the National Security Agency with only days to spare before a drop-dead deadline at the end of the month.
Driving that strategy are Senate Majority Leader Mitch McConnell, Senate Intelligence Chairman Richard Burr, and a handful of others. Their ranks include Sen. Tom Cotton of Arkansas, a freshman Republican who voted for a version of the reform bill—known as the USA Freedom Act—last year but has since come out strongly in favor of the NSA's authorities due in part to "hours and hours" spent with members of the intelligence community and increased access to information as a new member of the Intelligence Committee.
"My preference would be to permanently extend all three authorities," Cotton said in an interview, referring to the bulk-collection power as well as a provision allowing surveillance of "lone wolf" suspects not linked to any formal terrorist group or government, and another allowing "roving wiretaps" to target individuals instead of a specific device. "But if that's not the will of the Senate, I certainly don't want to see them die on May 31, whether they die a natural death because they expire with no action taken or whether they die because the USA Freedom Act functionally ends the operational effectiveness of them."
Cotton blocked a move Tuesday by Republican Sen. Mike Lee of Utah to proceed to the House's NSA-reform bill, which would effectively end the NSA's bulk collection by forcing the agency to request access from the Foreign Intelligence Surveillance Court in order to obtain records retained by phone companies. Cotton argued that the Senate needs to complete its work on trade legislation, which could lead to major pacts with European and Asian countries but is not time-sensitive. Opponents saw the move as a way to push the NSA debate to the last minute to force a short-term extension and increase the hawks' leverage in the future.
"I've been trying to close this program since 2006, and it's always been part of the same pattern," said Democratic Sen. Ron Wyden of Oregon, who believes Americans need better privacy safeguards. "Those who want the status quo wait pretty much until the last minute—they say it's a dangerous world [and] we have to have this. There's no question it's a dangerous world. I'm on the Intelligence Committee, I certainly agree with that. But this is a program that does not make America safer and impedes our liberties."
The Senate GOP conference invited a former attorney general for George W. Bush, Michael Mukasey, to brief the senators during lunch Tuesday and drive home what security hawks believe: that the House bill would take away a vital tool from the NSA at a time when terrorist threats are popping up everywhere.
"Everybody in the [Obama] administration said they could live with it," said Burr. "But they can't tell you how. And that's an important thing. NSA says we think we can do a computer program that searches the databases in the telecoms. You think? Well how much time do you need to have certainty?"
Burr added: "The way I look at it, if you do what the House did, you've done away with the [surveillance] program. So there's no difference between that and expiration."
The hawks now are whipping against the House reform bill, which has the support of almost all Senate Democrats and some libertarian-leaning Republicans. Realizing that a permanent or years-long extension of the NSA's authorities is improbable, they hope that enough members in the middle will come together to pass a short-term bill extending the NSA's authorities to figure out a compromise. Even Lee, a co-sponsor of the USA Freedom Act, is open to passing a two-week extension to allow the bill to come up for amendments and debate.
Freshman Sens. James Lankford of Oklahoma and Thom Tillis of North Carolina have also expressed their openness to a temporary fix this week, and moderates like Sens. Susan Collins and Angus King of Maine could be wooed given their opposition to the House bill. In a battle where no one appears to have 60 votes, the hawks think they can force the Senate to kick the can down the road and buy themselves more time to regroup.
"Well, 37 returning Republicans voted no on the USA Freedom Act in November, and 12 new Republicans were elected," Cotton said. "And many of them did campaign strongly on strong national security and stopping terrorist groups like the Islamic State."
But complicating the hawks' rosy picture is the opposition led by Wyden and Sen. Rand Paul of Kentucky, who began to rail against NSA abuses on the Senate floor Wednesday afternoon. Wyden said that even a two-week extension is "two weeks too long for a flawed policy" and he is going to do "everything possible to stop a short-term extension."
The privacy advocates can also rely upon a handful of GOP freshmen senators—Cory Gardner of Colorado, Steve Daines of Montana and Bill Cassidy of Louisiana—who voted for a 2013 House amendment designed to strip funding for NSA's bulk collection of phone records, as well as crucial Democrats like California Sen. Dianne Feinstein, who said earlier this week she would support the reform bill despite her support for a stronger data retention mandate for telephone companies.
And, of course, there is a pesky recent verdict from the 2nd Circuit Court of Appeals decreeing the bulk collection illegal, buoying the argument of privacy advocates. Hawks, of course, have completely dismissed the ruling.
"The 2nd Circuit opinion is a joke," said Cotton. "Wrong on the law, wrong on the facts, wrong on history. Attorney General Mukasey, who was a federal judge himself, wrote a devastating op-ed critiquing its logic just last week in The Wall Street Journal.
"This is a program that has been reviewed on at least 15 different occasions by 40 different federal judges who are actually qualified to know things about national security, as opposed to 2nd Circuit judges who spend more time dealing with tort law and securities law than they do national security. Obviously, reauthorization by the Congress would eliminate any doubt that the 2nd Circuit or any left-wing activist judge might have had about whether Congress knew what it was or was not doing in 2011."