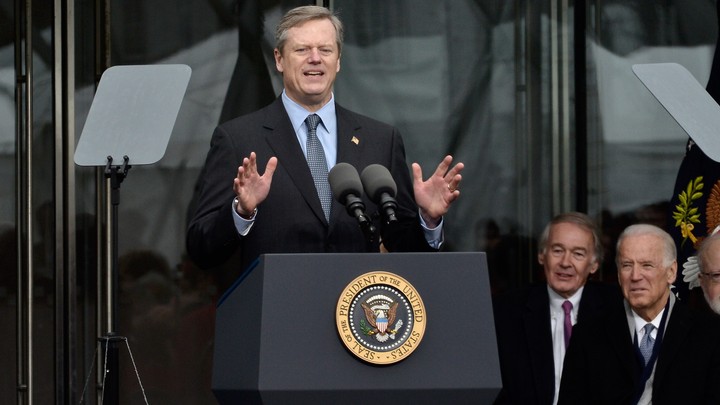 In an era defined by unrelenting partisan conflict, exceedingly popular politicians are not only the exception to the rule but seem to be hovering on the verge of extinction.
And then there's Massachusetts Gov. Charlie Baker. After four months in office, the Republican governor of this deeply Democratic-leaning state is cruising at high altitude, enjoying sky-high approval ratings. And Baker's top advisers and outside observers say the reasons for his popularity are relatively simple: He's just keeping his head down and running the state.
A Suffolk University poll in mid-April showed that 70 percent of Massachusetts voters approved of Baker. Those figures, the envy of virtually any public official, weren't an anomaly, as other surveys have also shown the governor flying high. What's more, Baker's high personal ratings (74 percent of Suffolk respondents said they viewed him favorably) made him more popular than the state's highest-profile Democrat, progressive star Elizabeth Warren.
Virtually the only other governors to notch ratings this high in recent years have been Democrats in deep-blue states or Republicans in deep-red states. Recent polling in conservative Utah and Mississippi, for example, show those governors to be roughly as popular as Baker. But given that Democrats outnumber Republicans around 3-to-1 in Massachusetts, the comparison hardly seems valid.
Observers of all stripes point to the same few things explaining Baker's early success. Baker has demonstrated the managerial skills he promised in his 2014 campaign, is building good working relationships with Democrats, and is adeptly tackling mundane but thorny issues that other governors may not have had the patience for.
The main example: Baker's early interest in taking on long-festering and expensive problems with Boston's crumbling subway and commuter rail system, an issue that became especially pressing under the weight of unprecedented snowfall last winter—the type of natural event that often can torpedo a politician, not boost one.
"I think people view Charlie Baker as the kind of guy who wants to handle something like that. He wants to surround himself with the data. He wants to be able to find the path forward," said Peter Ubertaccio, a political science professor at Stonehill College.
Baker once was a member of then-Gov. Bill Weld's Cabinet. Ubertaccio said Weld "has admitted that when situations like this reared their head during his administration he would kind of raise his hands in exasperation and turn to someone like Charlie Baker to handle it."
Baker senior adviser Jim Conroy believes the governor's bipartisan, hands-on approach and general affability are what's driving his popularity. "It's the constant back-and-forth and negativity and the gotcha that isn't happening here that makes him sort of unique," Conroy said.
"And then, you know, he's twelve feet tall and just buzzed his head for cancer research," Conroy said. "And he's a crazy Dropkick Murphys fan and classic rock trivia buff. There's just a lot of things about him that are different and separate him from the politicians and politics as usual that really turn people off."
Baker has made a point of including Democrats in his administration and working with Democratic leaders in the legislature. The Republican's chief of staff is a Democrat, as are roughly half of his cabinet appointees.
Baker has won praise from some local Democrats for his handling of the snow. Unlike some other state budgets, the rollout of Baker's budget plan included cuts to health care and job training programs but still managed to avoid significant controversy.
Timing also is working in Baker's favor. Were this year's record snowfall to have happened a year or two from now, voters would be likely to lay problems with Boston's subway system at Baker's feet instead of those who came before him.
Baker already is reaping political rewards from his early popularity. Maura Healey, the state's Democratic attorney general, declared last week (a day after the Suffolk poll came out) that she has no interest in running for governor in 2018.
Prior to that announcement, Healey was considered by some pundits to be Baker's likely challenger-in-waiting. But not only has a Massachusetts governor not lost a reelection bid since 1982, Baker has built up an unusual level of strength on the job.
We want to hear what you think about this article. Submit a letter to the editor or write to letters@theatlantic.com.