Obama's Missing Police-Reform Proposal
Eric Holder wanted to make it easier to prosecute civil-rights abuses in federal court, but that push has gone nowhere.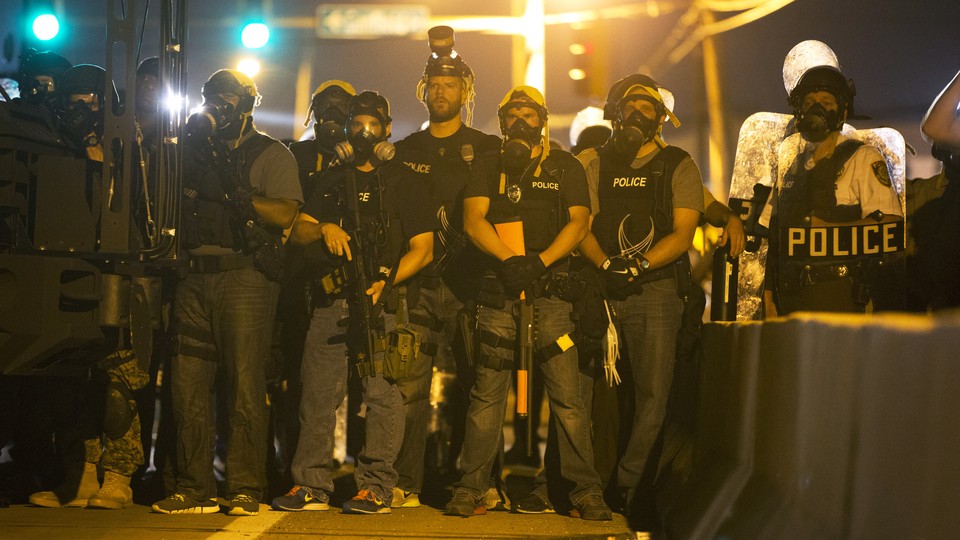 President Obama's Task Force on 21st Century Policing released its final, 116-page report on Monday after six months of work. And the boldest proposal made by former Attorney General Eric Holder was nowhere to be found.
The study included dozens of recommendations for local law-enforcement agencies and the Justice Department aimed at repairing the mistrust between police officers and citizens that has deepened to the point of crisis in communities across the county. The mindset guiding police officers should be that of a "guardian," not a warrior, the panel concluded, and called for better training, more communication and transparency, more community involvement, and better reporting of excessive force incidents. As part of that effort, the president also announced a ban and other limitations on the transfer of certain military-style weapons from the federal government to local law-enforcement agencies.
Missing from those recommendations, however, was any mention of a change in the law that Holder proposed on his way out of office earlier this year: It should be easier, he told reporters, for the federal government to bring charges and win convictions in civil-rights cases, including instances where police officers use excessive force against citizens. The Obama administration evidently decided to make its primary focus the changes it could enact on its own, and those it might recommend to local jurisdictions, instead of asking Congress to pursue a more far-reaching overhaul.
For decades, the Justice Department has functioned as a backstop for local prosecutors who are unable or unwilling to take on such cases, and Holder launched federal investigations into the high-profile deaths of Michael Brown in Ferguson, Eric Garner in Staten Island, Trayvon Martin in Florida, Walter Scott in South Carolina. Local authorities did not secure indictments in Missouri or New York, and George Zimmerman was acquitted in Martin's death in Florida. The federal inquiry in South Carolina will likely wait until after state prosecutors try their murder case against Officer Michael Slager.
Unlike in state and local jurisdictions, the standard of proof is so high in federal cases that even bringing charges can seem futile, casting doubt on just how effective the federal "backstop" can be. Citing conflicting evidence, the Justice Department declined to seek an indictment against Officer Darren Wilson in Ferguson, and officials in February blamed the "high legal standard" for hate crimes as the sole reason they could not prosecute Zimmerman in the 2013 killing of Trayvon Martin. "We do need to change the law. I do think the standard is too high," Holder told NBC News in February. "There needs to be a change with regard to the standard of proof."
Charging Zimmerman for shooting Martin on account of his race would have come under a different statute than prosecuting the officers who killed Brown, Garner, Scott, or Freddie Gray in Baltimore, but both crimes require the federal government to prove that perpetrators acted "willfully" to violate their victims' constitutional rights. "It's not enough to use excessive force. You have to know at the time it was excessive" to be convicted as a police officer, said Margo Schlanger, a law professor at the University of Michigan who tried cases in the Justice Department's Civil Rights Division during the Clinton administration. An officer who claims he fired his gun out of fear—even if that fear was irrational—can therefore escape a federal conviction. "Boiled down into its simplest terms, the cop has to intend to use more force than is reasonably necessary under the circumstances," said William Yeomans, a law fellow at American University who served as acting assistant attorney general for civil rights.
Take the Ferguson case. The Justice Department did not find evidence capable of proving that Darren Wilson "willfully" used excessive force when he shot Michael Brown beyond a reasonable doubt. Yet federal prosecutors noted in their announcement that while state courts could charge Wilson with a lesser crime, such as manslaughter or negligence, the Justice Department did not have that option. "The argument in Ferguson was much stronger that Officer Wilson acted with reckless disregard than that he intentionally set out to kill Michael Brown thinking that he wanted to violate Michael Brown's Fourth Amendment right not to be unreasonably seized," Yeomans explained. "That's just a crime you're never going to make out. Whereas you might make out that he was either reckless or criminally negligent in shooting him."
Despite Holder's comments to NBC News and Politico's Mike Allen in late February, he evidently declined to follow through with a major push during his final two months as attorney general. The Justice Department did not respond to inquiries about exactly what kind of changes Holder wanted to see, and civil-rights experts said they had heard nothing about a behind-the-scenes effort to alter the federal standard. The president's commission on policing didn't take up the cause either, instead focusing their recommendations mostly on changes that police departments or the Obama administration can make on their own. Changing federal civil-rights law, however, requires an act of Congress, and there's little evidence that Republican leaders intend to embrace that cause anytime soon—particularly when police unions are almost certain to oppose any changes making it easier to prosecute their members.
The question of how aggressively to press for changes to the civil-rights law—and how to address policing issues without them—now falls to Loretta Lynch, whose first week on the job coincided with protests and unrest in Baltimore following the death of Freddie Gray. Lynch acted quickly to launch an inquiry into whether the Baltimore Police Department had engaged in a "pattern and practice" of abuses of federal law, similar to federal probes that took place in Ferguson, Cleveland, and elsewhere. Schlanger said those investigations could be just as, if not more effective, than federal prosecutions of individual cops, since they are aimed at jumpstarting institutional reforms. Yet as Politico noted earlier this month, one of Lynch's biggest challenges is that of resources—the relevant section of the Civil Rights Division has about 50 lawyers and cannot possibly take on every police department in the country. "We cannot litigate our way out of the problem," the new attorney general warned in announcing the Baltimore investigation.
In recent years, the Justice Department also has been more aggressive in stepping in soon after a police-abuse incident or potential civil-rights violation occurs, even if the feds don't ultimately prosecute. The more assertive approach, experts said, can maintain pressure on local prosecutors, who may otherwise be reluctant to bring charges against police departments with which they work on a regular basis. "It can be helpful to show a community you've left no stone unturned," Schlanger said.
While the push for changing the federal standard of proof has fallen off the radar, attention has focused on increasing the use of police body cameras as a way to hold law enforcement accountable and stop the use of excessive force. Another achievable first step, Yeomans said, is mandating that police departments collect and report to the federal government data on deaths that occur in custody or as a result of an officer's use of force. That recommendation did make it into the presidential commission's report, and Obama noted it during an appearance Monday in Camden to highlight the city's effective use of community policing. The protracted push to enact hate-crimes legislation got a boost, Yeomans noted, when the government first required local jurisdictions to collect and report data on incidences in which race, ethnicity, religion, and other factors played a role.
Could more data be the spark that leads to a change in the legal standard for prosecuting police abuse cases in federal court? Perhaps. "Nobody has ever gotten anywhere trying to move a new substitute standard. The question is whether this is the movement," Yeomans said. "If it can grow and sustain some momentum, who knows? It's not going to happen soon."