In 1903, the now-defunct Washington Evening Star published a story simply titled "An Exciting Race: When President Harrison Took After a Billy Goat." Surely, it's one of the more harrowing tales in the paper's 129-year history. It tells the tale of how, one afternoon, Harrison saved his grandson from a runaway goat on the White House grounds.
Some background: President Benjamin Harrison, the 23rd commander in chief of the United States, was a kick-ass grandpa. After inauguration in 1889, the president and first lady brought their grandchildren to live with them at the White House. The kids were doted on. President Harrison would dress up as Santa Claus at Christmastime, and personally waited on them at birthday parties. ("The children sat in high chairs waiting for the president to serve them cake," the biography Benjamin Harrison: Centennial President explains.) When it came to dinner at the Harrison White House, the president's toddler grandson was seated directly to him in a high chair. That same toddler, one Christmas, is said to have recieved a full suit of armor as a present.
But even better: Harrison kept a pet goat for the kids. Its name was Old Whiskers, and the animal was harnessed so it could ferry children around on a tiny cart, as illustrated in the photo above. It must have been awesome: To a small child, a billy goat is positively falcore-sized. What could go wrong?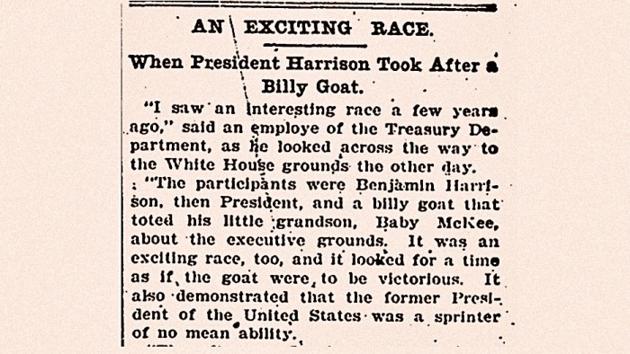 The Evening Star's source for the story was an anonymous Treasury Department staffer, recalling the incident about ten years after Harrison left office. We can assume the staffer concealed his name out of fear he would be on the line for damaging the reputation of the former president.