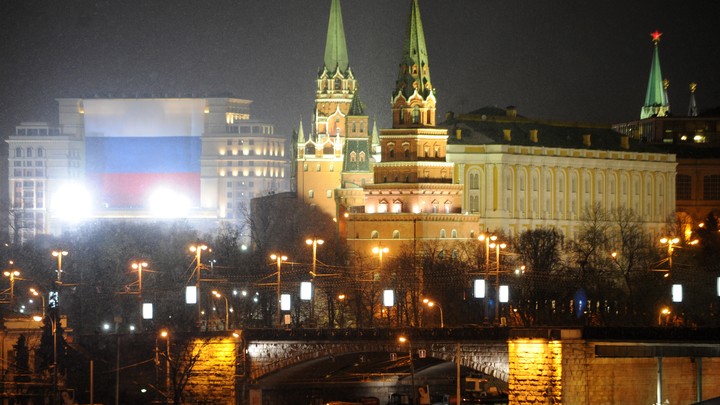 On this point, the top Republican and Democrat who wrote the legislative branch spending bill were in agreement: The Open World Leadership Center needed to have its funding cut.
The Congress-run exchange program with Russia and post-Soviet countries had survived 15 years and multiple attempts to kill it. But maybe this time—with budget caps putting a squeeze on funding for domestic projects, and a $4.7 million cut written into the legislative branch bill—would be different.
It wasn't.
At a full Appropriations Committee markup last month, Rep. Jeff Fortenberry offered an amendment to restore the program's proposed cut. It passed on a voice vote, and with that—barring a surprise turn of events when the Senate produces its own bill—Open World survived yet again.
Repeatedly over the last 15-plus years, the debate over Open World has blurred party lines, with Democrats and Republicans lining up on both sides of the issue. But it lives on—a case study in how a program can persist if it has powerful patrons and the right allies on Capitol Hill, including the members of Congress who sit on its board.
Open World's primary task is funding short visits for Russian and post-Soviet bloc countries' civic leaders and judges, entrepreneurs and educators, and others to come to the United States and learn about U.S. values and the democratic process.
Regardless of whether that's a worthy cause, some opponents say the program shouldn't be tucked inside the bill charged with funding items such as the Capitol Police Department, the Congressional Budget Office, and Capitol building renovations.
"It is a square peg in a round hole of this bill," Rep. Debbie Wasserman Schultz, the legislative branch subcommittee ranking member, said at the markup. When plaster is falling off roofs and people are getting stuck in elevators in need of repair, "can [the subcommittee] afford an additional almost $5 million for Open World, which I have always characterized as a nice-to-have program that is better served in the State, Foreign Operations Appropriations bill?"
Rep. Tom Graves, the legislative branch chairman, says there are many programs within the State Department tasked with the same mission. "Its original purpose was a one-time program," the Georgia Republican told National Journal, "and as things go in Washington, a one-time life continues on into perpetuity, and we believe this is the right time to bring that to an end."
Yet, as the markup's results demonstrate, the program has its backers on the Hill.
"Members, in the end, feel this particular program is effective," said Rep. Tom Cole, who preceded Graves as the legislative branch chairman. "I think most of them feel it's more effective than some of the programs run by the State Department. And if nothing else, they're simply more familiar with it, so experience is the thing that really breeds support—and they've done a better job of building relationships between the members of Congress and the program than most other programs I've seen."
The pilot program of what was originally called the Open World Russian Leadership Program (or RLP) launched in 1999. Sen. Ted Stevens provided $10 million of transferred Senate funds to create the pilot RLP, which was modeled after a part of the Marshall Plan that, after World War II, brought emerging German leaders to America.
Sen. Roger Wicker, a board member since the center's inception, remembers a breakfast meeting where James Billington, the Librarian of Congress, made a presentation that "caught the imagination of several of us, chief among them being Senator Ted Stevens, chairman of the Appropriations Committee."
Having the Senate Appropriations Committee chairman as a "chief advocate was quite helpful," Wicker, a House appropriator at the time, recalled, and so is having Billington as the board's founding chairman.
"When this is his signature issue, it goes a long way to give us the credibility we need to make this in the appropriation every year," Wicker told National Journal.
So, with these powerful backers, the program brought 2,150 new and future political leaders of the Russian Federation to America in its first year. After its second year, in late 2000, it became established as a permanent congressionally funded fixture. In early 2003, the program expanded to include other post-Soviet countries, such as Lithuania, Ukraine, and Uzbekistan.
Along the way, the program has faced repeated threats to its existence:
In 2004, House Republicans tried—and ultimately failed—to cut the program's funding in half, according to Congressional Quarterly Weekly at the time.
In 2005, House Appropriations Committee Chairman Jerry Lewis created a draft bill that didn't contain any funds for the center, Congressional Quarterly Today reported. But his manager's amendment later contained the full $14 million requested.
And last year, Cole attempted to cut the center's budget as a show of support for Ukraine, Roll Call reported. The recommendation to provide the program with $3.4 million passed the House. But the final version of the legislative bill, which was folded into an omnibus spending package, provided the Senate's recommendation of $5.7 million—with a caveat that prevented senior Russian government officials from participating (a provision that stayed in this year's version of the House bill).
Instead, the program serves Russians like the five women who met in early May with a member of Rep. Jason Chaffetz's staff to ask questions pertaining to their trade: working with the developmentally disabled. The staffer has a brother with Down syndrome and autism, and he explained to them how his family was eager to put his sibling through high school and how he was an important part of the family—a case study in how one American family provided care to the kinds of clients the Russian women serve. Then the women traveled to Salt Lake City to see how Utah serves its developmentally disabled population.
Aside from exchanges like this, the program also is useful to counter Russia's influence in its neighboring countries, according to Open World Leadership Center Executive Director John O'Keefe. And Billington said in a statement to National Journal that he considers Open World "to have perhaps the greatest potential for contributing to constructive evolution in the region."
Two senators and one House member (one spot is vacant) sit on the Open World Leadership Center's Board of Trustees in addition to both Legislative Branch Appropriations Subcommittee chairs. In 2014, Open World delegates met with 26 members and 113 staffers, according to the center. And the center's supporters say its placement in the legislative branch's budget is part of what makes it so unique, helping it remain untethered to any one presidential administration.
When former Rep. Jack Kingston held the subcommittee's gavel, he attempted to cut the program but found it couldn't be done, partly due to a "concentrated number of people who are willing to fight for it."
"I believe that their support of the program is absolutely sincere," Kingston said. "It's an honest disagreement among friends. But it's a scenario that you see played out in every other measure that you want to cut."
We want to hear what you think about this article. Submit a letter to the editor or write to letters@theatlantic.com.
Rachal Roubein is a staff correspondent for National Journal covering Congress