The Five Flash Points of the Long-Simmering Obama-Warren Feud
Their recent fight over the Trans-Pacific Partnership is the latest episode in their up-and-down relationship.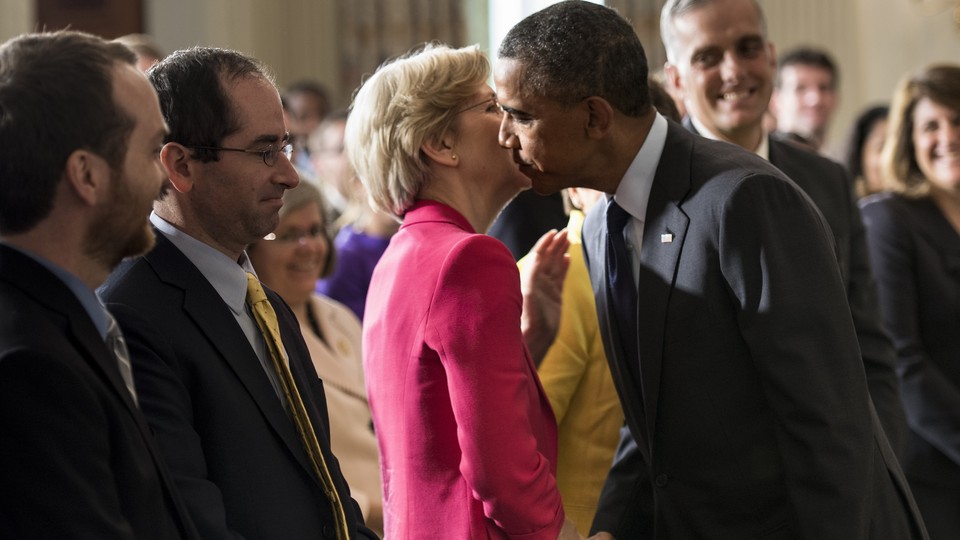 President Barack Obama and Sen. Elizabeth Warren should have a lot in common. Both are relatively wonky former law professors who can be averse to the political press. Obama was seen as a progressive alternative to Hillary Clinton in 2008, and, despite her constant rebuffs, the Left desperately wants Warren to occupy that same space today.
But since Obama took the White House, the two have frequently clashed on economic issues, with the 12-nation Trans-Pacific Partnership free-trade deal being the latest tension point. Here is a look back on five times that feuds between Warren and the White House have spilled out into the open.
The Bailout of the Banks and Tim Geithner
After the financial crisis of 2008, Warren, then a professor at Harvard Law School, became the chairwoman of the Congressional Oversight Panel, which would be able to review actions taken by the Treasury Department during the bank bailout.
(RELATED: White House Hits Back at Elizabeth Warren: 'There's No Need for This False Criticism')
During that time, Warren became a frequent antagonist of Obama's first treasury secretary, Tim Geithner. While Geithner never worked for Wall Street before his time as a Cabinet official, he was often perceived by progressives as being too friendly to the financial industry and was head of the New York Federal Reserve during the financial crisis.
In one hearing in 2009, Warren grilled Geithner about what she felt were differing standards for the conditions of the U.S. automobile-industry bailout as opposed to more lax standards for financial institutions that received bailout money.
"You're saying there have been changes in management?" Warren asked about financial institutions, to which Geithner responded, there were changes at American International Group as well as at Fannie Mae and Freddie Mac.
"I am asking about the banks," Warren responded.
(RELATED: Elizabeth Warren Welcomes Wall Street's Hatred)
"Going forward, where institutions need exceptional levels of assistance, we will make sure that assistance comes with conditions that provide for the necessary degree of accountability, help ensure these firms emerge stronger rather than weaker," Geithner said.
In another hearing, Warren probed Geithner about where the money AIG received from the bailout in Federal Reserve loans went.
"Was Treasury aware of who the counterparties were that were going to receive payment in full on the credit-default swaps when $170 billion went to AIG?" Warren asked.
"They could have known," Geithner responded. "Whether they knew at the time, I'm not sure they knew."
(RELATED: Forever Ready for Elizabeth Warren)
AIG revealed the companies that the companies that received payments from AIG were Goldman Sachs, Merrill Lynch, Citigroup, and Bank of America.
The approach in Warren's questioning during this time would largely set the tone for Warren's future feuds with the White House on the premise that it was being too friendly to Wall Street.
Geithner, for his part, did not seem amused by Warren, writing in his memoir, "Her [bailout] oversight hearings often felt more like made-for-YouTube inquisitions than serious inquiries." He called his relationship with Warren "complicated."
Dodd-Frank and the Consumer Financial Protection Bureau
The Consumer Financial Protection Bureau, which was established under Dodd-Frank, is often considered a brainchild of Warren's. But Geithner wrote in his memoir that he believed Warren would face tough Senate opposition to be head of the agency from Republicans and some moderate Democrats wary of Warren. "At a meeting with Rahm and Valerie, I told the group that if the President wanted to appoint Warren to run the CFPB, I wouldn't try to talk him out of it," he wrote "but everyone in the room knew she had no chance of being confirmed."
"They didn't want to vote for a controversial liberal at a conservative moment," he wrote. "They were also worried about the intense opposition in the business community."
Warren faced stiff opposition for CFPB from then-White House Chief of Staff Rahm Emanuel, who informed Sen. Harry Reid that "We don't like her, either," when a moderate Democratic senator said he was concerned about who would head the agency.
(RELATED: Hillary Clinton Sings Elizabeth Warren's Praises in 'Time 100')
Warren, after helping oversee the agency's creation, ultimately was passed over for the position, and the bureau was headed by Richard Cordray, though it turned out Cordray would also face fierce congressional opposition.
Larry Summers and the Federal Reserve
In his memoir, former Obama adviser David Axelrod wrote that Emanuel assured Larry Summers "that he would succeed Ben Bernanke as chair of the Federal Reserve when Bernanke's term expired in 2010." Obama initially reappointed Bernanke in 2010. But in 2013, when the idea of Summers becoming chairman was floated, Warren opposed it.
(RELATED: Elizabeth Warren Slams Big Oil, Says Major Companies Profit From Pollution)
A 2013 piece in The Boston Globe showed Warren and Summers had been split in their views of financial regulation, with Warren largely supporting the restoration of the Glass-Steagall Act, which separated commercial and investment banking, and whose repeal Summers oversaw during the Clinton administration.
Like the rest of the Obama team, Summers's relationship with Warren has been complicated, with Summers serving as president of Harvard around the same time Warren was a professor there. Summers was also an early supporter of the Consumer Financial Protection Bureau, though he punted on whether she should be head the agency, saying, she "is one of the people who would be a terrific candidate."
Summers tried reaching out to the Massachusetts Democrat when he was vying to become head of the Fed. Ultimately, Warren wound up signing a letter by Sen. Sherrod Brown, also seen as a critic of Wall Street, to the White House backing Janet Yellen for the chairmanship. Yellen eventually won out.
Antonio Weiss
In November, Obama nominated Antonio Weiss, global head of investment banking for Lazard, to become undersecretary for domestic finance at the Treasury Department. But what should have been a noncontroversial nomination for a low-profile job became the next issue to get in Warren's crosshairs.
(RELATED: Elizabeth Warren Strikes Back at Obama For Calling Her 'Wrong' On Trade)
Warren lambasted Weiss for his involvement in a corporate-tax inversion deal involving Burger King buying a Canadian coffee outlet, allowing it to move its tax address to Canada.
Warren also criticized the appointment of Weiss on the grounds that it was another example of the continuing trend of people moving between Washington and Wall Street.
"This is just one spin of the revolving door too many," Warren said, also saying that Weiss was not sufficiently qualified.
Ultimately, Weiss pulled out of his nomination, which allowed Warren to claim a significant political win at the expense of the White House. Weiss instead became a counselor to the treasury secretary, with reportedly pronounced influence.
The Trans-Pacific Partnership and TPA
The latest chapter of Obama and Warren's on-again/off-again feud comes in the form of the Trans-Pacific Partnership. In February, Warren wrote an op-ed in The Washington Post criticizing a provision in the trade deal known as Investor-State Dispute Settlements, which she said could lead to foreign investors being able to sue foreign governments in countries where they invest. Warren has warned this could lead to a weakening of labor and environmental rules.
In turn, the White House has tried responding by saying it would promote strong safeguards and higher standards in the provision and called the trade deal "the most progressive trade agreement in our history," comparing opposition to it by progressives to former Alaska Gov. Sarah Palin's accusations of "death panels" during the Obamacare debate.
But Warren has continued her criticism. Last week, during a speech at the Institute for New Economic Thinking, Warren hit the White House for wanting Trade Promotion Authority, which would subject trade deals like TPP to an up-or-down vote without the ability to amend, saying a future Republican president could use it to dismantle Dodd-Frank.
In turn, Obama called Warren "absolutely wrong" on trade and on the TPP's Investor-State Dispute Settlement provision in an interview with Yahoo Politics.
"There is no evidence that this could ever be used in this way," Obama said, drawing on their mutual experience as law-school professors. "One of the things you do as a law professor is you spin out hypotheticals and this is all hypothetical."
Obama also sniped at Warren, calling her "a politician just like everybody else, and she's got a voice that she wants to get out there," before noting, on most issues, "she and I deeply agree."
But Warren responded in an interview published Monday with The Washington Post, saying, "If the president has changed ISDS to solve the problem, then the text should be released so that legal experts can look at it."
It is no coincidence that most of Warren and Obama's disputes have centered around Wall Street and economic policy. Obama was elected shortly after a number of the country's top financial institutions crashed and sold himself as someone fighting for fairness. Warren's critique challenges that narrative and paints him as hiring advisers close to the wealthiest industries and implementing policies that embolden Wall Street.
There is evidence Warren's voice is winning. Many Democrats now running for higher office are opposing the TPP, which not only could sink the trade deal, but seriously damage Obama's image among liberals as someone who fights for shared prosperity, and it could allow Warren to take over that mantle even more than she already has.
Correction: A previous version of this story misstated Timothy Geithner's position on whether Warren should head the CFPB after it was established. This story has also been updated to reflect Antonio Weiss' role at Treasury.