The Faustian Bargain Between Church and State
To receive tax-exempt status from the IRS, religious organizations must abstain from electioneering. Is that constitutional?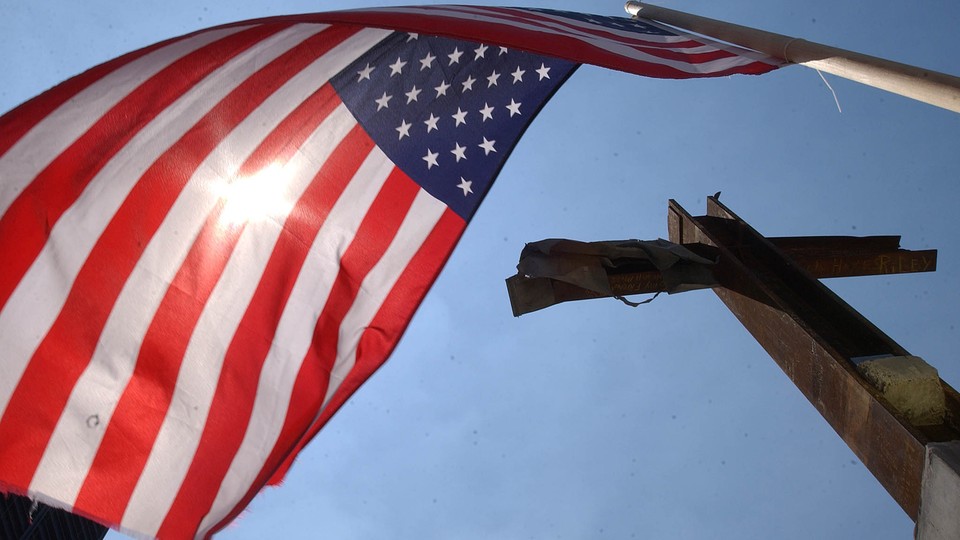 Only 110 of the purported 3,000 parishioners were at the Sunday morning service of the Hope Christian Church in Maryland, despite the daring occasion. Along with 1,500 other ministers across the country, Bishop Harry Jackson was "gonna push the envelope a little bit" on politics, the choir director said.
The members of the congregation, carrying their own Bibles, drifted gradually into the odd-shaped sanctuary, wider than it was long, located in a low, sprawling office building that once served as IBM's regional headquarters. Almost all the worshippers were women, almost all were African American, and because they were so thinly distributed among the blue chairs, the place looked practically empty to the two cameras facing the pulpit, one from Christian television, the other for a documentary by the Public Broadcasting Service. A crew member said something to an assistant pastor, who asked people to move to the center. They dutifully obeyed for the sake of appearances.
A Bible lay open on a clear-plastic lectern. An all-female choir, dressed in their own blue dresses of various styles, sang modern hymns vigorously and often off-key. An electric keyboard emitted piano sounds. A set of drums, positioned behind Plexiglas to soften the volume, kept time. Two young women in black clothing improvised dance steps while an older woman twirled two lavender flags on polls.
It was Pulpit Freedom Sunday in early October, when preachers who've signed up to trespass into electoral politics go well beyond the limits their churches have agreed upon when accepting tax-exempt status. Organized by the conservative movement Alliance Defending Freedom, they praise or condemn candidates. They urge parishioners to avoid this politician or that one; Barack Obama was a regular target, even in a few black churches such as Hope Christian, because of his support for gay marriage and abortion rights. Occasionally, favored politicians are even invited to a service to be anointed by the minister's endorsement.
Some pastors tread nervously onto this forbidden ground, because they don't want to lose their churches' tax exemptions. But others zealously hope for just that. They are trying to provoke the Internal Revenue Service into an adverse ruling so they can challenge the constitutionality of the law, which they believe violates the First Amendment. For many years, the IRS has refrained from taking the bait, and citizen complaints against churches's electioneering have disappeared into the agency's bureaucratic abyss.
Bishop Jackson's parish is located in a Maryland suburb of Washington, D.C., but his true constituency is nationwide thanks to Republican donors who adore the anomaly of a black conservative. He does not mince words, and he delivers dramatic hyperbole. He wears glasses and a black beard cropped short. His uniform is simple but elegant: a white collar and a gold chain draped diagonally across his chest, from his right shoulder to his left side.
His roots are tangled and intriguing. His grandfather's father was white, he explains, and his grandfather's mother was "a very dark-skinned black woman." His grandfather was a Gullah from coastal South Carolina, and his father was the first in the family to go to college. Jackson's maternal grandmother was part black, part Cherokee. And he, Jackson, went to excellent schools: Williams as an undergraduate, then Harvard Business School for his MBA. For a while, he worked for Corning glass in upstate New York, then turned to religion and founded a church. He sees religion as an agent of change and of moral preservation.
"If it had not been for a free pulpit," he declared on Pulpit Freedom Sunday a month before the 2012 presidential election, "there would not have been an abolitionist movement ... It was a free pulpit in the civil rights movement that called for justice."
And, as he might have added but did not, none of that would violate the law under the Faustian bargain that church and state have entered. In exchange for the generous public subsidy of avoiding all income and property taxes, and for its donors's ability to deduct their contributions from their taxable income, the church limits its speech by staying out of electoral politics. That doesn't mean it can't take positions on issues such as abortion, gay marriage, civil rights, and poverty, unless the matter "has been raised as an issue distinguishing candidates for a given office," according to the IRS explanation. When they apply for, and receive, tax-exempt status under section 501(c)(3), religious and secular organizations alike may not "participate in, or intervene in (including the publishing or distributing of statements), any political campaign on behalf of any candidate for public office."
Jackson understands that perfectly well, as he told me in his study after the service. "If you just advocate the issue, that's OK." But as soon as you speak for or against a candidate, "evidently it's against the law." Getting involved in a campaign is prohibited. "That's the boundary. And don't even mention if you're gonna try to do ads. So we're just putting our toe across the line."
But pretty far across the line. Aided by a PowerPoint slide show, which livened up Sunday worship, Jackson gave the congregation four reasons to oppose Obama. First, a healthcare program that pays for abortion, which does not value human life. "I cannot vote for someone like this." Second, lack of support for marriage only between a man and a woman. After a long citation of scripture decrying homosexuality, Jackson denounced same-sex marriage as a profound violation of biblical teaching.
Third, "You're not for Israel," an odd and erroneous notion that haunted Obama throughout his presidency. "If we are against Israel, there comes attached to that the vengeance of God," Jackson declared ominously. "So now you want to put my nation under a divine vengeance, and you think our economics are gonna get better?" He continued, "You've got the black community that has been the most faithful Christian community, has the highest unemployment rate of any subculture in the land, and they are foolish enough—listen to me, black Christians—you are foolish enough to vote against the God that brought you out of slavery. ... Just because somebody's skin is black you're going to support an anti-God, anti-gospel offender. No wonder you can't get a job."
Cheers and applause arose, mostly from the choir—yes, he was preaching to the choir.
Then to the fourth reason to oppose the president at the polls the following month: religious liberty. "Four more years of Barack Obama will ensure an aggressive anti-Christian spirit that has currently grabbed hold of the administration and this country. Beware, my Christian friends, you should not vote for Barack Obama. We're gonna pray now."
"We endorse Faith Loudon for Congress in the Fourth District of Maryland," and he gestured to her in the front row, "and we do not endorse Barack Obama for president of the United States. Would you bow your heads with me in prayer."
With soft piano music in the background, Jackson prayed: "Our Father, our God, we thank you today, and we ask that this word, this message, especially the last five minutes, will go out as a trumpet to the nation. I thank you that cameras from several networks are here. Lord, let it go forth on the Internet, and, Lord, let it go forth on the CD."
Jackson tries for an amalgam of what he calls righteousness and justice, by which he means religious gospel and social policies that address the plight of the less powerful. "Something is wrong in America," he announced in his sermon, when immigrant families can be separated by deportation, when Obama creates "pressure on Hispanics and first-generation African immigrants so he can look like a hero when he lifts the pressure that he created. Something ain't right in America."
He did not go quite as far as to endorse Romney. Was it Romney's Mormonism or the justice issue? "It's the justice issue," he told me later. "If we keep going down that road that we only vote righteous, righteous, righteous, then we're like a bird trying to fly with one wing. You never get to a true—in my view, humble opinion—representation of the Christian ethos in our generation."
His congressional candidate, who was white, was trounced by the black incumbent, Donna Edwards. His nemesis, Obama, rode easily to victory for the second time. And in the end, Jackson endorsed Romney, but not in church: in a television studio, where the First Amendment protected him.
The ban on electioneering by tax-exempt charities may seem high-minded, but it was enacted for crass political reasons. It may be a principle of good government to protect taxpayers from subsidizing candidates' supporters, but the prohibition was added to the law to protect one candidate, Lyndon B. Johnson, who faced extreme right-wing opposition in his reelection bid for the Senate. On July 2, 1954, he rose on the Senate floor to propose amending section 501(c)(3), which already restricted lobbying. Now he asked that the ban be extended to political campaigning. "The whole thing was over in a matter of minutes," writes the sociologist James D. Davidson. "There was no discussion, and the amendment was passed on voice vote."
Johnson faced a tough race against a Dixiecrat, from the segregationist wing of the Democratic Party, who was supported by two rabid anti-communist, tax-exempt organizations: the Committee for Constitutional Government, founded by the publisher Frank E. Gannett, and Facts Forum, funded by the oil magnate H. L. Hunt, a friend of Senator Joseph McCarthy's. Facts Forum published a monthly newsletter and produced programs that were broadcast without charge by numerous radio and television stations.
The country was in the grip of McCarthyism, a fervor of anti-communist fears and witch hunts for supposed-communist sympathizers. Johnson needed Dixiecrat support but dared not attack the organizations directly, lest he strike his own death knell in Texas by appearing soft on communism. His larger goals, "to end McCarthyism [and] protect the loyalist wing of the Texas Democratic Party," Davidson writes, would also be served by his amendment. It was not aimed at churches, but its broad wording applied to religious and secular institutions alike, awarding tax-exempt status under 501(c)(3) on the condition that the organizations steer clear of political campaigns.
Religious groups in America made forays into specific elections before and after the 1954 Johnson amendment. In 1928, the first Catholic presidential nominee, Al Smith, was explicitly opposed by some Protestant churches, particularly Lutherans and Southern Baptists. In 1960, just six years after the law was passed, opposition to John F. Kennedy, the second Catholic nominee, came from some evangelical churches and a group of Protestant clergymen who formed the National Conference of Citizens for Religious Freedom.
Since the change in the law, IRS enforcement has been erratic and unpredictable. Secular nonprofits have been watched a little more closely than religious organizations, but only egregious violations trigger action. In February 2014, after years of blatant politicking, the Patrick Henry Center for Individual Liberty of Manassas, Virginia, lost its tax-exempt status for what the IRS called "a pattern of deliberate and consistent intervention in political campaigns" and "repeated statements supporting or opposing various candidates by expressing its opinion of the respective candidate's character and qualifications."
The center was led by Gary Aldrich, a former FBI agent who had written a book in 1996 assailing Bill and Hillary Clinton—a book full of lies, according to White House officials at the time. His group had represented Linda Tripp, whose recorded conversations with Monica Lewinsky exposed Bill Clinton's sexual relations in the Oval Office. But the center's trouble with the IRS originated later, in attacks it made on John Kerry when he ran for president in 2004. Aldrich claimed that the investigators had concentrated on just one percent of its activities. "A few of our fundraising letters had inflammatory teasers on the envelopes," he said, and he'd written "a few op-eds that were not purged from the archives, which they were supposed to have been." And, he noted, he'd been involved more recently with the Tea Party.
On its website, three months after the IRS action, the center still claimed to have "a 501(c)(3) classification from the Internal Revenue Service" and said that donations "are tax-deductible to the fullest extent of the law." After my inquiry, the notation was changed to read that the center "has applied for renewed recognition" by the IRS as a charity, but in fact that hadn't happened yet, Aldrich said in an interview. "Our attorneys are still working the issue."
Under his interpretation of the statute and its enforcement, the IRS was being pressed by Democrats in Congress to target conservative groups. "Anybody who's saying things aren't running well, they should be suspected. We want lower taxes, less intrusions in our lives, less NSA snooping, and all of that, so we're suspected by our government. The IRS is our agency. Our representatives formed it. They do what we ask them to do. We send them our money."
Enforcement is as selective as it is on the highways, Aldrich said. "There are thousands of organizations, and many, many are active in the area of political opinion, and they're motoring along. When the IRS decides they want to give you a speeding ticket, when everybody else is moving along at high speed, they can."
Without the tax exemption, his center is hobbled. Donations can still be received, but the donors won't get tax deductions. The organization would have to pay taxes on its income. But the larger result will not be silence, he promises. "The thing about a political movement is that people who are in it for the long haul like me do the best to adhere to the rules and regulations," he said. "The government can't take away our right to free speech by denying us a forum ... If they say we can't assemble under this umbrella, then we're going to assemble under another. They're not going to stop the true believers."
Lately, churches have been treated with kid gloves. Only in the distant past has the IRS issued warnings and occasionally revoked or suspended tax exemption: a couple of religious publications for endorsing Lyndon Johnson in 1964, Pat Robertson's Christian Broadcasting Network in 1986 and 1987, the Church at Pierce Creek in New York for an ad against Bill Clinton in 1995. More often, however, complaints to the IRS go nowhere.
This is partly because of a lower court ruling that was never appealed. In 2009, a federal district judge in Minneapolis decided that the IRS had failed to comply with the Church Audit Procedures Act of 1984, under which the Treasury Department had issued regulations requiring that no official lower than a regional commissioner authorize the audit of a religious institution. A less senior employee had requested information from the Living Word Christian Center, whose pastor had allegedly endorsed Representative Michele Bachmann for Congress. The church refused to comply, won that point in court, and was never further challenged by the IRS.
The agency has dithered ever since. Just before the presidential election of 2012, for example, Americans United for Separation of Church and State filed a complaint with the IRS against the Church in the Valley in Leakey, Texas, which posted on its front-yard marquee "VOTE FOR THE MORMON, NOT THE MUSLIM! THE CAPITALIST, NOT THE COMMUNIST!" There is no indication that the IRS investigated.
Nor was tax-exempt status removed from Bishop Jackson's church or any of the supposed 1,500 participants in Pulpit Freedom Sunday. One of them, Abundant Life Church in Altoona, Pennsylvania, has a Pentecostal pastor who has been nervous nonetheless.
He is Walter Smith, a friendly guy with a sandy brush cut and a short beard. His modern-church building, with a thin spire, stands in a fairly poor district. "Our heartbeat's been about trying to get outside our four walls," he says. "We've really been trying to just love all the people in the neighborhood." His senior parishioners run a food bank on Wednesdays, to which the local hospital has contributed Thanksgiving turkeys. Another group in the congregation started a soup kitchen, which has served 100 people. The church does a ministry at a federal prison, has helped a few ex-cons get jobs, throws a summer block party, has added a part-time children's pastor, and wants to start after-school tutoring programs. Since moving into the building—formerly owned by a Lutheran congregation—"our white church is finding that we're becoming a multicultural church, which thrills my heart," says Smith, who is also white.
He grew up in Pennsylvania's coal country. His father "got in trouble with the law, robbed a bank in Pittsburgh, did 10 years of a 25 year sentence. But this was even before I was born ... I had a sister who committed suicide, and I've got two younger brothers. Both were in the military," and both are doing fine; one works for the post office in Oregon, the other at a spa and resort in Pennsylvania. "I got in some trouble when I was a teen—a little bit of drugs, experimented with some drugs, that type of thing." He laughed. At some point, "The Lord really got ahold of my heart," and Smith went to Valley Forge Christian College, then took online divinity courses, earning a master's in biblical studies.
He seems a more nuanced man than his sermon on the day of defiance, which ran for one hour and five minutes, a ranting, rambling speech in front of a big projected slide reading, "Pulpit Freedom Sunday." He declared then, "I truly believe that it should be the pastors and the church leaders that decide what is preached in the pulpit, not the IRS. OK?" He waved a Bible. He preached against abortion. Two members of his congregation had told him they wouldn't attend, "because they felt I was going to talk politics. I'm not doing that ... What we're facing in our country right now is not Republican, Democrat, Independent. It's none of that. It's good or it's evil. It's righteousness and unrighteousness."
But he only danced close to the line, not across it. He stuck to issues and didn't name candidates. "Churches and church leaders have to speak up," he said. "We are in an election year. We are going to go down a very, very steep cliff that's going to destroy ourselves and our country." Then he declared, melodramatically, "I'm not supposed to preach against same-sex marriages according to the law from Washington, D.C. But this boy will do that. You may have to visit me in jail, and I hope that maybe some of you will be with me there."
He left the brown wooden lectern and pranced around on the steps of the sanctuary. "I beg you, please vote. I'm not telling you who to vote for. I won't do that. But I will tell you, vote for the candidate that's closest to this book." He held up the Bible. "On a local level, state level, national level. Let's vote candidates in that are closest to this." When he put the Bible in his left hand and put his right hand on the book as if being sworn in and said, "Do they uphold this? Will they sign in, putting their hand on the name of the Bible?" the congregation applauded. "I don't vote parties," he declared. "I vote what the candidate says about God's word."
Pastor Smith prayed that someday we would go past empty Planned Parenthood buildings and see them as relics of evil, "like the places where they burned up the Jews." Then he added, "I'm not supposed to preach that, according to the federal government."
A couple of weeks later, when I quoted back to him his line "You may have to visit me in jail," he laughed out loud and put on a sheepish smile. Could he please explain? Did he think that was the penalty for speaking against same-sex marriage?
"It could be. It could be. It could be. I mean it could get to that. And again, that's kind of the evangelistically—you know, you know." He smiled broadly. "Pulpits throughout history have done those kinds of things." He stopped, and I prodded him to finish the thought.
"That we sometimes, you know, we stretch things to try to—get across a point," he finally admitted. "We push the envelope so far so we can at least bring someone midway. Almost like the pendulum thing." So this was a kind of poetic license? "Poetic license, yeah. But I do believe that we as a country are losing our freedom of speech, and I believe at one point it might very well come to that. I believe that."
He did not endorse a candidate, because, frankly, he did not want to risk his church's tax-exempt status. "I don't want to be a test case, no sir ... Let's let somebody else—yes, I'm that much of a coward." And he laughed, as he likes to do.
---
This article has been adapted from David Shipler's forthcoming book, Freedom of Speech: Mightier than the Sword.