The Election in Which Eric Garner's Death Didn't Matter
District Attorney Dan Donovan sailed to victory in a special race for Congress on Staten Island, and the police-violence case was hardly an issue.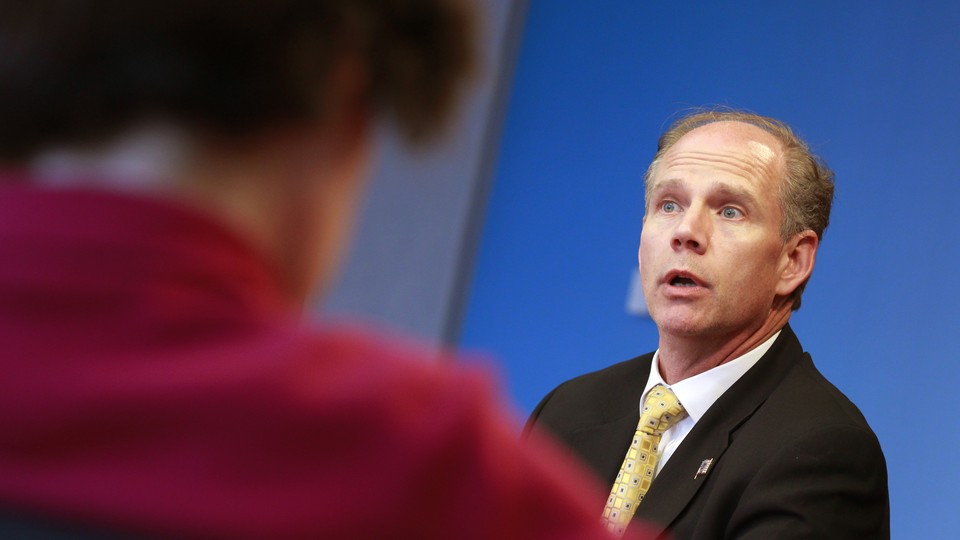 There's a national debate going on about criminal justice—it's hard to argue with that. But although the tragic incidents that have spurred that national debate are often grouped together, their consequences are playing out very differently on the ground.
Take Baltimore and Staten Island. In Charm City, State's Attorney Marilyn Mosby became an instant hero in West Baltimore when she charged six officers with crimes including murder in the death of Freddie Gray.
Meanwhile, on Staten Island, Daniel Donovan is celebrating his election to Congress. Donovan won a special election Tuesday to replace Michael Grimm, the representative who resigned after pleading guilty to federal tax fraud. His current gig: Staten Island district attorney. He oversaw the investigation into the death of Eric Garner and failed to indict officers in that case. Garner's choking death—as he gasped, "I can't breathe!"—was caught on video and helped galvanize anger about police brutality already inspired by Michael Browns's death. But the Garner case was no obstacle to Donovan romping to a 21-point victory Tuesday.
Some of that is simply a matter of Staten Island's politics. In contrast to the other four boroughs of New York City, it's a staunchly conservative outpost. Grimm was a Republican, and as the Republican nominee, Donovan was a shoo-in from the start. (National Democrats had basically already conceded defeat a month ago.) Donovan pursued a fairly standard GOP platform, bashing President Obama and, to a lesser extent, Mayor Bill de Blasio. He also vowed to "untax" constituents, whatever that means. Even the generally progressive New York Daily News endorsed him, calling challenger Vinny Gentile "not the sharpest knife in the Democratic drawer."
Still, it's striking from outside to see how small a role Garner's death played in the race. Cases against police officers are generally an uphill battle, and Donovan didn't draw the same kind of fire that St. Louis County prosecutor Bob McCulloch did for his handling of the Brown case. Protests focused largely on the grand jury's decision, rather than on the DA's choices in presenting his case. Still, there were questions about Donovan's strategy. He asked a grand jury to consider charges of manslaughter and criminally negligent homicide against Officer Daniel Pantaleo, but he notably omitted reckless endangerment, a lesser charge that might have had a better chance of success. In the event, the grand jury opted not to indict.
On the trail, though, the Garner case barely factored—despite predictions that Donovan's quest for the seat would inflame tensions. When he spoke about the case, Donovan defended his record, saying he had handled it carefully. Mostly, however, it wasn't an issue at all. Gentile declined to talk about it or to use it to criticize Donovan. Donovan was also helped by statements of support from figures like Robert Morgenthau, the former and extremely long-serving Democratic district attorney in Manhattan.
Polling about the Baltimore case and other recent incidents shows deep divisions among Americans with respect to police violence and protests. The most salient divisions are along racial lines—for example, a Wall Street Journal poll this week found that 60 percent of African Americans thought unrest in Baltimore was an expression of long-standing frustrations with the police, while 58 percent of whites thought people were just seeking an excuse to loot. It's perhaps no coincidence that Staten Island is almost two-thirds white.
Many activists see a clear arc of police killing black men that begins with Eric Garner and runs through Michael Brown, Tamir Rice, and Walter Scott to Freddie Gray. Staten Island's special election for Congress is a good reminder not only that every death is different, but that the way they're understood nationally isn't always the way they look to most people on the ground, either.