The Conservative Answer to Feminism
How one group is trying to change the negative stereotype around what it means to be a right-of-center woman—and usher in a new generation of conservatives.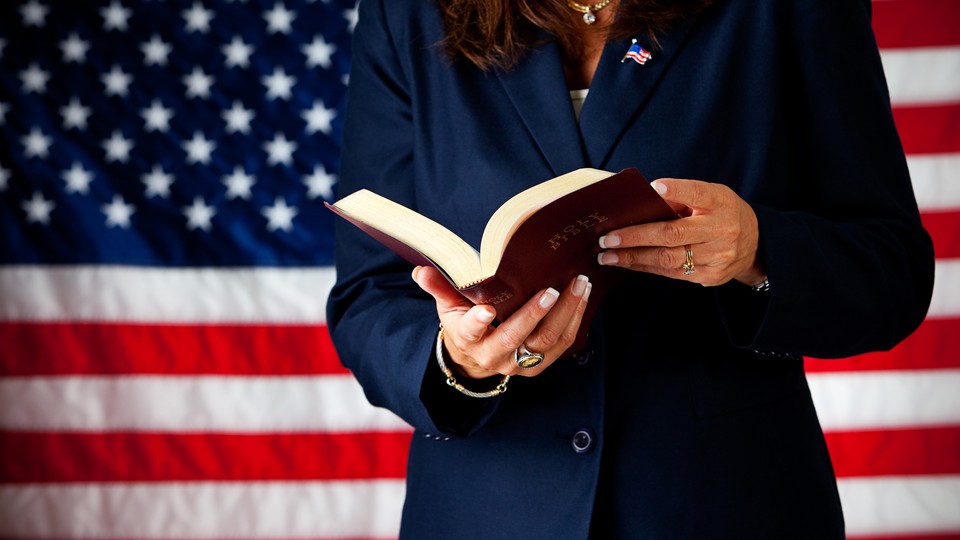 The question that most exasperated Mindy Finn, she says, came from all sorts of people—friends, family, old classmates.
"How can you be a conservative?"
People were apparently surprised, the 34-year-old GOP campaign veteran and digital strategist says, that a thoughtful, well-educated woman—she got her bachelor's at Boston University and her master's at George Washington—would freely associate with the Republican Party.
"There's kind of this tendency of viewing conservative women as stuck in the past, I think particularly when it comes to the workplace, and that's just so far from the reality that we're seeing," Finn says. The conservative women she knew were smart and strong and dynamic, and valued a successful career just as much as having a family, she says.
(RELATED: Women Aren't the Problem in Politics)
So she set out to combat the negative stereotypes.
Empowered Women, the nexus of that effort, launched in April after months of collaboration with prominent women in politics, business, media, and other industries. The nonprofit seeks to change the prevailing stereotype that conservatives are predominantly old men, pushing back on Democratic charges that Republicans are waging a "war on women," as well as the notion that liberals have a monopoly on women's issues. And it hopes to fill the void of right-of-center women's voices in politics, policy, and culture—helping to foster a conservative alternative to feminism, which Finn says has become a "toxic" term.
"We are absolute advocates for women's opportunity and success," says Finn, who worked on George W. Bush's and Mitt Romney's presidential campaigns before a two-year stint leading strategic partnerships at Twitter. At the same time, she says, the group wants to make sure it's "preserving freedom, family, and free enterprise as priorities."
But stereotypes often stem from truth, and the cliche that Republicans have work to do with women is grounded in reality. Even in 2014, a fruitful election for the GOP, the demographic divide persisted: Women favored Democrats by a 4-point margin, according to Pew, while men preferred GOP candidates by 16 points. Young voters, meanwhile, continued their trend of supporting Democratic candidates.
(RELATED: The IUD Capital of the U.S.)
Empowered Women is trying to alter those trends, starting with a written credo of what the women in the organization believe. The 13 vague, purposefully nonpartisan affirmations include assertions that the group's members are "individuals who think and speak for ourselves" and who "live a fulfilled life, whatever that means to each of us."
From that manifesto, which Finn found tested well with young women across the ideological spectrum, "it was clear there was a need for a sustained effort," she says, one that put bright, influential conservative women in the public eye to dispel the caricatures often touted by liberal rhetoric.
"Seeing is the first step toward believing for many women," says Kellyanne Conway, the president and CEO of the Polling Company Inc./Women Trend, a polling firm in Washington. "And for many women, to see that there's even an alternative to the progressive, liberal orthodoxy that has every woman constantly thinking about abortion, contraception, being a victim of the patriarchy," while at the same time showing "an alternative of fun, engaging accomplished women" helps send that message, she says.
Empowered Women is attempting to build a network of these women across the country. Their April launch, which, in addition to the main event in Washington, included inaugural gatherings in New York City, San Francisco, Los Angeles, Denver, Houston, and Little Rock, drew a slew of conservative women, including politicians on their way up, like freshman Reps. Elise Stefanik of New York—the youngest woman ever elected to Congress—and Barbara Comstock of Virginia.
(RELATED: Poll: American Men Embracing Gender Equality)
The organization also plans to conduct research and polling into what college-educated women in their 20s and 30s think and want, and use the findings to shape its messaging and policy aims. Because Empowered Women is a 501(c)3, it won't lobby Congress for specific policies; instead, it will use its research to educate the public about policies its community supports. Along the way, it will encourage the women in the organization's community to speak out, writing op-eds in mainstream media outlets and women's magazines about the cause.
A crucial component of reshaping the conversation around women will be defending against some Democrats' claims that Republicans are anti-woman. That brand of liberal rhetoric backfired in last year's midterms, Finn says, particularly in Colorado, where then-Sen. Mark Udall's strategy of casting Republican challenger Cory Gardner as against reproductive rights—earning the former the nickname "Mark Uterus"—fell flat. Alternatively, Empowered Women seeks to expand the scope of women's issues beyond abortion and contraception.
"That really looks at just a slice of a woman's life: her ability to reproduce, her role, if she chooses, to be a mother," says Leslie Bradshaw, a managing partner at digital product agency Made By Many and a member of Empowered Women's New York City chapter. "It doesn't look at the whole 360 of what it means to be a woman."
What matters to women matters to most voters, the group contends: the economy, national security, health care, immigration. But according to a Pew study from last year, more than half of women voters say abortion is a "very important" factor in deciding who they should vote for.
(RELATED: GOP Leaders Pull Abortion Bill After Revolt by Women, Moderates)
Still, Finn says that the new generation of conservative women—women in their 20s, 30s, and 40s, Empowered Women's target demographic—has an eye toward "a much broader set of issues" than the women who came before them.
That generation gap indicates a branding problem, says Bradshaw, who used to do political consulting with JESS3, a Washington-based creative agency she founded.
"When people think of 'conservative' and 'Republican,' they think, 'Those are those white guys that make decisions about my body,'" she says. "And that's not the case. That's not this movement."
This effort is distinct from other Republican women-focused groups for that reason, Finn says. Rather than simply provide a place for conservative women to engage each other, or promoting women candidates through PACs like RightNOW Women and Women Lead, Empowered Women wants to lead a campaign to usher in the next generation of conservative women.
"There's been monumental shifts in the last 20 years in terms of women in the workplace, in terms of the makeup of our families," Finn says. "And we want to make sure that our voices and priorities are surfaced so that we're able to align what's being done in the public sphere with what people want."
Lisa Camooso Miller, a partner at public affairs firm Blueprint Communications and former Republican National Committee communications director, says it helps that Finn straddles the Gen X/millennial generation line, because "for so long, the spokespeople for the Republican women have been women that are a generation older than I am," she says.
But more than her age, it's Finn's reputation that carries weight.
"She's well regarded by the moderate women in our party and by the strict conservative women in our party," Miller says. "I think that that's what gives this more promise than maybe any other effort before."
With continuing effort, Finn and her growing network hope to help women feel more confident, assertive, and enterprising. She's reluctant to characterize the organization in terms of feminism, she says, because the word, as tested by her group, has become a lightning rod for controversy.
"I absolutely believe in what feminism is supposed to stand for, which is equal opportunity of the sexes," she says. But Finn, like Madonna before her, considers herself more of a "humanist."
And, if Finn and Empowered Women are successful, they hope the incredulity of "How can you be a conservative?" will be flipped on its head: "How can't you be?"