The 2016 Proxy Race Has Begun in New Hampshire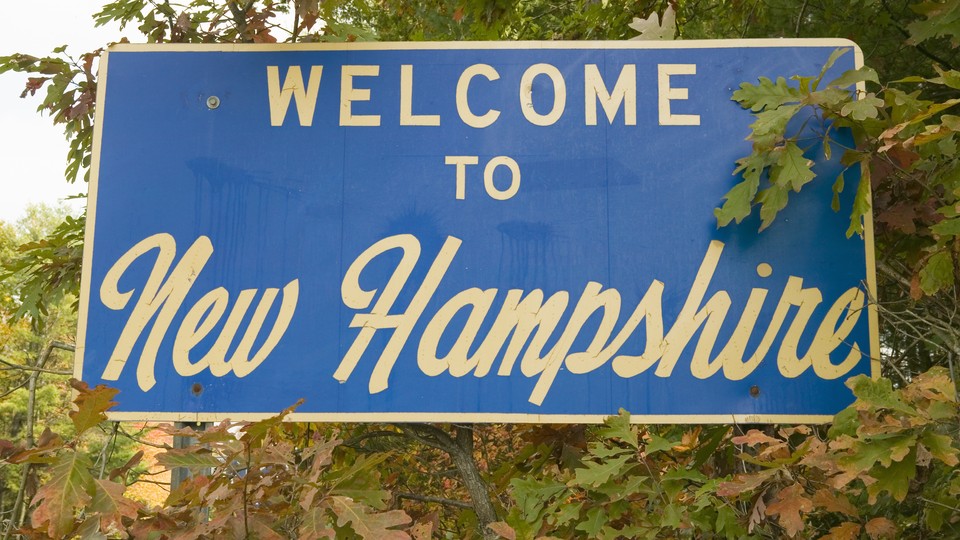 Yvonne Dean-Bailey glad-handed with voters at the Nine Lions' Tavern, a small cafe in Deerfield, New Hampshire—population 4,300—earlier this month. It was a typical campaign event in most ways. She was just weeks away from a special election to serve in the state House and represent Rockingham County's 32nd District. But the 19-year-old Republican had a special assist from one of her party's biggest names.
Former Texas Gov. Rick Perry was in town. He worked the crowd, delivered a speech, and signed a Harley-Davidson motorcycle. According to the Concord Monitor, he told Dean-Bailey not to "be ashamed" of her age, and that it'd likely be an asset in the legislature.
Tuesday, New Hampshire voters in Deerfield, Northwood, Nottingham, and Candia will decide between electing Republican Dean-Bailey, a student, and Democrat Maureen Mann, a retired public school teacher and former state House member, to serve as one of 400 members of the state's House of Representatives. But the race has another important role: It serves as an early exam for each party's messaging as they gear up for the 2016 presidential election.
"We are becoming an even more contentious political state, and one of the ways we keep score is through special elections," says Tom Rath, a Republican consultant in the state.
Potential and confirmed 2016 candidates have been tromping through the 32nd District over the last several weeks in hopes of not only showing support for their party's candidate, but also exhibiting their own dedication to New Hampshire's unique brand of homespun politicking.
"It was great to bring presidential candidates to an area in New Hampshire which is often overlooked by presidential campaigns because of our proximity to New Hampshire's larger communities," Dean-Bailey said in an email.
Before she announced her official entry into the presidential fray, Carly Fiorina joined Dean-Bailey at a Northwood Community Center meet-and-greet. Sen. Marco Rubio tweeted his support for her. Former Maryland Gov. Martin O'Malley phone-banked for Mann last week. Rubio had also knocked doors with another special-election candidate in the state, Dennis Green, who won his race in April.
The injection of 2016 politics into state races, though, isn't just for the benefit of lesser-known, local politicians. For Republican presidential contenders, helping out with local races is critically important to winning the trust of the small-town power brokers they will need to impress if they want to harness grassroots power and win the critical New Hampshire primary.
"It allows them to get involved with the traditional New Hampshire style of campaigning, which is door to door, town to town, and person to person," says Ryan Williams, a former Mitt Romney aide who is actively working alongside Republicans in the state to win the special election. "It builds goodwill for presidential candidates."
The fact that the race for the Republican nomination is in deep flux—with roughly 20 candidates in or considering a run—has been a huge boost for Dean-Bailey. On the Democratic side, Mann has won support from O'Malley, but her race has not been central to Democratic contender Hillary Clinton's state messaging.
Raising the stakes for each party is the fact that the 32nd District is swing territory. The district has shifted between Democratic and Republican hands several times over the last few years. Mann was elected in 2012 only to be defeated by Republican Brian Dobson two years later. And after Dobson left his seat to work for Republican Rep. Frank Guinta, Mann is looking for a new chance to get back to work in her old seat.
The race's high profile has also raised the price tag for the seat. The campaign, which most New Hampshire insiders say would typically include a few marches in parades and be a $500 proposition, is costing each candidate thousands. According to the most recent campaign-finance reports for the special election, Dean-Bailey has raised about $4,000 and Mann has raised just over $9,000.
Outside groups have also jumped at the chance to mobilize and perfect their own turnout operations before trying them out on bigger races. Greg Moore, the state director for Americans for Prosperity in New Hampshire, says AFP has phone-banked, gone door-to-door, and sent out mailers in hopes of drumming up turnout for the special election. The group tried a phone-banking and door-to-door model in the April 28 special election for the 13th district and claims turnout jumped from the typical 6 percent to 12 percent. For outside groups, any election is a chance to collect voter information that'll come in handy later.
"We can really work on our field program and develop best practices," Moore says. "It's an opportunity to see what kind of lift we can get."
Of course, a high-profile race also attracts another level of campaign shenanigans. Thursday, a prankster—a former social-media campaign worker for Mann—sent releases to news organizations claiming that Dean-Bailey was dropping out because she had concerns over her course load at school. The former staffer had not worked for Mann for several weeks, and Mann sent out a statement distancing herself from the incident. But the prank is just another reminder of how much more seems to be at stake in an election where experts expect just 1,000 voters to turn out.
If Mann wins, the Democratic Party of New Hampshire says it would prove voters know that "the Republican candidate in the Rockingham-32 special election is yet another devotee to the backward Koch Brothers agenda that would turn back the clock on New Hampshire women and drastically cut critical economic priorities including higher education, maintaining roads and bridges, and caring for the state's seniors and most vulnerable citizens."
But if Dean-Bailey wins, Republicans say, it is a clear indication that momentum is moving in their direction ahead of the presidential election.
Of course, there is another explanation for either victory.
"In a vacuum, this race looks bigger than it really is," says Rath. "It tells you which of these candidates is better. That is all. It doesn't tell us much about the Republican Party."