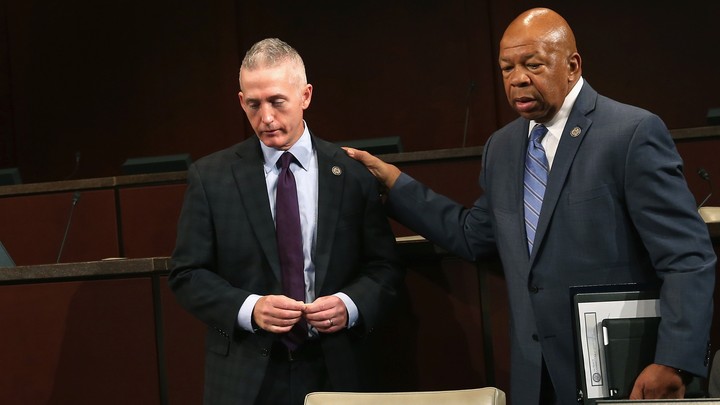 The State Department plans to provide more documents as soon as this week to the GOP-led House Committee probing the 2012 Benghazi attacks, according to a letter to the committee that also defends the department's cooperation with the panel to date.
The plan is revealed in a May 18 missive, obtained by National Journal, that follows last week's letter to State from the panel's GOP chairman, Trey Gowdy, who told State that the lack of document production thus far is delaying a hearing with former Secretary Hillary Clinton.
"We share the goal expressed in your letter of May 14 of moving forward 'promptly and with more urgency' on document production; in fact we are trying to do just that and expedite documents out the door to you this week," states the letter Monday from Julia Frifield, State's assistant secretary for legislative affairs.
Frifield's letter does not specifically describe what documents will be provided. The letter also says that the department was providing two witnesses, who are not named in the correspondence, for the committee to interview Wednesday and Thursday.
Gowdy has stepped up his criticism of the State Department in recent days, alleging that the department has not fully complied with a November request and a March subpoena for communications among former senior aides to Clinton.
Democrats have accused Republicans of delaying a hearing with Clinton, the overwhelming favorite to win the Democratic presidential nomination, in order to push the high-stakes event more deeply into the presidential campaign season.
Frifield's letter, while vowing new disclosures soon, also defends State's cooperation with Gowdy's requests to date and calls it "extensive."
It says State has provided more than 45,000 pages of material with "minimal" redactions, 19 current or former employees for interview (which does not include the two this week), and seven briefings for lawmakers or staff.
The letter to the committee comes as State is also negotiating in court over when emails from Clinton's private server will be released to the public.
The committee, meanwhile, on Tuesday subpoenaed longtime Clinton ally Sidney Blumenthal to appear for a private interview about Libya-related messages he sent to Clinton while she was secretary.
The exchange between State and the committee comes as the department is on the cusp of publicly releasing several hundred pages worth of Clinton's messages related to the Benghazi attack. The messages were provided to the committee months ago, and portions of them were published by The New York Times this week.
We want to hear what you think about this article. Submit a letter to the editor or write to letters@theatlantic.com.
Ben Geman
is an energy and environment correspondent at
National Journal