Shannon McGahn: The Staffer Behind House Republicans' Financial-Services Strategy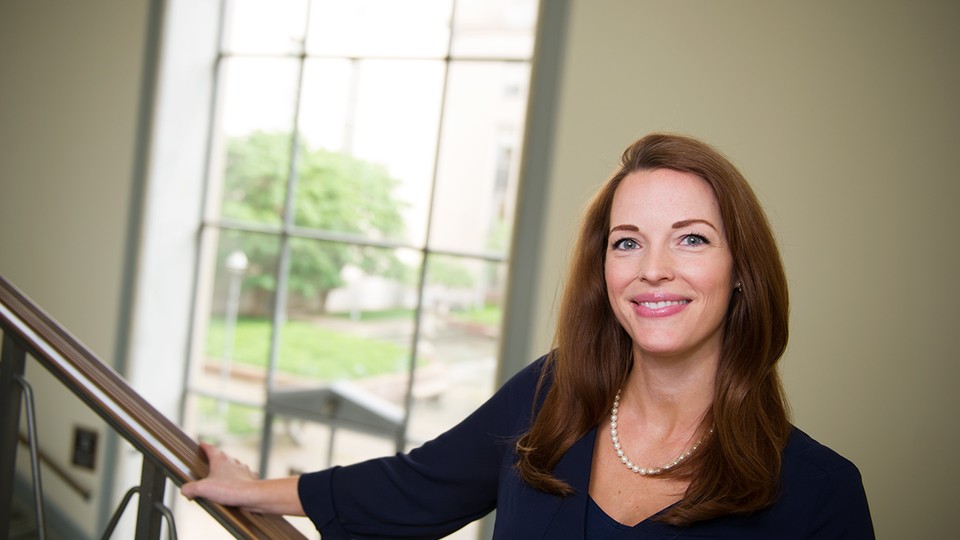 Shannon McGahn had her future career picked out by the time she was in high school.
The 35-year-old shared a hometown with John Kasich, who represented Ohio's 12th District at the time. One day, the politician and the teenager crossed paths.
"I grew up down the street from him, and at one point early in high school I ran into him at the pharmacy down the street and introduced myself," McGahn says. "He asked me what I wanted to be when I grew up and I said something like, 'Well, sir, I'd like to work for you.'"
(RELATED: Why Some Male Members of Congress Won't Be Alone with Female Staffers)
Kasich later gave McGahn an internship in his office when she was a sophomore at George Washington University. Years later, she's still in Washington working on behalf of the Republican Party.
Since 2013, McGahn has served as the staff director for the powerful House Financial Services Committee, which oversees the entire financial-services industry, including insurance, banking, and housing sectors. What happens there affects every American, from the investment banker raising capital on Wall Street to the single mom sorting bills at the kitchen table. And the committee's Republican chairman, Jeb Hensarling of Texas, has big plans: kill off the Export-Import Bank, which conservative hard-liners call "corporate welfare," before it's up for reauthorization in June; and dismantle the Dodd-Frank Wall Street Reform and Consumer Protection Act.
Much of Hensarling's criticisms of Dodd-Frank fell on deaf ears when Democrats controlled the Senate after its passage, making it difficult getting the Senate Banking Committee to take up many changes. But with Republican Sen. Richard Shelby of Alabama running that committee now, it's likely that adjustments could be passed through both committees. McGahn and Hensarling's staff are now making plans to scale back the law, which the congressman argues protects Wall Street by institutionalizing "too big to fail."
(RELATED: What's It Like to Be a Woman on Capitol Hill?)
Hensarling describes McGahn as incredibly dedicated to her post.
"What impresses me most is her commitment to serving the cause of freedom through the important work we do that touches the lives of anyone who operates in our economy," Hensarling said in a statement.
One of McGahn's early jobs on the Hill was working for then-Rep. Jennifer Dunn, a Republican from Washington state. Dunn emphasized to congressional leadership at the time that female voters want to hear about issues that affect their bank accounts—not just those that fall under the traditional "women's issues" category.
"She would go and meet with Republican leaders, men and women alike, and explain to them that women were more and more likely to manage their family finances, deal with taxes, and make health care choices," says McGahn, who shares her former boss's view.
McGahn then went on to work for the House Republican Conference when former Rep. Deborah Pryce of Ohio was chairwoman, and then she worked for former House Majority Leader Tom DeLay. She spent a few years off the Hill, then returned to work as a deputy chief of staff of communications for the House Financial Services Committee.
(RELATED: The 20 Most Powerful Women Staffers on Capitol Hill)
Her return to Financial Services coincided with the Democratic-led effort to pass what would become Dodd-Frank, as Republicans like Hensarling and then-committee ranking member Spencer Bachus of Alabama were drafting their own bill.
"They were in search of a new press lead to help communicate our policy proposals surrounding the financial crisis," she says. "I tried to bring that values-based messaging approach to help boil down these very complex financial policies into real solutions that members could discuss back home."
McGahn then served as communications director for the House Republican Conference, before going back to Financial Services.
Jeremy Deutsch, chief of staff in the House Republican Conference, who first met McGahn when she was a young GOP supporter in high school, says the staff director is a rarity in Washington.
"She is one of the few folks in this town who can kind of take both the public policy and communications and bring it together," Deutsch says. "She has this ability to frame and message things in a way that emotionally connects with people."
Kitchen-table issues—those that directly affect consumers' pocketbooks—are ones that particularly hit home for McGahn, who worked in her father's pizza shop in Ohio.
"It was his dream to have his own business, and while he wasn't always successful at it, he did a great job of managing and training all of his children to enjoy and take pride in their work," McGahn says.
Her dad, she says, worked tirelessly so McGahn could be the first in her family to graduate from college.