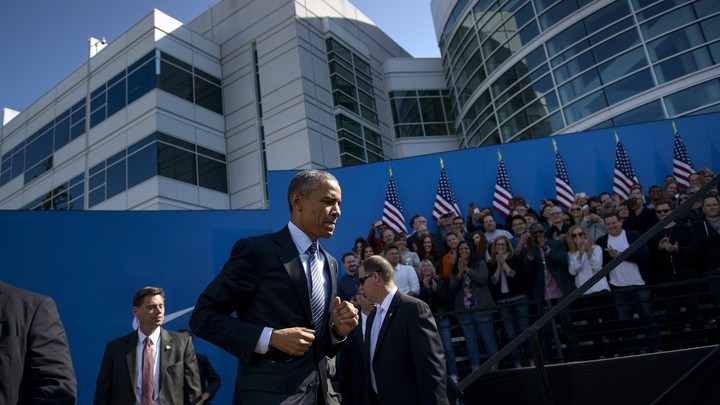 The Republican-led Senate delivered the Obama administration the key to unlock major trade agreements Friday night, after hours of contentious votes and weeks of old-fashioned deal-making that played out in full view on the chamber floor.
The "fast-track" bill passed 62-to-37, with 14 Democrats—largely moderates or those from coastal states—voting in favor and five Republicans opposed. The measure would limit congressional debate on future trade-pact votes by blocking amendments and requiring only a simple majority in both chambers. The bill will ease the passage of trade accords like the Trans-Pacific Partnership, which endeavors to create the world's largest free-trade zone with 12 countries and comprising 40 percent of the world's gross domestic product.
The White House and Republicans praised the bill as a way to lower barriers and create export-related jobs, while foes complained that it would ease future passage of unfair trade bills by reducing congressional leverage.
"We all know that trade is important for American workers and American jobs," Senate Majority Leader Mitch McConnell said on the floor Friday. "And we all know that, by passing this legislation, we can show we're serious about advancing new opportunities for bigger American paychecks, better American jobs, and a stronger American economy."
The bill passed only after McConnell agreed to the demands of several senators Thursday to allow a future vote on reauthorizing the Export-Import Bank, which provides loan guarantees to U.S. companies selling their products abroad. Keeping the bank alive is a priority for many business groups but it also has some strong foes, particularly among House conservatives who hope to see it die.
The fast-track measure also progressed without the attachment of an amendment on currency manipulation—sponsored by Sens. Rob Portman and Debbie Stabenow—that was closely watched by both sides. Opponents of the amendment, which failed on a 48-to-51 vote, worried that it would sink the Trans-Pacific Partnership if it were added to the fast-track measure.
The vote was a major victory for President Obama, who personally lobbied Democrats at the White House, on the phone, and in every other venue he could find. The effort worked, though it also exacerbated some intraparty tensions, particularly between Obama and Sen. Elizabeth Warren, a high-profile and outspoken foe of both TPA and TPP.
Warren repeatedly made the argument that the fast-track measure should not be approved until the public is allowed to see the full text of the TPP deal. Otherwise, voters won't know what's in the measure until it's too late. "That sounds like a lousy arrangement," she complained on the floor Thursday.
TPA's passage is also a win for big business, which has failed in the past few years on some of its biggest priorities, including comprehensive immigration reform and a tax-code overhaul. The Business Roundtable, an association of CEO members, has worked for over a year and a half for this victory, according to David Thomas, the group's vice president for trade policy. The group, which set up weekly meeting on Capitol Hill, sent letters of support to every senator this week, and held a press conference with McConnell and others. "All year, we've seen more and more BRT CEOs and companies stepping up at all levels," he said.
Labor groups and other opponents will now redouble their efforts over in the House, where the bill faces tougher opposition due to a band of conservatives with little trust in the president and Democrats who have concerns that the TPP could reduce developed countries' access to U.S. medicine and deepen the U.S. trade deficit with Japan, particularly in the automobile market. They are also concerned about entering into agreements where American workers have to compete against countries with much lower wages and looser environmental regulations.
"Rest assured, the battle over TPP is far from over," Marc Perrone, president of the United Food and Commercial Workers International Union, said Friday night. "President Obama and the supporters of fast-track and the TPP want us to believe that this deal is worthy of our nation; it is not."
In a sign that the White House is still trying to convince Democrats—particularly House Democrats—Obama issued a statement after Friday's vote calling it "an important step toward ensuring the United States can negotiate and enforce strong, high-standards trade agreements."
The TPA bill follows a few other big-ticket items the Senate Republican leadership can tout in its first six months in office, including a substantial Medicare reform bill. But other difficult issues and expiring programs await after the Memorial Day recess.
This article has been updated.
---
Sarah Mimms contributed to this article
We want to hear what you think about this article. Submit a letter to the editor or write to letters@theatlantic.com.
Alex Rogers covers Congress as a staff correspondent for National Journal. He previously worked as a political reporter at TIME. He is a native of Bethesda, Maryland and a graduate of Vanderbilt University.