Senate Democrats Relent on Trade
Lawmakers reached a deal to move forward on President Obama's fast-track bill, just a day after Democrats blocked it from coming to the floor.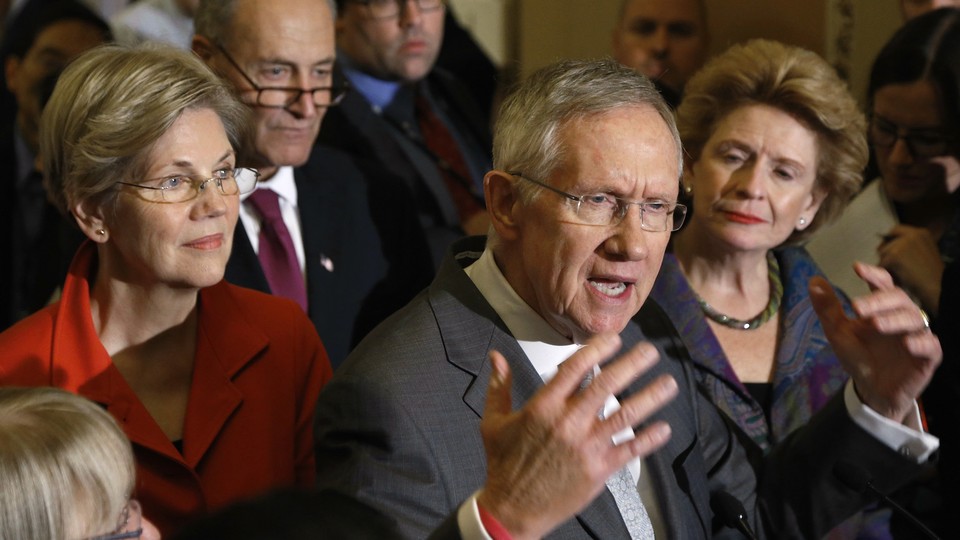 Updated May 13, 3:35 p.m.
Senate Democrats on Wednesday relented in their opposition to the consideration of legislation expediting trade agreements, just 24 hours after their vote blocking the bill put a temporary halt on President Obama's trade agenda.
In exchange for allowing Trade Promotion Authority to move forward, Democrats will get to vote Thursday on bills cracking down on Chinese currency manipulation and giving preferential treatment to imports from African countries.  Majority Leader Mitch McConnell announced the deal on the Senate floor on Wednesday. Trade Promotion Authority allows the president to negotiate agreements that Congress must vote on without amendment. To secure Democratic votes, McConnell will combine that bill with a separate measure providing aid to workers displaced by foreign trade. Senate Democrats on Tuesday had demanded that McConnell package all four bills together, but he refused on the grounds that the currency proposal would have sunk the underlying trade legislation in the House. Now House Republicans can choose to ignore the currency and Africa measures even if they clear the Senate.
Tuesday's rebuke of the president was hailed as a victory for the progressive activists led by Senator Elizabeth Warren. But the White House had downplayed it as a "procedural snafu," and ultimately that might prove to be the case. Democrats will be able to tell their constituents they voted to crack down on China, but that bill is unlikely to become law. A final Senate vote on the fast-track trade bill is expected next week, and then it will face an even tougher path in the House, where a majority of liberal Democrats oppose Obama's trade push.
May 12, 2015, 3:45 p.m.
On Tuesday, the Senate failed to overcome a Democratic filibuster blocking "fast-track" Trade Promotional Authority from coming up for debate. For the past week, President Obama's toughest opponent in his uphill struggle with Democrats over trade legislation has been Elizabeth Warren, the progressive leader who continues to fight the president even though she doesn't want to be president. But it turns out that the president's most difficult obstacle is not Warren but Harry Reid, his erstwhile ally and the Democratic leader in the Senate.
In opposing the trade bill, Warren has accused Obama of asking Congress to "grease the skids" for an international agreement that is being negotiated in secret and boosts corporations at the expense of workers. She's even suggested that a pending trade deal with the European Union could unravel Obama's prized Wall Street reform law, Dodd-Frank.
Warren has gotten under Obama's skin to a degree that many of his Republican critics have not. "She's absolutely wrong," the president told Matt Bai of Yahoo News last week. Obama repeatedly referred to the first-term Massachusetts senator as "Elizabeth"—a tic probably meant to highlight their enduring friendship but which may have come across as condescending. And as if to further diminish a woman who has taken on the status of icon in some liberal circles, the president tossed around a pair of words—"law professor" and "politician"—that Republicans routinely use to knock him down a peg or two. (Remember, there is nothing a politician hates more than when another politician calls them out for being a politician.)
The truth of the matter is that Elizabeth, you know, is a politician just like everybody else. She's got a voice that she wants to get out there, and I understand that. On most issues, she and I deeply agree. On this one though, her arguments don't stand the test of fact and scrutiny.
The White House always understood trade authority would be a tough sell with Obama's liberal base and that Warren would probably emerge as a leader of the opposition. With Republicans broadly supportive of the legislation, all the administration needed was a handful of Democrats in the Senate and a few dozen in the House to secure package. Yet on Tuesday, the bill failed in its initial attempt to clear even that low threshold.
Reid has made clear for months that he would vote against Trade Promotion Authority, but there is a big difference in Congress between a legislative leader who opposes a piece of legislation and one who plans to use his power to kill it. Administration officials told me they were confident Reid wouldn't actively try to torpedo the bill, pointing to a statement he made in December that he wouldn't "stand in the way" of Obama's push for trade deals with Pacific and European nations. But they grew more concerned watching Reid rally nearly the entire Democratic caucus, including several pro-trade senators, to block Mitch McConnell's attempt to bring the fast-track bill to the floor.
Reid first threatened to stall the trade bill until Republicans brought up unrelated legislation to extend the Highway Trust Fund and reform the Patriot Act. In recent days, however, he's pushed McConnell to package Trade Promotion Authority with other bills that would crack down on currency manipulation and provide assistance to workers who lose their job because of trade deals. McConnell has resisted, promising only that those measures could come up as amendments but not guaranteeing their passage. Without that assurance, Democrats banded together and defeated a procedural motion on Tuesday afternoon.
A Senate Democratic aide on Tuesday insisted that Reid was not trying to kill Obama's trade bill—he just wanted to improve it and get as much as he could from Democrats. "Everyone here assumes trade will pass eventually," the aide said. "The goal right now is to use our leverage to secure a better deal. It's that simple." Josh Earnest, the White House press secretary, also downplayed the development. "It is not unprecedented, to say the least, for the United States Senate to encounter procedural snafus," he told reporters. (When ABC's Jonathan Karl pointed out that "snafu" is an old World War II military acronym meaning "Situation Normal, All Fucked Up," Earnest smiled and replied, "This is a family program, Jonathan.")
Progressive activists opposed to the trade deal celebrated Tuesday's vote, but they aren't taking Tuesday's vote as a definitive victory either. "The hundreds of thousands of activists who have rallied behind Senators Warren, Brown, and Sanders to defeat the [Trans-Pacific Partnership] will not rest until it is dead, buried, and covered with six inches of concrete," said Charles Chamberlain, the executive director of Democracy for America. "We know the forces pushing the job-killing TPP won't stop here, and they should know, neither will we." Jim Kessler, vice president for policy at the centrist think-tank Third Way, shot back: "This is not close to being over."
Obama has fought progressives before and won, most memorably in his efforts to pass mediocre fiscal deals that they believed gave away too much to Republicans. But this struggle is different, and more reminiscent of the failed push that President George W. Bush made, during the twilight of his own presidency in 2007, to get enough Republicans to join the Democratic congressional majority in supporting comprehensive immigration reform. Then as now, immigration was a flashpoint for conservatives who feared a repeat of the broken promises made 20 years earlier by a president of their own party, Ronald Reagan. Democrats invoking the passage of NAFTA under Bill Clinton are invoking similar fears on trade. Barbara Boxer, the veteran California liberal, said in a floor speech that she was "suckered" into supporting fast-track authority—which helped expedite the NAFTA talks— in the late 1980s and came to regret it. "They're making all these promises," she said of the current TPA push, "and the more I hear it, the more I hear the echoes of the NAFTA debate."
Just like Bush, Obama is finding that his powers of persuasion within his own party are dwindling the closer he gets to retirement. And while attention shifts to the campaign to replace him, he has gotten no help—so far—from Hillary Clinton, whose position on the trade deal is one big hedge. The setback in the Senate for Obama's cause on Tuesday may be temporary, and either Reid or Clinton can still step in to turn momentum back in his favor. But without their assistance, another one of the president's major second-term priorities could be doomed.