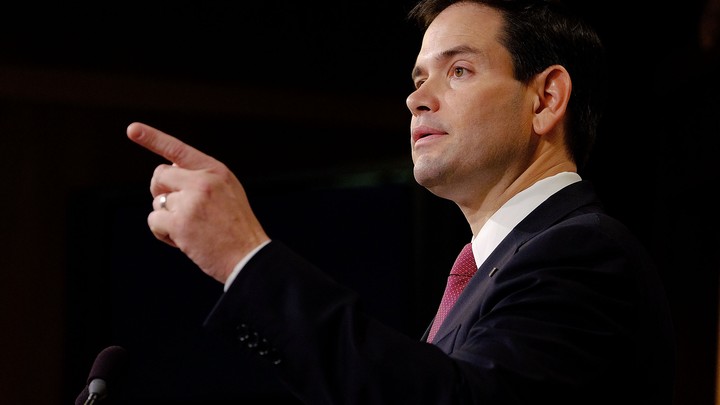 In a GOP presidential primary field with no obvious leader on foreign policy, Sen. Marco Rubio is positioning himself to take up that mantle. And he's naming specific policy actions he'd push for as president: returning to the fiscal year 2012 defense budget, extending NSA mass surveillance, and urging Congress to pass a major trade deal.
The Republican presidential candidate expounded on his hardline national security stances Wednesday in a speech and question-and-answer session at the Council on Foreign Relations in New York City, laying out the Rubio doctrine of foreign policy: American strength, "the protection of our global economy," and upholding "America's core values."
He also responded to the latest question put to GOP contenders, sparked by primary challenger Jeb Bush's comments on the Iraq War: Knowing what he does now, would he have authorized the 2003 invasion of Iraq?
"Not only would I not have been in favor of it, President Bush would not have been in favor of it," Rubio said. "Well, President Bush has said that he regrets that the intelligence was faulty. I don't think the Congress would have voted in favor of authorization if they'd have known that. But let's also be fair about the context. Yes, there was intelligence that was faulty, but there was also a history with Iraq of evasion, it was a country that had mobile units in that past that it used for both CW, you know chemical weapons and biological capabilities."
It appeared to be a change from Rubio's past positions, most recently expressed in March of this year, that it had not been a mistake to go to war with Iraq.
Unlike past declarations in this realm, such as his speech last year at the John Hay Initiative, or his assertion this week that his approach to foreign policy would be guided by the action film Taken ("We will look for you, we will find you, and we will kill you"), this address offered tangible policy aims.
To accomplish the first pillar of his doctrine, restoring American strength, "my first priority will be to adequately fund our military," Rubio said, subsequently proclaiming his support for returning to former Defense Secretary Robert Gates's fiscal year 2012 budget baseline and ending sequestration.
"Adequately funding the military will allow us not only to grow our forces, but also to modernize them," he will say, "which in turn will allow us to remain on the cutting edge in every arena before us—land, sea and air, but also cyberspace and outer space: The battlefields of the 21st century."
He also reaffirmed his support for extending Section 215 of the Patriot Act, which the NSA uses to justify its surveillance program. That section of the law is facing a June 1 expiration date. "We cannot let politics cloud the importance of this issue," he said. Though the prepared remarks from Rubio's campaign said he supported "permanently" extending the portion of the law, Rubio dropped that modifier in his delivery.
In order to ensure the "protection of the American economy in a globalized world," Rubio urged Congress to give the president Trade Promotion Authority to finalize the Trans-Pacific Partnership and the Transatlantic Trade and Investment Partnership. Calling out Democratic challenger Hillary Clinton by name for the only time in the speech, he said the former secretary of State and others who have been ambivalent on free trade "are either hypocritical or fail to grasp trade's role as a tool of statecraft that can bolster our relationships with partners and create millions of American jobs."
He also called for a return to "the ideals that have long formed the backbone of American foreign policy—a passionate defense of human rights, the strong support of democratic principles, and the protection of the sovereignty of our allies." Obama's foreign policy, he said, could be characterized at best as "caution, and at worst, outright willingness to betray those values for the expediency of negotiations with repressive regimes."
Prisoners in Guantanamo Bay don't deserve those human rights, he said. "Innocent people, peace loving people deserve to have their rights respected," but "when you are an active combatant against the United States ... you need to be taken off the battlefield and treated for what you are: an enemy combatant. And that's the role Guantanamo plays and should continue to play."
He also harshly criticized Obama and Clinton for the administration's "dangerous" foreign policy that "demonstrated a disregard for our moral purpose that at times flirted with disdain."
"America plays a part on the world stage for which there is no understudy," he said. "When we fail to lead with strength and principle, there is no other country, friend or foe, who is willing or able to take our place. And the result is chaos."
As for peace in the Middle East, Rubio, a fierce defender of Israel, dismissed the possibility of a two-state solution to the Israeli-Palestinian conflict. "The conditions simply don't exist," he said.
Lionizing John F. Kennedy as a cold warrior, Rubio quoted from the former president's last speech.
"President Kennedy, like most presidents before and since, understood what our current president does not: that American strength is a means of preventing war, not promoting it," he said. "And that weakness, on the other hand, is the friend of danger and the enemy of peace."
We want to hear what you think about this article. Submit a letter to the editor or write to letters@theatlantic.com.
Rebecca Nelson
is a staff correspondent for
National Journal
. Her work has appeared in
TIME
,
Chicago
,
Ms.,
and
Washingtonian.