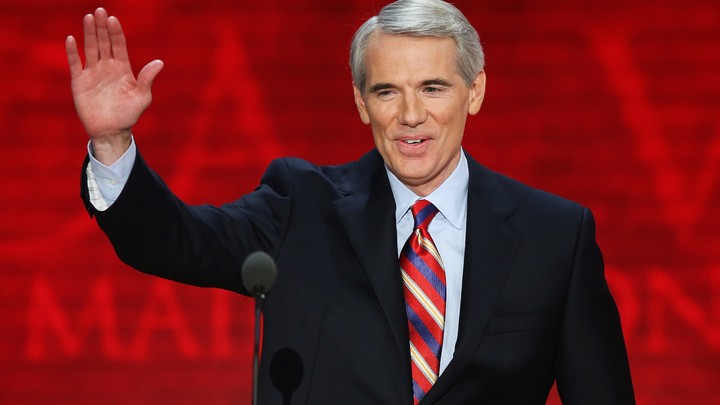 Ohio Democrats say Sen. Rob Portman's record on international trade deals is hurting his chances of winning a second term in 2016, but the Ohio Republican is looking to flip that script quickly.
Portman's campaign went up with a weeklong, statewide digital ad campaign Monday accusing his likely Democratic opponent, former Ohio Gov. Ted Strickland, of overseeing the loss of more than 350,000 jobs during his time in Columbus. Portman campaign manager Corry Bliss attacked Strickland in a memo over what he called a "penchant for hypocrisy" on outsourcing, including "awarding lucrative contracts to companies he knew would outsource jobs." The Portman camp declined to release the exact cost of the ad buy, but a source with knowledge said it was in the "high five figures."
The move comes as a quick response to attacks from Democrats who hope to sink Portman and other Rust-Belt Republicans on their support for the Trans-Pacific Partnership, a trade deal with Asian nations being brokered by the Obama administration. Strickland opposes the pact, as does his Democratic primary opponent, P.G. Sittenfeld.
"Rob Portman is desperate to distract voters from his vote to fast track jobs overseas, because he knows his days in the Senate are numbered once voters find out about his disastrous outsourcing record," the Ohio Democratic party said in response to Portman's ad.
Portman, a former U.S. trade representative, has already been working to fight back on the issue, pushing for an amendment to the legislation that would crack down on currency manipulation. By keeping their currency value low, countries can depress the prices of their exports and make it more difficult for foreign companies to sell goods in their market. The Chinese government has consistently deflated the value of its currency.
Democrats say their polling in Ohio indicates both trade and outsourcing are deeply resonant topics, and ones that could help them win back white working-class voters they've lost in recent elections. It's a message Democratic Senate hopefuls are taking on the trail not just in Ohio, but in many Senate battlegrounds. Given the timely response by Team Portman, Republicans may just well agree it's an issue they'll need to tackle head-on.
CORRECTION: A previous version of this story erroneously attributed a statement by Sittenfeld to Strickland.
We want to hear what you think about this article. Submit a letter to the editor or write to letters@theatlantic.com.
Andrea Drusch
is the Senate correspondent for the
National Journal Hotline
.