Rival Democrats Ready For Bitter Rematch in California
In Silicon Valley, a labor-backed candidate is facing an intraparty challenge from a tech community favorite.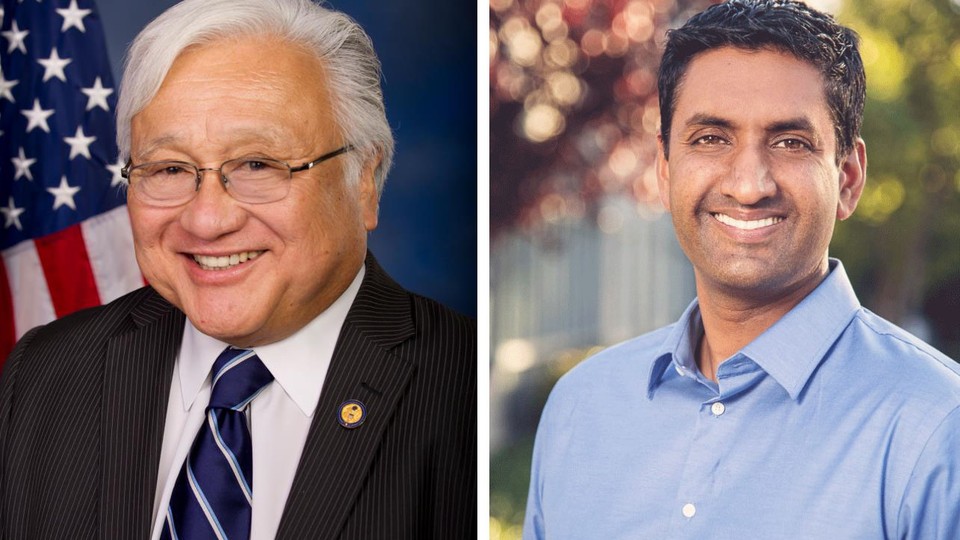 The Democrats' intraparty struggle is coming back to Silicon Valley.
On Saturday, former Obama trade official Ro Khanna will launch a campaign aimed at unseating fellow Democratic Rep. Mike Honda, setting up a rematch of the bitter race that Khanna lost narrowly in 2014.
It's a contest that tracks closely with the progressive-centrist internal divisions that divide Democrats on a national level: Khanna is expected to draw support from the tech industry and business groups again, while the incumbent Honda has backing from organized labor and environmental groups.
In California's primary system, the top two vote-getters advance to the general election, even if they're from the same party. In the state's solidly Democratic 17th District, Honda and Khanna are forecast to finish first and second, as they did in 2014.
In 2016, the wrinkle will come from the larger, more diverse group of voters that tend to cast ballots in presidential years, but it's unclear which candidate stands to benefit from the increased turnout. "This race is a toss-up," California Democratic strategist Jude Barry said. "The fact that it was so close last time gives both sides legitimate hope they can win this time around."
A deputy assistant commerce secretary from 2009 to 2011, Khanna, 38, is pitching himself as a pro-business and pro-tech alternative to Honda. Honda, a 73-year-old pro-labor Democrat, argues that his experience makes him a better fit for the district's working families.
Already, the race looks to be costly. In this year's first fundraising quarter, Khanna raised $801,000 to Honda's $258,000. In 2014, more than $7 million was spent in the election.
Khanna's donor rolls this time list many of the Silicon Valley executives, investors, and attorneys who propelled his bid last year, including tech investor Ron Conway and Netscape cofounder and venture capitalist Marc Andreessen. But Khanna, who's represented tech companies in intellectual property cases, maintains that his support stretches beyond that community to voters hungering for fresh representation in Congress.
"People are looking for independent thinking and new ideas," Khanna told National Journal. "They want somebody who really understands the innovation economy, and they don't see leadership on that issue."
But unseating Honda won't be an easy task. Elected to Congress in 2000, Honda has been a popular representative for the district, the nation's first majority-Asian-American one outside Hawaii. He's also admired as a leader in the Asian-American Pacific Islander community.
"While he is certainly supportive of tech companies and the role they play, he is also very engaged and concerned about those who are not benefiting as much," Honda campaign spokesman Adam Alberti said.
Compared to 2014, more liberal and minority voters are expected to show up at the polls, bolstering key parts of Honda's base. But Khanna is hoping to draw larger numbers of young voters, and he appears to have the inside track on more GOP and independent voters, in part due to the perception that he's more business-friendly.
"It wouldn't be fair to say right now how the turnout cuts either way," said Garry South, a Democratic strategist in California.
Both sides are preparing for a competitive race. Khanna is touting community work he's pursued in Honda's district, including teaming with San Jose Mayor Sam Liccardo on the city's manufacturing initiative. And in his campaign announcement, he mentions a video likely to resurface in the campaign: C-SPAN footage that appears to show Honda dozing off during a debate over Homeland Security funding. Meanwhile, the Honda campaign is accusing Khanna of cozying up to wealthy special interests, a theme that played out last year.
In 2014, Honda was backed by the Democratic establishment, including President Obama. Labor groups such as the United Farm Workers and environmental groups such as the Sierra Club also gave him a boost.
Khanna garnered support from pro-business interest groups, such as the San Jose Silicon Valley Chamber of Commerce. A long list of tech titans also endorsed his candidacy, including Google's executive chairman, Eric Schmidt, and Yahoo's chief executive, Marissa Mayer.
"When Mr. Honda speaks, I hear a lot of ideas that have been recycled for a long time," said Cupertino Mayor Rod Sinks, a Khanna backer who led two successful tech high-tech start-ups. "We need somebody who is more in tune with Silicon Valley."
But Honda's allies point to the congressman's decade-plus experience in state and local government as evidence that he's more qualified for the job.
"Mike Honda has a wealth of experience on policy issues and understands Silicon Valley like few other elected officials," said Ben Field, executive officer of the South Bay Labor Council.
The race also is expected to play out against the backdrop of another contentious Democrat-on-Democrat race in the Bay area earlier this month. In a special election for the 7th state Senate District, Orinda Mayor Steve Glazer, aided by independents and Republicans, toppled Assemblywoman Susan Bonilla, the preferred pick of labor groups.
But the race may not offer many parallels to Honda and Khanna's election. The state Senate contest was marked by low turnout and deluge of spending from labor unions and business interests. In the Honda-Khanna matchup, Democratic strategists expect higher turnout and more spending from the candidates.
"Last time, it was Honda's race to lose," political analyst Larry Gerston said. "This time, it's anybody's to win."