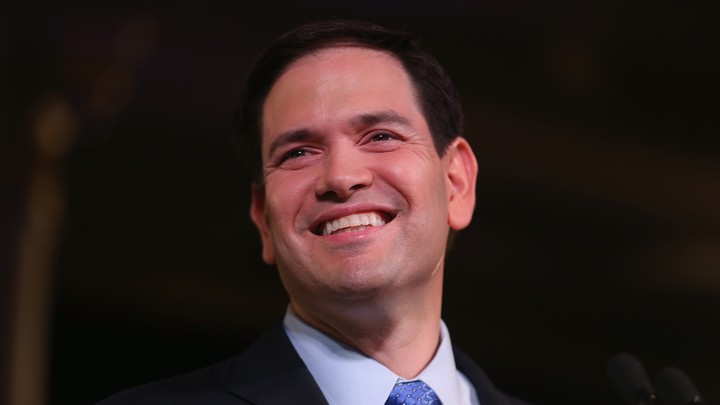 Among older Republicans and those already paying close attention to the 2016 race, Marco Rubio's a hit.
Seven in 10 Republicans or Republican-leaning independents who have thought "a lot" about the election hold favorable views of the GOP presidential contender, according to a new Pew survey. And 75 percent of seniors—those over 65—rated Rubio favorably.
But there's a sharp drop-off for voters who haven't thought much about the election: Only 40 percent of those Republicans or Republican leaners hold a favorable rating of Rubio. That could have to do with name recognition; of those polled who weren't paying close attention to the race, 37 percent said they couldn't rate Rubio negatively or favorably. It stands to reason that people not following along as closely may not have heard much about the Florida senator, and therefore haven't formed opinions about him more than a year out from the election.
Likely primary contender Scott Walker faces a similar gap. Sixty-five percent of voters following the race closely say they hold a favorable view of the Wisconsin governor, while just 36 percent of those who haven't thought as much about the election say the same. Walker also shares the senior voting bloc: Only 6 percent of those over 65 have an unfavorable view of the governor, versus 65 percent who rated him favorably.
For younger voters—in this study, those under 45—no candidate corners the GOP market. Roughly the same number view former Florida Gov. Jeb Bush favorably as unfavorably (45 percent to 41 percent, respectively), and former Arkansas Gov. Mike Huckabee has a 55 percent favorability among that set, only leading Sen. Rand Paul of Kentucky by five percentage points.
On the Democratic side, the numbers reflect the much smaller field dominated by Hillary Clinton. Nearly 80 percent of Democrats and Democrat-leaning voters view the former secretary of State favorably. But her appeal with millennials is notably lower, with only 65 percent of young millennial Democrats—those who couldn't vote in the 2008 election—rating her favorably. A National Journal story from this week underscores that point, illustrating that Clinton has less pull among young feminists.
Hillary Clinton isn't the only one facing a tougher crowd. Bill Clinton, thought to be an asset to his wife's campaign by some and a liability by others, has suffered a blow to his favorability, which has fallen 10 points since 2012, to 58 percent—the lowest it's been since the last time his wife was running for president, in 2008. (A blissfully ignorant 3 percent said they had never heard of the former president.)
The poll of 2,002 adults was conducted May 12-18.
We want to hear what you think about this article. Submit a letter to the editor or write to letters@theatlantic.com.
Rebecca Nelson
is a staff correspondent for
National Journal
. Her work has appeared in
TIME
,
Chicago
,
Ms.,
and
Washingtonian.