Republicans: NASA Wastes Money on Climate-Change Research
Lawmakers want to cut Earth-monitoring program in favor of space travel.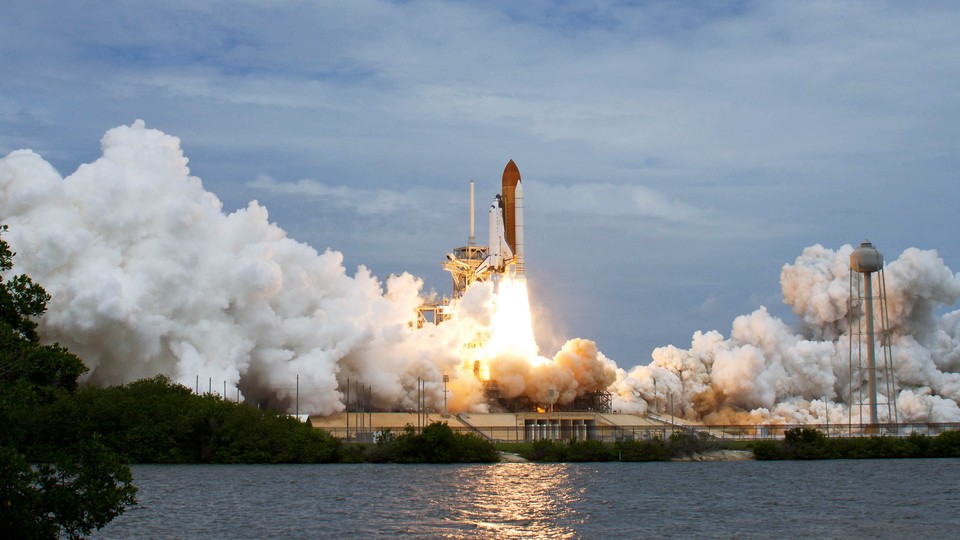 NASA controls more than a dozen satellites and spacecraft, monitoring everything from melting ice to water storage to rain and snow. To the agency's scientists and supporters, these programs are essential to understanding the planet and the changing climate, and part of its core mission.
But to congressional Republicans, they are just another example of an administration wasting money on climate-change research, zapping funds away from what NASA should be doing: blasting into and exploring space.
House Science Committee Chairman Lamar Smith, a Texas Republican, last week moved a two-year NASA bill through his committee that would shift money away from the Earth Science program to spend on planetary exploration. "There are 13 other agencies involved in climate-change research, but only one that is responsible for space exploration," Smith said at a recent hearing.
Sen. Ted Cruz, another Texan, who oversees the Commerce subcommittee in charge of NASA, has likewise said it's time for NASA to refocus on space exploration. At a hearing earlier this year, Cruz said that the "core function of NASA is to explore space" and "NASA in the current environment has lost its full focus on that core mission."
Smith and Cruz represent a state flush with NASA facilities and spending, which would stand to benefit from seeing the planetary program flourish. Both are also global-warming skeptics; Cruz, a presidential candidate, has compared climate-change believers to "flat earthers" and questions the science tying human actions to rising temperatures.
Republicans across the board are going after President Obama's climate agenda, cutting funding for the Environmental Protection Agency and the Energy Department, encouraging lawsuits against climate rules, and introducing bills that would roll back virtually every regulation that gets proposed. NASA is just the latest target.
Under Obama, NASA's Earth Science budget has been increased from $1.38 billion in 2009 to $1.77 billion in 2015. The data from that program has a whole suite of uses, everything from weather forecasting to military planning to crop planning. NASA has also been aggressive about using its findings to educate the public on climate change and the need to address greenhouse-gas emissions. For instance, this week NASA put together a rundown with 10 agency scientists explaining the news that the global concentration of carbon dioxide in the atmosphere had reached 400 parts per million for the first time in recorded history.
Scientists who have worked for NASA and rely on its data say that it's also the only agency capable of handling its Earth Science agenda. Because of NASA's decades-long experience in launching satellites and tracking their data, it's not as simple as handing the keys over to, say, the Fish and Wildlife Service.
Waleed Abdalati, who served as NASA's chief scientist from 2011 to 2012, said that programs like the Gravity Recovery and Climate Experiment, or GRACE, mission are not just part of a climate research portfolio, they're the backbone to other valuable research.
Under GRACE, a pair of satellites circle the Earth mapping variations in the planet's gravity field, allowing scientists to detect changes in ocean currents, water storage, and variations of land mass. The measurements can track things as specific as the land mass lost in Greenland and Antarctica, tracking melting ice and rising sea levels.
"That's not something any other agency can do, and it's fundamental to our understanding of what our changing sea levels will look like," said Abdalati, now the director of the Cooperative Institute for Research in Environmental Sciences at the University of Colorado Boulder. "NASA figures out new ways to look at things and understands processes that have not been developed before."
The House Science Committee last week passed a two-year NASA authorization bill that would authorize the Earth Sciences program budget at $1.45 billion each year, with the planetary science program set at $1.5 billion (it's currently enacted at just over $1.4 billion). Other science programs, like astrophysics ($730 million) and heliophysics ($651 million) would be in line or slightly increased from Obama's budget request.
While the Earth Sciences budget has increased at the expense of other NASA programs under Obama, it's still below where it was before cuts under the Bush administration. The budget in fiscal 2000 was $1.69 billion ($2.29 billion when adjusted for inflation), and FactCheck.org notes that's still a higher percentage of NASA's overall budget than even today's restored figures. And that's on top of cuts to NASA's top-line budget that started under Bush and were accelerated by sequestration. A 2012 report by the National Academies of Science warned that the "inadequate" funding levels under the Bush administration heralded a "rapid decline" in Earth observation.
In a March hearing, NASA Administrator Charles Bolden also said that the planetary exploration budget has dropped by design—NASA is trying to make it cheaper to run long-distance missions.
Bolden said last week that the House proposal "threatens to set back generations worth of progress in better understanding our changing climate, and our ability to prepare for and respond to earthquakes, droughts, and storm events." Science Committee ranking member Eddie Bernice Johnson of Texas wrote in a column last week that the budget had been "made captive to ideological fervor," accusing Republicans of cutting valuable research in order to slash climate funding anywhere they could.
The Senate hasn't yet drafted a NASA bill of its own, and a Commerce spokesman did not say when the committee would move one, but Sen. Gary Peters—the Michigan Democrat who serves as ranking member of the space subcommittee—said he feared that Cruz could push similar cuts.
"If folks are trying to move a political agenda, they shouldn't cut off the research into basic science that can lead to better public-policy decisions," Peters said.
Mark Abbott, a professor at Oregon State University who has served on the National Academies committee behind the 2012 report, said the notion of parity between Earth Sciences and planetary exploration was understandable but offered a narrow view of how NASA tries to split its work.
"There's always been a discussion about what the balance between exploration and earth science should be," said Abbott, the dean of OSU's College of Earth, Ocean, and Atmospheric Sciences. "But the whole 'Mission to Planet Earth' idea is a powerful organizing view."
The "Mission to Planet Earth" is the former name for the Earth Sciences program, launched under President George H.W. Bush and championed under President Reagan, as noted by the Houston Chronicle. The 1958 National Aeronautics and Space Act that created NASA even says that space activities should contribute to "the expansion of human knowledge of the Earth and of phenomena in the atmosphere and space."
It's a program that supporters say goes well beyond measuring climate change. The GRACE program, for example, has also been used to track changes in California that can hold implications for water storage in the state's ongoing drought.
Other NASA satellites are measuring ocean salinity and sea-level rise, consequences of climate change that hold serious implications for coastal areas. The Global Precipitation Measurement missions track snow and rain, measurements scientists say could be used to predict extreme storms.
"Nobody I know thinks of this in political terms," said Berrien Moore, former science advisory committee member at NASA and the dean of the College of Atmospheric and Geographic Sciences at the University of Oklahoma. "This is a scientific question. These are all hard questions, and this is the only cost-effective way to do it.
"You can have computer models, you can run the models, but you have to have global data and you have to be monitoring this around the globe," Moore added.
Republicans have argued that NASA's work isn't necessary, given the number of other agencies working on climate research and the opportunities in the private sector. A separate bill set to be voted on by the full House later this month would clear the way for the National Oceanic and Atmospheric Administration to start incorporating commercial satellites and weather data in its own activities, which sponsors say will improve the administration's forecasting abilities.
Abdalati said that ultimately, tight budgets will likely curtail the Earth observation work, but that legislators would do well to reconsider cutting a "fundamental element of the NASA mission."
"In a nation like ours, there's room to invest in understanding the planet that's most important to us in the universe, as well as those missions that touch on the human spirit of exploration," he said. "Whatever you feel about climate change, nobody can dispute the value of knowing what lies ahead on Earth."