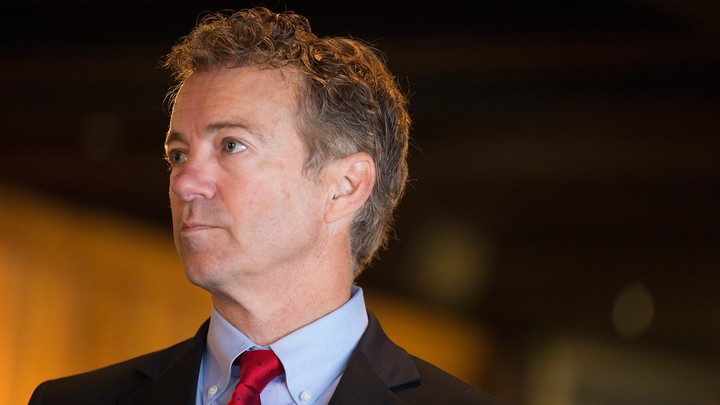 There are 18 months until the 2016 presidential election and Sen. Rand Paul is vying for the Republican nomination. But some of his biggest allies in his hours-long talkathon Wednesday haven't been members of his own party; they've been Democrats.
Paul took to the Senate floor shortly after 1 p.m. Wednesday in opposition to the National Security Agency's collection of bulk data and ended his speech just before midnight. Section 215 of the Patriot Act, which is used to authorize that collection, will sunset June 1, sending the Senate into a tailspin as it tries to find a resolution before it leaves for a one-week recess. Fellow Kentuckian and Majority Leader Mitch McConnell has urged the Senate to pass a clean reauthorization of the program, but Paul and others have vowed to stand in the way.
Democratic Sen. Ron Wyden, who has threatened to filibuster any extension of the Patriot Act, was the first and not all-that-unexpected Democrat to come and speak in support of Paul's position Wednesday.
But he was far from the last. Seven Democrats spoke with Paul, compared with just three Republicans. Wyden's visit set in motion more Democratic Senate speeches from New Mexico's Martin Heinrich, West Virginia's Joe Manchin, Delaware's Chris Coons, Washington state's Maria Cantwell, and Connecticut's Richard Blumenthal. Even Chairman of the Democratic Senatorial Campaign Committee Jon Tester—the man responsible for trying to take Paul's Senate seat into Democratic control in 2016—came down to speak out alongside the Republican senator.
It is a stark reminder of how on issues of civil liberties, party lines are blurred and politics can be murky. Even in the lead-up to a presidential cycle, Wyden took the floor to applaud Paul for blocking any motion to move forward on a straight reauthorization of the bulk collection of metadata.
"As long as the senator from Kentucky has the floor, that cannot happen," Wyden said.
Paul will be able to use his Democratic support on the NSA as evidence of his bipartisan appeal as he hits the campaign trail. Paul already started using his self-proclaimed filibuster to raise money for his campaign within hours of hitting the floor.
But Democrats who came out to "stand with Rand" said they weren't even thinking about politics when they decided to come down and speak with him.
Heinrich said he was happy to support his colleague across the aisle Wednesday because when it comes to issues of national security, politics have to be put aside.
"It's a sort of in the fabric of certain states to want to know that the government is not in your business if you are behaving yourself. It is not a left-right thing," Heinrich said.
Noticeably absent, however, from Paul's speech for the first long stretch was fellow 2016 candidate Ted Cruz, who also supports reforming the NSA's data-collection program.
America's LibertyPAC, the super PAC sanctioned by Paul, tweeted out a photo of Cruz Wednesday night with his hands in the air that read:
"Hold up. Who said I cared enough about your rights to #StandWithRand? Cause I don't"
Cruz came to the floor a little after 10 p.m. to preside. He spoke with Paul just before 11:30 p.m.
This post has been updated with additional senators who join Paul on the floor.
We want to hear what you think about this article. Submit a letter to the editor or write to letters@theatlantic.com.
Lauren Fox
is a congressional reporter at
U.S. News.
Her work has appeared in
Salon
,
MSNBC,
and
Columbia Journalism Review
.