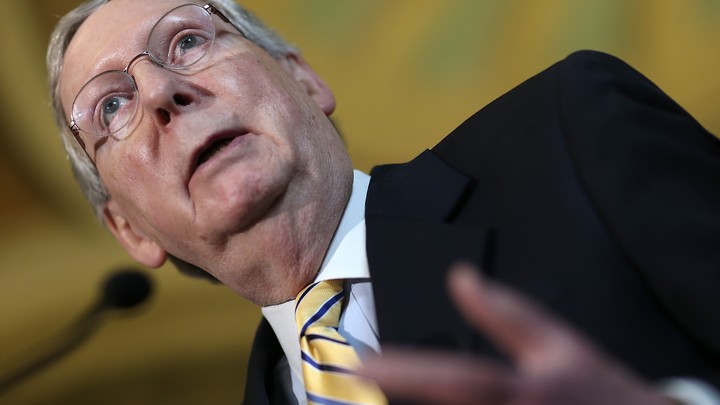 After briefly standing up to Republicans and President Obama on free trade, Senate Democrats stood down Wednesday, desperately clutching a few concessions.
The stark turnaround took one day. Despite facing the Obama administration's heaviest lobbying since the president's signature health care law, all but one Democrat voted against Obama on Tuesday, imperiling his ability to negotiate the 12-nation Trans-Pacific Partnership, which would affect 40 percent of the world's gross domestic product. They protested that they needed a guarantee from Republicans that the chamber would take up trade-enforcement bills with controversial currency-manipulation provisions to help protect American workers.
But with a fragile coalition, including 10 pro-trade members who huddled with the president after the vote, Senate Minority Leader Harry Reid announced Wednesday afternoon that his members had accepted the path put forward by Republicans, effectively ending the filibuster.
"Pro-trade Democrats want to move on this and vote sooner rather than later," said Sen. Sherrod Brown of Ohio, an outspoken Democratic opponent of the administration on trade. "We held them as long as we could."
Senate Majority Leader Mitch McConnell broke the Democratic filibuster by offering a plan that would grant some shiny objects up front—votes Thursday on a customs-enforcement bill and another bill designed to strengthen trade agreements with developing countries—followed by the essential legislation: a "fast track" bill easing the way for the administration to negotiate trade agreements and a bill to help those who lose their jobs as a result of expanded trade.
Separating the first two bills out of the package sharply reduces their chance of passage in the GOP-led House, which may not even bother to take them up.
"My concern is that in the House they try to jettison the assistance for workers and some corporate interests who specialize in outsourcing might try to jettison some of the trade enforcement," said Brown, who helped lead the effort to keep all four bills in the same package. "That's why we wanted to keep it together. This is the next best way to do it."
Republicans claimed that the Democrats—led by those who are largely anti-trade—would doom the legislation the president so desperately wants.
"I think they overplayed their hand," Sen. John Thune of South Dakota said. "They've come to that realization, so now they've got to try to do their best to save face in this process and we're happy to work with them to do that because we need to get this done."
"They did a really harsh thing to the president yesterday," added Senate Finance Committee Chairman Orrin Hatch, a key negotiator of the fast-track bill. "And in the end the president is going to triumph, and he should. He's right. He's right on these issues. And when he's right, I'm with it. And frankly, what happened yesterday was really—I'd better not say anything. I'm about ready to kill somebody. And when I kill 'em, they stay dead."
The fast-track legislation is a priority for the administration because it would improve its leverage in negotiations with Pacific and European countries moving forward. The bill would limit congressional debate by allowing an up or down vote with no amendments, allowing the administration the ability to tell other countries that Congress will not tinker too much with any final deal it strikes. Free trade divides the president from his party, which largely opposes these agreements over labor, environmental, and other concerns.
While they didn't get what they wanted, Senate Democrats boasted that they still extracted a win, a commitment from Republicans that all four bills would be taken up.
"That's pretty significant," said Democratic Sen. Patrick Leahy of Vermont. "There was no chance had we given in yesterday—there was no chance—you would have had this bill broken into something that we could vote on."
"It's one thing to say we're going to have votes; it's another thing to actually do it," he added.
We want to hear what you think about this article. Submit a letter to the editor or write to letters@theatlantic.com.
Alex Rogers covers Congress as a staff correspondent for National Journal. He previously worked as a political reporter at TIME. He is a native of Bethesda, Maryland and a graduate of Vanderbilt University.