Pelosi: It's 'Stupid' for Male Lawmakers to Avoid Meeting Alone With Female Staffers
The House Minority Leader says it's a "throwback to a former era and shouldn't be in practice."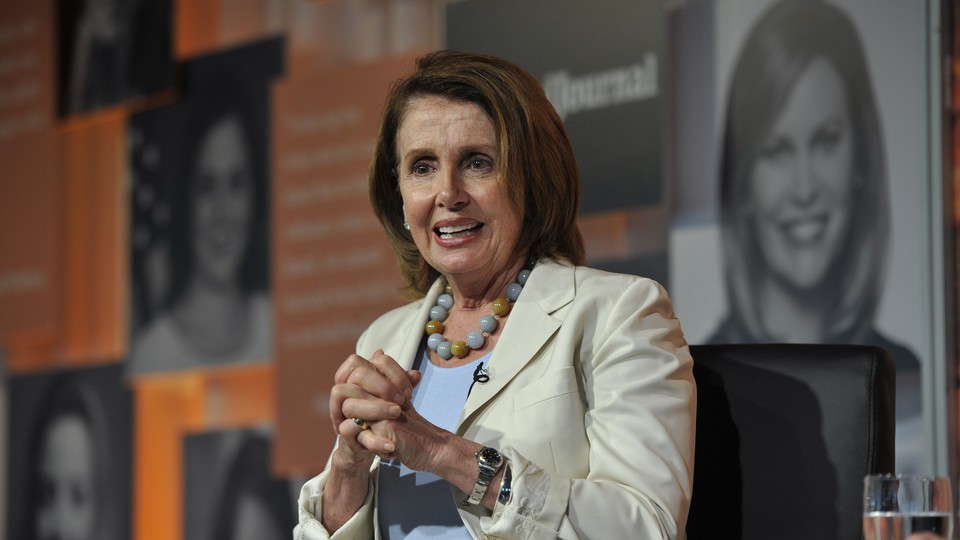 House Minority Leader Nancy Pelosi said Tuesday it's a "stupid" practice for some male members of Congress to avoid being alone with women staffers in meetings, at night events, and in cars.
It would really be "harmful" to a woman's ability to take a leadership role on staff and on issues, Pelosi said at a National Journal conference, though she said she'd never heard of this practice nor had it ever been brought to her attention. She says she believes it will be brought to an end after National Journal published a story on the practice last week.
It's a "throwback to a former era and shouldn't be in practice," Pelosi said.
Pelosi made her remarks at National Journal's "Women in Washington: Empowering Women in 2015 & Beyond" conference, underwritten by PG&E and AstraZeneca, on Tuesday afternoon at the Newseum. Her comments came after National Journal conducted an anonymous survey of female staffers to compile information on the challenges of working in a male-dominated industry. Several female aides reported that they weren't allowed to drive alone with their boss, staff their congressman or senator at night events, or have one-on-one meetings in his office to avoid the appearance of impropriety.
"Even though my boss is like a second dad to me, our office was always worried about any negative assumptions that might be made. This has made and makes my job significantly harder to do," one female staffer told National Journal.
Rep. Elise Stefanik, also appearing at the National Journal event, said she doesn't believe gender should be a barrier for staffers to brief their bosses—and that members should understand this practice is a barrier.
"I hope my colleagues reassess their practices," Stefanik, R-N.Y. said, calling the article "concerning" to her and to many women working in Washington.
Experts say this practice—which is not widespread but exists in multiple offices—could be a form of employment discrimination. The Office of Compliance oversees congressional workplace rights and says such a policy could mean that a woman might not rise to a higher position based on her gender. "Policies, official or unofficial, that prohibit female staff from being alone with a Member can be discriminatory and create an unequal playing field in the workplace," OOC spokesman Scott Mulligan said in a statement to National Journal.
Some women on Capitol Hill have experienced poor treatment unrelated to their gender. At the National Journal event, Cecilia Munoz—who currently serves as director of the White House Domestic Policy Council—was asked if she had at any time been the subject of discrimination. One time, the Detroit native said, a senator complimented her on her English.