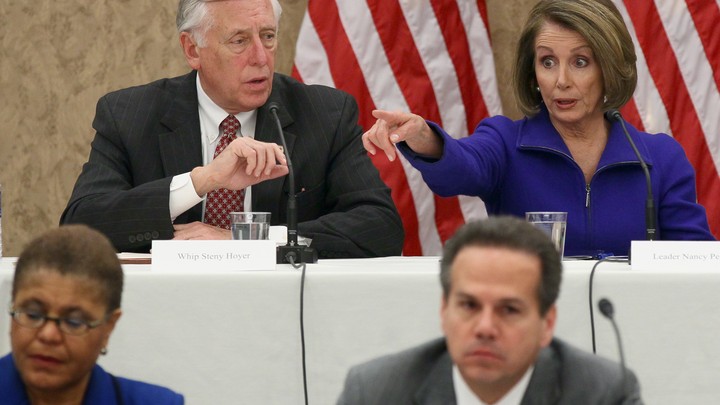 Across Washington, the debate over fast-track trade authority is igniting public and heated—and often personal—disputes among Democrats. Except, it seems, in the House of Representatives.
President Obama and Sen. Elizabeth Warren have sparred for weeks over the bill, sometimes in unusually personal terms. Senate Minority Leader Harry Reid called the president's plan "insanity," the latest salvo in his "hell no" opposition to fast-track. And off the Hill, the AFL-CIO is withholding campaign donations as it fights the bill, while some progressive groups are working to line up challengers to its backers.
But inside the House Democratic caucus—the strongest unified front of fast-track opponents and perhaps the most important faction in determining its success or failure—the public vitriol is less apparent. At least for now; the debate is bound to get heated in the coming weeks as Republicans and the White House pursue votes.
Behind the scenes there are still some heated battles. And whispers abound about high tensions in closed-door meetings. But the fact that few fights have spilled over into the public arena may be a reflection of the stance of Democratic leadership. Neither Minority Leader Nancy Pelosi nor Minority Whip Steny Hoyer have said how they're voting on fast-track, though both have expressed concerns over what the bill does and doesn't include. That's a stark contrast with Reid, who has been a vocal opponent despite leading a caucus far more inclined to be supportive of trade deals.
And while few say they expect House leadership to ultimately support the bill, both sides had praise for how they've handled the issue. "'Make sure that we're not really devolving into warfare on this,'" said an aide to a pro-trade member, characterizing their message. "They let both sides get their perspective out there. ... I think that if you are in the pro- camp, you have to be satisfied with their approach so far."
For opponents, leadership's willingness to take an open-minded look at fast-track has helped expose its flaws. "The leader has set up a lot of different meetings, and for many of us meeting again with the trade representatives and various experts, I certainly am more and more convinced," Rep. Jan Schakowsky said. "I'm hoping, I'm still working on convincing other members to vote no."
Rep. Barbara Lee, one the most outspoken fast-track opponents in the House, is whipping hard to pit her colleagues against the bill. She's working in tandem with Rep. Rosa DeLauro, as they both warn the legislation would be disastrous for jobs and wages. But despite their vocal opposition to fast-track, neither would take the bait when asked if its Democratic supporters—particularly those with leadership ambitions—should face political consequences for their votes.
"I don't think this should be seen as a political vote from any perspective," Lee said, when asked about potential fallout for Democrats who support the bill.
The issue could still get heated in the days ahead. Fast-track's passage or failure likely will be determined in the House, and Republicans have said they'll need Democratic votes to get it through. Just how many votes they'll need—and how many are there for the taking—still is an open question. Some estimates peg Democratic support in the teens, though that could change if Pelosi or Hoyer were to support the bill. "Overwhelmingly, the Democratic caucus is opposed," DeLauro said, predicting Pelosi and Hoyer would ultimately vote against fast-track. "They'll take their time in getting there, but they'll get there." Added Lee: "My whip count's pretty good."
Still, not everyone was willing to ignore fast-track's political ramifications. Asked if the vote should be a litmus test for future leadership hopefuls, Progressive Caucus Chairman Raul Grijalva said: "If you look at who is supporting the will of the caucus, and the vast majority is against it, then certainly that person would have an advantage. That's a long-winded way to say yes."
We want to hear what you think about this article. Submit a letter to the editor or write to letters@theatlantic.com.
Alex Brown
is a Congressional correspondent at
National Journal.