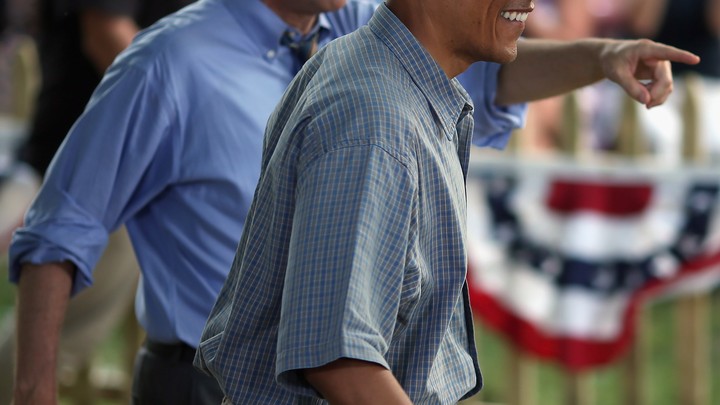 Sen. Christopher Coons sat with President Obama in the Oval Office last week for an hour, and met with him again Monday. But in the end, it was another Democrat who closed the deal with Coons on a high-stakes trade bill: Sen. Sherrod Brown.
Despite Obama's personal lobbying, Coons voted Tuesday with every other Democrat except one—fellow Delaware Sen. Tom Carper—against moving forward to debate one of Obama's most significant economic proposals, a legislative package paving the way for one of the largest free trade agreements in history. The reason? An argument from Brown, a fierce antagonist to the president on trade.
"His voice has been effective, persistent and—in my case—persuasive on today's vote," Coons said.
For the past three weeks, Brown—who is beloved by progressive groups and activists, but lacks the national profile of Sen. Elizabeth Warren—has talked to fellow Senate Democrats in caucus meetings and helped form a strategy that the entire caucus has come to adopt, according to top aides and members.
Democrats were united Tuesday behind the criticism that Republicans had not provided a guarantee to take up a broader package, including a trade enforcement bill with a controversial provision knocking down currency manipulators, who artificially keep their prices lower and U.S. prices higher.
Several on-the-fence senators, including Ben Cardin of Maryland and Dianne Feinstein of California, recently stated that including the customs bill in the package was a condition for their support.
"Sen. Brown brought it up to me right away," said Sen. Dick Durbin of Illinois. "He thought keeping them as a package was critical and he worked the caucus on it."
Sen. Mark Warner, a centrist and free-trade advocate, said Brown "is a dear friend, but he's a tough adversary."
Coons said Brown "has spoken about it to me several times and has been a very persistent and effective advocate for why Democrats who are concerned about workers and workers' rights and workers' protection should resist the idea that we should just hope and trust that these other provisions will get taken up later."
While the vote was an embarrassing setback for the president, he quickly regrouped and met with 10 Senate Democrats on Tuesday afternoon at the White House to find a way forward, according to an administration official. Senate Majority Leader Mitch McConnell also vowed to keep pushing, telling reporters: "This issue is not over."
Senate Majority Whip John Cornyn laid the blame at the feet of the president, as even Republicans who opposed the deal, such as Sen. Rand Paul, still voted to get on the bill.
"He has to bear some responsibility [for the vote] because he's the leader of the Democratic Party and he's the leader of the United States after all," says Cornyn. "And he needs to get his hands dirty and to get in there and work this out. None of this happens by Immaculate Conception."
The measure would have advanced debate on a fast-track bill that grants the administration greater leverage in trade negotiations by limiting congressional debate to an up-or-down vote without amendments. It also would include a sweetener primarily for Democrats: a trade-adjustment-assistance bill to help those who lose their jobs as a result of expanded trade. But it didn't include in the package two other bills—the customs-enforcement legislation and another, less-controversial bill designed to strengthen trade agreements with developing countries.
Cornyn said that the Democrats' recent demand would kill fast track, otherwise known as trade promotion authority, and the administration's ability to secure the 12-nation Trans-Pacific Partnership, which would affect 40 percent of the world's economy.
Passing TPA would give the administration greater leverage in its negotiations with the other countries on the Pacific Rim by proving that the Congress cannot tinker with the deal. It can, however, vote to revoke the president's authority and try to change the deal. Cornyn said the failed vote will "provoke a negotiation" but emphasized that the Democrats could offer the other two bills as amendments.
"In essence insisting that all four bills would be packaged together would mean that no TPA passes, thus no TPP," said Cornyn.
Brown himself gave some credit to Senate Minority Leader Harry Reid, a free-trade opponent who urged Democrats of all stripes to stick together to extract maximum leverage. "Harry began to put this together and we all worked together and talked to a lot of our colleagues," Brown said of the strategy to push for a package of trade bills.
Brown has worked not only behind the scenes on strategy but has defended in public those who stand with him, including his ally, Warren. Obama recently called her "absolutely wrong" on the trade issue and a "politician like everybody else" in an interview with Yahoo.
"I think the president was disrespectful to her by the way he did that," said Brown in a news conference following the failed procedural vote with Cardin, Coons, and Sen. Chuck Schumer. "I think that the president has made this more personal than he needed to."
Brown later told reporters that gender might be at play: "I think referring to her as first-name, when he might not have done that for a male senator, perhaps? I've said enough."
It's likely that Brown will continue to push the Democrats' strategy on trade. After their press conference Tuesday, Schumer, the presumptive next Democratic leader, turned to Brown and invited him to his private hideaway office to discuss the next step.
---
Ben Geman and Clare Foran contributed to this article
We want to hear what you think about this article. Submit a letter to the editor or write to letters@theatlantic.com.
Alex Rogers covers Congress as a staff correspondent for National Journal. He previously worked as a political reporter at TIME. He is a native of Bethesda, Maryland and a graduate of Vanderbilt University.