On NSA Spying, Bernie Sanders, Not Elizabeth Warren, Is Pushing Hillary Clinton Left
The Left's favorite foil to an often-moderate Hillary Clinton has remained quiet on NSA reform.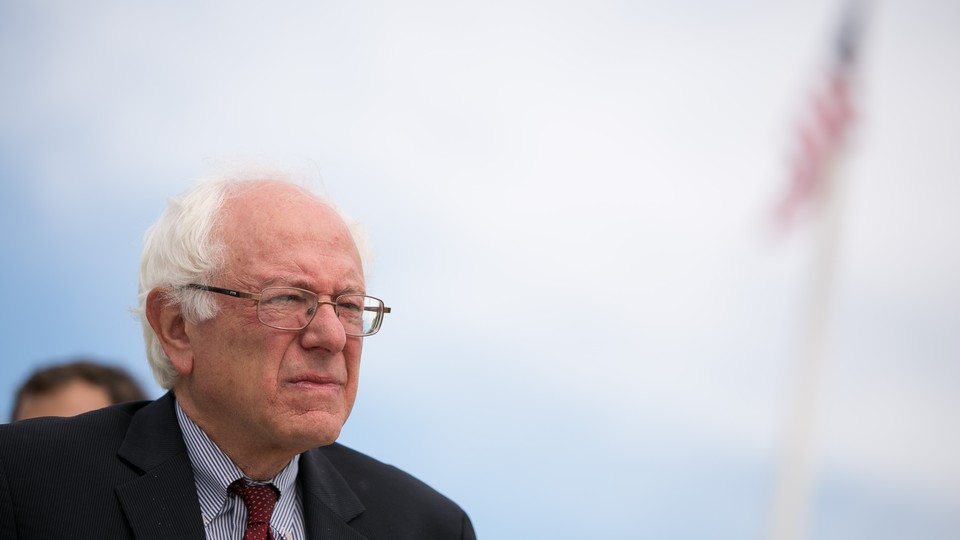 A liberal senator is keeping left of Hillary Clinton during Congress' debate over the National Security Agency's surveillance programs, but it's not Elizabeth Warren, the progressive hero and favorite of many in the movement to oppose Clinton in the primary.
Instead, as Congress considers pulling back the Patriot Act's spy programs, it's Vermont independent Bernie Sanders—the Senate progressive who's actually running for president—who's mounting a challenge.
Only Sanders has staked out a strong enough position to conceivably put pressure on Clinton. Warren has recently kept quiet about the programs, and Martin O'Malley, the former governor of Maryland who is likely to enter the Democratic race later this month, has even less to say on the topic.
Sanders' opposition to the NSA's spying programs is clear—he's called them "Orwellian" and invasive—but he hasn't said whether he'll vote for the version of the USA Freedom Act that has been put forward in this session of the Senate.
Sanders also has a history of progressive votes on the issue. He emphasized in a Time op-ed published last week that he's never voted for the Patriot Act, which authorized the NSA's bulk-surveillance programs after the 9/11 terrorist attacks. Last November, he voted for the USA Freedom Act, which would have ended the NSA's bulk-data gathering.
The latest version of the measure has been met with opposition from Senate Majority Leader Mitch McConnell, who says he wants to reauthorize the Patriot Act as is, and from civil libertarians like Republican Sen. Rand Paul, who says the Freedom Act doesn't go far enough to reform the NSA's programs. Paul, along with Democratic Sen. Ron Wyden, has threatened to filibuster any extension of the Patriot Act.
McConnell announced Tuesday afternoon that he will allow the Senate to vote on the bill later this week.
Asked Tuesday if he found himself in agreement with Paul on the issue of NSA spying, Sanders admitted that "sometimes you have strange bedfellows." He went on to say that NSA spying is an area of disagreement with Clinton, who voted for the Patriot Act in 2001. "I do not want to see the Constitution of the United States undermined, and I feel very much that's going on," Sanders said on CNN.
Warren voted for the USA Freedom Act in 2014, but she has been markedly less outspoken on spying than she was last year, when she told the Associated Press that Congress should "end the NSA's dragnet surveillance of ordinary Americans." Warren, who rarely takes press inquiries while walking through the Capitol, hurriedly waved off questions Tuesday as she returned to her office from a speech on the floor about a trade bill.
Meanwhile, O'Malley has yet to offer substantive comments on the issue of NSA spying. "I would hope that this time of reauthorization is an opportunity for us to have a conversation about whether or not we've struck the right balance here," the former governor said in Iowa last month. His staff did not reply to requests for further comment.
Clinton, meanwhile, is joining with those looking to pull back the NSA's spying programs.
Clinton has largely refrained from publicizing specific policy positions since she entered the race in April, but she tweeted her support for the USA Freedom Act earlier this month. "Congress should move ahead now with the USA Freedom Act," she wrote, "a good step forward in ongoing efforts to protect our security & civil liberties."