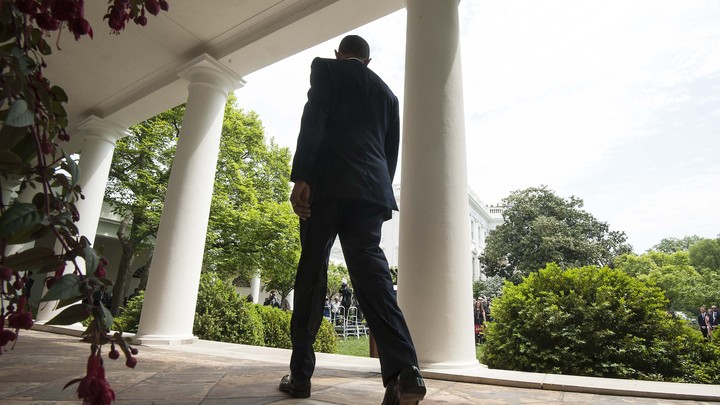 Just how tough has is it been for President Obama on trade?
The White House has had to make a full-court press on Sen. Tim Kaine, the former chairman of the Democratic National Committee who represents the pro-trade state of Virginia. Kaine is someone who in theory should be in front on this issue, but like many other Democrats, he has instead been a solid maybe.
Kaine has become close pals with Obama's top trade negotiator, Michael Froman. "I bet I've had five phone conversations and three in-person meetings with Froman over the past 18 months," Kaine said in an interview. "And any time along the way that I've had a question, I've been able to reach out and get answers."
Sen. Christopher Coons of Delaware, another fence-sitter, said he got a call from Obama to talk trade Friday, then spoke about the issue Tuesday with Senate Minority Leader Harry Reid. "There's been a persistent and effective outreach," from the White House, Coons said, adding that he told the president, "I'm considering it seriously."
At the same time, Coons said he has seen more activity from unions and K Street. "Frankly, the more active push has come from my friends in organized labor and folks in the business community," he said.
Obama's job is much tougher thanks to Reid. Instead of merely voting against the bill, he has now made himself its chief roadblock. Reid wants Senate Majority Leader Mitch McConnell to tackle revisions to the law governing the collection of phone data and a new highway bill before worrying about trade.
"I can't imagine why the trade bill is so vitally important," Reid said Tuesday. "The trade bill, we could come back after we do something on those two bills, which are so important to our country, and then work on the trade bill."
For his part, McConnell is going over the top in praise of the White House.
"At the risk of having some of you literally faint," McConnell told reporters, "I want to compliment the president for the way he's handling the trade issue. I thought what he did last year and speaking the truth to his base was welcomed and shows that he is intent on working with us to get both the Trade Promotion Authority in place and to subsequently approve, hopefully, a Trans-Pacific Partnership deal."
Officials ranging from Treasury Secretary Jacob Lew to Interior Secretary Sally Jewell to NASA head Kathryn Sullivan have gone to Capitol Hill to make sales pitches to skeptical members. Obama personally has engaged to a degree rarely seen, making repeated public statements, calling members on the phone, and last week convening a two-hour meeting for some 30 Democrats at the White House.
At the urging of House Minority Leader Nancy Pelosi, Froman's office has a room in the underground Capitol Visitors Center where members and staff can read the draft language of the Trans-Pacific Partnership, a 12-nation compact under negotiation among Pacific Rim nations on four continents. Administration officials say the move is unprecedented, as members of Congress previously had to arrange specific meetings to see actual language before deals were completed.
The White House has found itself in the unusual position of relying upon Republicans to deliver the vast majority of support needed to cement a legacy-defining agreement. When Sen. Chuck Grassley, a member of the Finance Committee, raised questions regarding immigration concerns that trouble hardliners, Froman assured him in a letter that he had nothing to worry about. 
And Finance Chairman Orrin Hatch, a key negotiating partner, has fielded at least one personal phone call from the president in the past month to discuss trade. He also found himself face-to-face with the president when Obama traveled to Hatch's home state of Utah for the first time at the beginning of April, a few weeks before a crucial committee vote.
"I've got to give him credit—I think the president deserves this win," Hatch said. "It's going to be the most important bill in his tenure."
Whether it's the "most" important bill in Obama's two terms is debatable—Obama likely would make the case for the health care law that's become linked to his own name. But given Republicans' control of Congress for the final two years of his presidency, getting the trade bills could be the best Obama can realistically hope.
Even though Republicans control both chambers, their numbers aren't sufficiently large to let them pass either the "fast-track" authority or the Pacific trade deal without Democratic help. Senate rules require 60 votes to pass just about anything, and Republicans expect to lose perhaps a half-dozen members—meaning Obama will need a dozen Democratic yes votes to meet that 60-vote threshold.
In the House, where Republicans hold a 50-seat majority, Speaker John Boehner has nevertheless asked for Obama's help because of expected defections from Republicans—some of whom come from districts with strong unions, some of whom simply will not support anything Obama supports. Boehner could need anywhere from a handful to several dozen Democrats, depending on how Republicans defect.
In that job of persuading Democrats, Obama and his people face opposition from groups that typically are allies: labor and environmentalists. Unions argue that making international trade even easier will simply send more American jobs to low-wage countries, while environmentalists say that industrial pollution that would never be tolerated in this country is accepted as normal in many developing countries hungry for manufacturing jobs.
Obama has countered that the new trade authority bill imposes stronger labor and environmental protections than any previous such legislation.
And as to Reid's insistence that the Senate first tackle changes to the law dealing with collection of phone records and a new highway bill, White House Press Secretary Josh Earnest said doing those two items should not preclude the Senate's ability to vote on the trade bill.
"We're setting the bar awfully low if we think the Senate can only do one thing over the course of the next month. The American people have a higher expectation for the ability of the United States Senate to get things done," Earnest said.
We want to hear what you think about this article. Submit a letter to the editor or write to letters@theatlantic.com.
Shirish Dáte is a White House correspondent for National Journal and the author of Jeb: America's Next Bush, based on his coverage of the Florida governor as Tallahassee bureau chief for the Palm Beach Post.
Dáte has been a journalist for three decades since graduating from Stanford University. He has written for the Times-Herald Record in Middletown, New York, the Orlando Sentinel in Cape Canaveral, where he covered the space program, and finally the Associated Press and the Palm Beach Post in Tallahassee, where he covered the Florida statehouse. Most recently he was an editor on NPR's Washington Desk.
Between Tallahassee and Washington were some 15,000 nautical miles aboard Juno, an Alden 44 cutter. Dáte and his two school-aged sons crossed the Atlantic and sailed into the Mediterranean as far as the Aegean islands. They spent just over two years exploring Italy, Greece, Spain, Morocco, the Canary and Cape Verde Islands, the Caribbean and the Bahamas before riding the Gulf Stream north a
Alex Rogers covers Congress as a staff correspondent for National Journal. He previously worked as a political reporter at TIME. He is a native of Bethesda, Maryland and a graduate of Vanderbilt University.