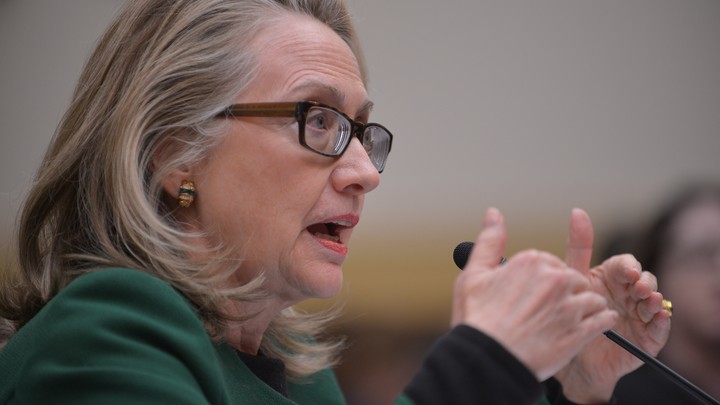 The State Department on Tuesday proposed to begin periodically releasing Hillary Clinton's emails on June 30, starting the drip of the 55,000 pages of messages recovered from the Democratic presidential front-runner's private email server.
In a court filing Tuesday, State proposed to release documents publicly on June 30, and then every 60 days thereafter.
"The Department will strive to produce as many documents as possible on each production date, and will file a status report one week after each production to inform the Court of the number of pages posted," Department of Justice lawyers representing State said in the proposal Tuesday evening.
The attorneys add: "The Department is keenly aware of the intense public interest in the documents and wants to get releasable materials out as soon as possible. Accordingly, it is committed to reallocating further resources to accommodate the additional effort required by rolling productions so that it can still complete the production on or before the Department's initial proposed deadline of January 15, 2016."
The proposal comes after Judge Rudolph Contreras of the U.S. District Court for the District of Columbia last week rejected the department's plan to withhold Clinton's messages until early 2016.
In late 2014, Clinton turned over the messages from the private server she used for State Department business—an atypical arrangement that has drawn criticism from transparency advocates and Republicans.
A subset of roughly 300 messages specifically related to Libya and the fatal 2012 attack on the diplomatic compound in Benghazi were already released last week.
Tuesday's proposal is part of a public-records lawsuit for the messages filed by Vice News. Attorneys for Vice, however, criticized the plan Tuesday and said they would ask the judge for more frequent disclosures.
"I applaud State's proposal to begin releasing Clinton's emails on June 30, 2015, but I do not believe that additional rolling productions every 60 days is sufficiently frequent to enable the public to engage in fully informed discussion about Secretary Clinton's leadership style and decisions while at the helm of the State Department," said Ryan James, who is representing Vice journalist Jason Leopold in the case.
James said he would ask the court to ensure rolling releases "every 2 weeks beginning June 30, 2015 and ending no later than January 31, 2016 to ensure as much information as possible is accessible to the public as quickly as possible, and before caucusing begins February 1, 2016."
Tuesday's proposal from the Obama administration lawyers also says the State Department will "continue to explore ways to devote more resources to this effort, consistent with its other obligations, to complete the review even earlier" than their proposed date of January 16.
We want to hear what you think about this article. Submit a letter to the editor or write to letters@theatlantic.com.
Ben Geman
is an energy and environment correspondent at
National Journal