Not-So-Basic-Training: Inside the Replica of the U.S. Capitol in Maryland
A Secret Service request for a fake White House prompts a visit to the fake Capitol.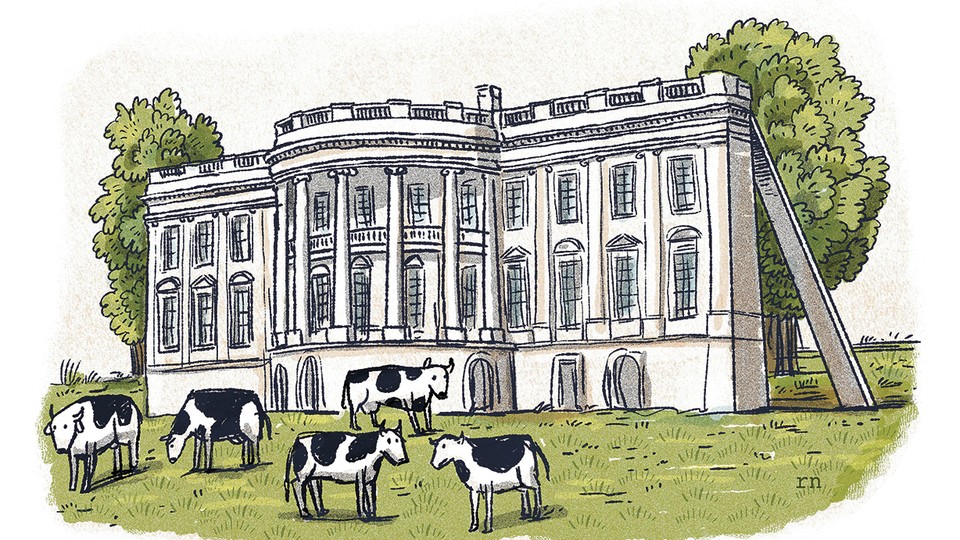 About 15 miles from Capitol Hill, in an unassuming, unincorporated part of Maryland's Prince George's County called Cheltenham, deep in a tree-lined residential area, past a sign that reads, "Federal Law Enforcement Training Center, Homeland Security," my ride drops me off by a security booth. Then I'm driven down a winding road, through a large open campus dotted with distant structures, to a brownish brick building that looks like a public elementary school. Inside it are life-size reproductions of key parts of the U.S. Capitol.
This past March, at a House Appropriations Homeland Security Subcommittee hearing with Secret Service Director Joseph Clancy, Rep. Henry Cuellar mentioned a request he'd noticed in the agency's proposed budget. "You want to build a $8 million White House replica for training?" the Texas Democrat asked. "I have concerns about that. Not that I don't want to be supportive, but I have concerns about $8 million for a replica White House."
It's not hard to understand Cuellar's skepticism. Build a fake White House? Seriously? (Or, for starters, begin to design and build a replica of the building's exterior and grounds in Beltsville, Maryland—which is what Clancy's initial request would actually entail.) But the proposal has precedent. Since 2008, the Capitol Police have had a $17.5 million, 40,000-square-foot practice ground, tucked inside Cheltenham's sprawling federal law-enforcement training facility, that includes replicas of major sections of the buildings they guard—including the Capitol.
With the Secret Service's request for an imitation White House pending, I decided to visit the imitation Capitol. Directly inside the brick building is a security checkpoint with a metal detector. As I chat with my escort, Lt. Tonya Robinson, of the Capitol Police's Training Services Bureau, I prepare to run my purse through the X-ray scanner before I realize that this screening area isn't real: It's the first of the many props I'm about to see. Next, we enter a hallway and stop just outside a set of lightweight wooden doors that look much like the ones between the Cloakroom and the House floor. I walk through them and, sure enough, there's the floor—or, a strange, cut-up, cut-rate version, anyway. It is a bare-bones replica of roughly half the room: cheap blue carpet in place of the plush; cinder block, painted light blue, in place of the paneling and wallpaper; everything unadorned and easy to scrub down after the trainees have unloaded their soap "bullets," which are tinted in different colors so that any rounds fired can be located and counted. Cameras stand ready to capture the action for later review.
Back out in the hallway, I walk through another door and find myself at the security checkpoint inside the entrance to the Capitol Visitor Center, looking out at a set of stairs like the ones where visitors line up to come in. Beyond the stairs, instead of the corner of First and East Capitol Streets, I see grass and trees. Here, officers practice using the metal detectors and scanner—and assessing the crowd outside.
After a peek into a training classroom, we head to an alcove where a staircase stands, disembodied, looking both very familiar and, again, a little bit off. It's not made of marble, and the colors aren't quite right, but it is otherwise an exact copy, I'm told, of the main staircase inside the Capitol—down to the wear patterns from the millions of footsteps that have eroded the marble in spots. I run up and down it to see if it feels the same. It does; I nearly trip in all the right places. It sounds right, too: I have on the same shoes I wear when I cover the Hill, and my heels clack properly. While training here, officers work on negotiating the blind spots where the stairway splits as well as the uneven steps, sometimes with an uncooperative protester or suspect in tow.
Behind door No. 4 is a congressional office suite. The undecorated, off-white plywood walls have small smudges (and in a few spots, splatters) of pinkish and yellow and blue paint, remnants of the Capitol Police's exercises. I walk into one of the rooms and see a woman out of the corner of my eye—but it's actually a poster, held up by wooden stilts. I look at her hands. They're both tightly holding a soda. She's not a threat, I determine. But the door to a neighboring room is wide open, and inside there's another cutout, of a man pointing a gun at the soda woman. I jump at the prop and wonder what an officer would have done. The final scenario room we visit contains a corner of a cafeteria—complete with dark-red pleather booths, tables, and a checkout counter—that stands in for the ones in Rayburn or Longworth or Dirksen.
Before the Capitol Police had this facility, Robinson and Capitol Police spokeswoman Lt. Kimberly Schneider explain, new recruits and veterans often wound up practicing their skills in generic classrooms. Trainees were brought in and directed to "move the tables out of the way, stack them on top of each other, move the chairs out of the way," Robinson tells me. Then they were sent back out and told that, when they returned, they were to pretend the classroom was part of the Capitol or one of the other buildings on the Hill. (Using one's imagination "is fine and well, but it doesn't take you to the level you need to be," Schneider tells me later.)
Before I went to Cheltenham, I spoke to a Capitol Police veteran of nearly 30 years who had experienced both brands of training, and I asked if there was a difference. The new facility is "absolutely better to train new and senior officers alike," said the officer, who asked not to be named. "You could actually get more in-depth in terms of what kind of training you were doing."
Another Capitol Police veteran says the replicas are particularly valuable for new recruits, allowing them to "go through the scenarios, and see what it's like to be on the job." Robinson concurs, noting that recruits hail from all over the country—and some of them have barely seen the Capitol up close before they're charged with policing it. The training in the Cheltenham facility "sometimes gets intense," she says, "but we want to send the recruits out here with the knowledge that they will be able to rightfully and properly handle anything that occurs on the Hill."
When I ask Secret Service spokesman Brian Leary if there has been any word on whether Congress would appropriate money for the White House facade, he emails this reply: "The Secret Service's FY '16 Budget Request is currently before the House and Senate Homeland Security Appropriation Subcommittees." When I ask House Appropriations Committee spokeswoman Jennifer Hing about the status of the bill, she tells me that the markup of the budget has not yet been scheduled. Stephen Worley, a spokesman for the Senate side, says the same thing. When I ask Rep. Cuellar about the request, he tells me that the Secret Service needs to change its culture first. That's the main problem, he says—one that a brand-new, multimillion-dollar fake White House won't address. Perhaps not. But the training replicas of the federal buildings in which Cuellar and his fellow appropriators work do seem to have their merits.