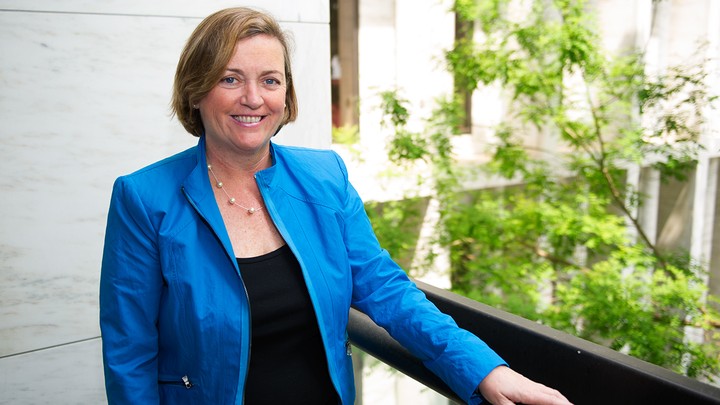 Growing up in New Hampshire, it's hard to stay away from politics. And for Maura Keefe, now the chief of staff for the state's Democratic senator, Jeanne Shaheen, the draw of the presidential circus coming to town every four years was just too strong a force.
"It's a little bit in my blood," Keefe says, sitting in the Hart building, where she has worked since Shaheen came to the Senate in 2009.
Across Capitol Hill, Republicans and Democrats say Keefe has managed to earn a reputation as a level-headed and pragmatic negotiator. She is the leader of the Senate Democratic chiefs of staff—a position she earned after a group of women chiefs rallied together to put a fellow woman forward. People who know her say Keefe invests the time to build relationships early so that she isn't calling up favors from strangers when she's in a bind.
(RELATED: Why Some Male Members of Congress Won't Be Alone with Female Staffers) 
"People trust her," says Beth Jafari, chief of staff for Republican Sen. John Cornyn. "That carries a lot of weight around here."
And those off the Hill say Keefe takes any challenge seriously. During Shaheen's reelection in 2014, now-Democratic Senatorial Campaign Committee Executive Director Tom Lopach says, he often told Keefe she had nothing to worry about in the race against Scott Brown, whom Democrats painted as a carpetbagger. But Lopach says Keefe always took the contest seriously.
"She never took anything for granted, and they worked their tails off," Lopach says. "They knew what needed to get done."
(RELATED: What's It Like to Be a Woman on Capitol Hill?) 
Keefe grew up immersed in politics. When she was born, her father was chief of staff to Democratic Sen. Tom McIntyre of New Hampshire in the 1960s. The biggest debate on Capitol Hill was the landmark Civil Rights Act of 1964. As the seventh of eight kids, Keefe remembers attending Democratic house parties and political rallies with her plugged-in parents. She and her siblings often supported different Democratic primary candidates, "making for interesting dinner conversation."
By the time Keefe was entering the workforce, fighting for a seat at the table in Washington was not always as easy.
Keefe first came to Washington in the early 1990s to be a writer for Campaign Magazine. Three years later, after working on an abortion-rights referendum campaign in Maryland, she left for a press position in the office of Rep. Rosa DeLauro of Connecticut, eventually becoming the Democratic congresswoman's chief of staff. It was then, Keefe recalls, that she got her first glimpse of how being a female leader in Washington sometimes has a particular and unpredictable set of challenges.
She realized it during a House leadership retreat at Wintergreen Resort in Virginia.
(RELATED: The 20 Most Powerful Women Staffers on Capitol Hill) 
"Every one of the male staffers is out playing golf with members of Congress, and I am in the hotel stuffing packets for the meetings," she remembers. "That's when I was like, 'I am never doing this again. I am learning how to play golf.'"
On the wall of her office, Keefe now proudly exhibits two plaques documenting her holes-in-one. The story is one Keefe has recounted many times as an illustration of just how slight the imbalance between men and women on Capitol Hill can be.
"The signs of discrimination are more subtle these days in all professions," Keefe says.
Later, Keefe left the Hill to work as a political consultant. Over the next decade, she split her time between Maine and New Hampshire. She worked as a consultant to Shaheen's campaign in 2008, and the senator made her an offer too good to turn down: a chance to work for a home-state Democrat.
"I didn't have any intention of coming back," Keefe says. "But when Jeanne asked me to come back, it seemed somewhat fated."
(RELATED: Among Senior Capitol Hill Staffers, Men Still Outnumber Women)
Keefe says her greatest accomplishment in the Senate was having a hand in shaping the Affordable Care Act—a law she recognizes posed a challenge to her boss on the campaign trail. Shaheen's support for the health care law was a key element of Brown's campaign against her.
"It has been a long-term project, and it seems like—and I am knocking on wood—it's turned the corner and it is helping a lot of people, and that is incredibly gratifying," Keefe says.
Shaheen says Keefe's ties to New Hampshire voters, and her commitment to ensure they understand what the senator's office is doing, are what make her irreplaceable.
"One of the things that is very important is to have someone who does not just understand the policy, but the politics, and Maura certainly fits that bill. She understands how to message what is important for our office and for the people of New Hampshire," Shaheen says. "She helped us develop the stories of the people who were helped by the health care law, and that was one of the things that was very successful during our campaign."
Correction: An earlier version of this story misstated the state where Rep. Rosa DeLauro's House seat resides. She represents Connecticut's 3rd District.
We want to hear what you think about this article. Submit a letter to the editor or write to letters@theatlantic.com.
Lauren Fox
is a congressional reporter at
U.S. News.
Her work has appeared in
Salon
,
MSNBC,
and
Columbia Journalism Review
.