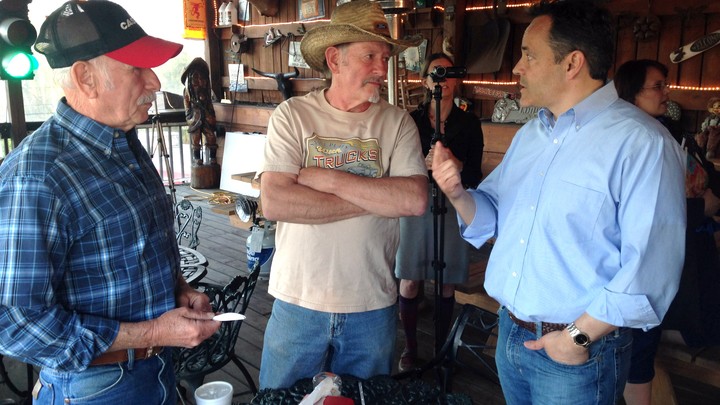 Matt Bevin's campaign for governor in Kentucky started off on the right foot Friday, with a quick, to-the-point endorsement from his former foe, Sen. Mitch McConnell. "I congratulate Matt Bevin on his victory and endorse him for governor," McConnell said in a statement after Bevin's Republican primary win was certified.
After Bevin spent the better part of 2014 trash-talking his former opponent and refusing to endorse him, nothing seemed guaranteed once he made a surprise comeback to win the gubernatorial primary. But while the verbal endorsement was a nice coup, Bevin's real task in the coming weeks and months will be winning new financial support and convincing Republicans—most of whom would be supporting him for the first time—to put their money where their mouths are.
Bevin self-funded most of his primary bid this year. He personally donated $1.75 million, but pre-primary reports filed in early May showed he had only raised roughly $84,900 outside of that. (Bevin's closest challenger, James Comer, raised over $2 million during the primary.) Bevin also put $1.25 million toward his 2014 Senate race, when he also benefited from national conservative groups that don't typically play in governor's races. Club for Growth spokesman Doug Sachtleben said that group, for example, would not be getting involved in the Kentucky gubernatorial election this year.
So Bevin is going to have to find and tap new fundraising sources. And Republicans who led outside fundraising efforts for Bevin's primary rivals said he'll have his work cut out for him, though he definitely could win over new help.
As former McConnell aide Scott Jennings told cn|2, a local news channel, the day after the primary: "The real question is the donor base, which in two elections has demonstrated no interest whatsoever in donating to Matt Bevin. He raised virtually no money in '14 or '15, so this is a guy who has still after two races not proven any ability to compete for the sort of traditional GOP donor base."
Terry Stephens was one of Comer's main financiers during the primary, donating $100,000 to the pro-Comer Kentuckians for Growth, Opportunity and Prosperity. Stephens, who owns a steel and pipefitting company two hours south of Louisville, was also a big contributor to the party's 2011 Republican gubernatorial nominee. He gave $5 million to a group that year supporting David Williams, who is his son-in-law.
"My participation there with the Comer campaign came from a longstanding friendship of twenty years," Stephens said. He said he'd "certainly" be open to contributing to Bevin, but his hesitation is that "I just don't know him very well. I've met him once."
Bevin's team has already started the outreach necessary to bring new supporters into the fold—like Joe Burgan, who chaired the Bluegrass Action Fund, a state-based group that supported former Louisville Metro Councilman Hal Heiner in the Republican primary.
Burgan said Bevin's campaign manager, Ben Hartman, reached out to him last week. The two had "a polite conversation," Burgan told National Journal. He felt the call was "exactly what they need to be doing" to try and unite the party.
"In the next few weeks I think that people will start coming together, I think the donor money will be there, and I think the Republican Party will be in good shape in Kentucky," Burgan said. Personally, Burgan added, "I'm absolutely on board and I'll do whatever [Bevin] asks of me."
Yet Burgan is also aware of the climb Bevin faces. "Of the people you're talking to, am I being the nicest?" he asked.
Burgan also spoke with Alan Philp Wednesday to discuss future plans. Philp is president of Citizens for a Sound Government, a Colorado-based nonprofit group with ties to the Koch brothers that also supported Heiner. After the two spoke, Philp said "it's undetermined at this point" if his group will stay involved in the general election. But "Matt Bevin is a big improvement over the alternative, in Conway, and over the current governor as far as policy goes," Philp said. "Our goal is to promote economic freedom and fiscally conservative policies and Matt Bevin is pretty well-aligned on those, so we wouldn't rule it out."
Meanwhile, AmeriGOP (the pro-Comer group's parent organization) is stocked with potential Bevin allies. Four of AmeriGOP's five board members of supported Bevin over McConnell in the 2014 Senate primary. But Kathryn Breiwa, who ran Kentuckians for Growth, Opportunity & Prosperity, was uncertain major Comer donors would be willing to financially support Bevin.
Breiwa says she is skeptical any other candidate could reignite the same passion that Comer engendered in his supporters. "We were extremely loyal to [Comer], and so from a personal standpoint that's hard," Breiwa said "I don't know specifically about [Bevin's] campaign or him personally, but I know that they will be supporting the Republican ticket."
One factor Breiwa believes will have a big impact on whether the most loyal Comer supporters get involved will be if or how Comer helps facilitate connections between Bevin and his own allies.
No matter what, there could be a major amount of money coming from out-of-state. Outside spending in Kentucky gubernatorial races are typically coordinated through the Republican Governors Association and the Democratic Governors Association. The DGA already has contributed $100,000 to Kentucky Family Values, an issue committee registered to back state Attorney General Jack Conway, the Democratic nominee. The RGA formally endorsed Bevin on Friday, but it has not yet contributed to an analogous group. Still, the organization spent $130 million in 2014, and its significant resources will play a major role.
All discussion of Bevin's prospects in the general election remain steeped in awareness of the bruises he sustained from his loss to McConnell, and the recognition that not all Kentucky Republicans are keen on supporting him. Some, including Jennings and Jefferson County Republican Party Chair Bill Stone, have repeatedly gone on the record since the primary questioning Bevin's odds.
By November, Bevin will have to heal those fractures at the ballot box in order to win. Before that, though, he'll have to pull together the party's money.
We want to hear what you think about this article. Submit a letter to the editor or write to letters@theatlantic.com.