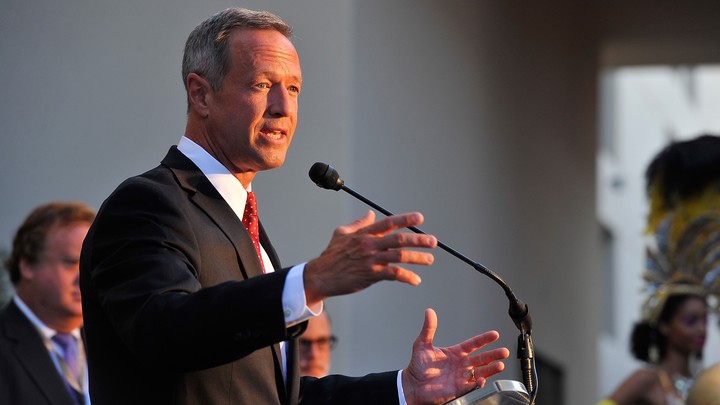 The bedrock of Martin O'Malley's far-fetched presidential bid was supposed to be that he was the man who got Baltimore working again. In contrast to Hillary Clinton's global legacy as secretary of State, O'Malley's most solvent argument rested along a harbor of the Chesapeake.
The mayor between 1999 and 2007, O'Malley has long touted the drop in violent crime in his city as a reason he was a credible threat to Clinton. But the death of Freddie Gray last month has become a symbol of police brutality and has catapulted the city into turmoil. Now the spotlight is on how the city arrived in this place, and suddenly that probe has produced an unsettling picture of the aggressive police policies O'Malley once promoted.
It has been a trying week for O'Malley, who canceled a speaking tour of Europe last week to go home to Baltimore. While there, the former mayor was mocked by residents and hardly welcomed back to the streets he has often claimed he cleaned up.
During an appearance on Meet the Press Sunday, O'Malley tried to defend his policing strategies, which he said were clearly laid out to the people of Baltimore during a long campaign in 1999. "The fact of the matter was that in 1999, the main issue that was holding Baltimore back was the fact that we had allowed ourselves to become the most violent, addicted, and abandoned city in America," O'Malley said.
While many have blamed O'Malley's crackdown on minor offenses for exacerbating tensions between police and residents, O'Malley continues to try and cast his legacy differently. "We have cut crime in half," O'Malley told NBC's Chuck Todd. "This has been a heartbreaking setback for an otherwise remarkable comeback for Baltimore over these last 15 years."
Even after a tough week, O'Malley is staying on script, trying to continue to be the Democratic candidate in 2016 who has a vision for how to solve poverty in America.
"I did not dedicate my life to making Baltimore a safer and more just place because it was easy, and I am more inclined and more deeply motivated now to address what's wrong with our country and what needs to be healed and what needs to be fixed," O'Malley said. "This should be a wakeup call."
In the 2016 presidential election, O'Malley is still banking on being the candidate to the left of Clinton on issues like poverty and economic mobility. And as Clinton continues to fight back criticisms that she is not accessible, O'Malley will not stop talking about his executive experience in Baltimore.
"There are people in whole parts of our cities who are being totally left behind and disregarded. They are unheard, they are told they are unneeded by this economy and that extreme poverty breeds conditions for extreme violence. People are frustrated, they are angry, and they feel like people aren't listening," O'Malley said of the unrest in the city.
O'Malley isn't relenting. When asked if he would announce a presidential bid in the city, O'Malley responded, "I wouldn't think about announcing any place else."
We want to hear what you think about this article. Submit a letter to the editor or write to letters@theatlantic.com.
Lauren Fox
is a congressional reporter at
U.S. News.
Her work has appeared in
Salon
,
MSNBC,
and
Columbia Journalism Review
.