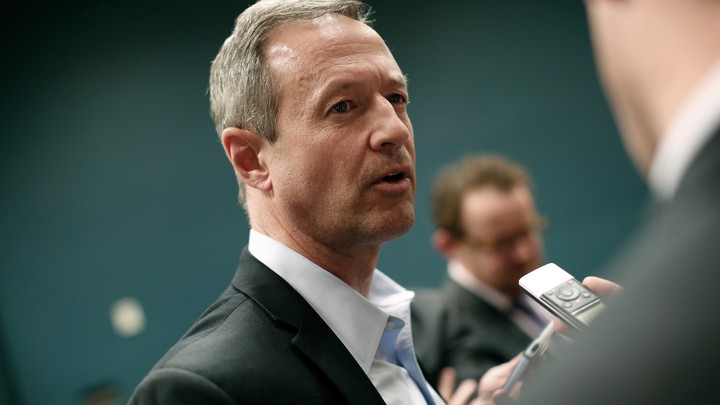 Martin O'Malley has long been positioning himself as the chief primary opponent to Hillary Clinton, and on Saturday, he officially dove in.
"The story of our country's best days is not found in a history book, because this generation of Americans is about to write it," O'Malley told a crowd of supporters at Baltimore's Federal Hill Park. "And that is why today, to you—and to all who can hear my voice—I declare that I am a candidate for president of the United States. And I'm running for you."
The former governor has spent the spring outlining his positions on key progressive issues—and in the process drawing implicit contrasts between himself and Clinton, the presumed Democratic front-runner. From the Trans Pacific Partnership trade deal to same-sex marriage to immigration, O'Malley has stressed that his positions are based in "principles" rather than on what the polls say.
He took his first shot at Clinton in his announcement speech, tying her and GOP candidate Jeb Bush to Wall Street CEOs and saying the presidency shouldn't be controlled by political dynasties. (Though his campaign staff has at times called her out by name, in the lead-up to his announcement O'Malley himself avoided it.)
"Recently, the CEO of Goldman Sachs let his employees know that he'd be just fine with either Bush or Clinton—I bet he would," O'Malley said. "Well, I've got news for the bullies of Wall Street: The presidency is not a crown to be passed back and forth by you between two royal families. It is a sacred trust to be earned from the people of the United States and exercised on behalf of the people of the United States."
He's the third announced Democratic candidate, after Clinton and Sen. Bernie Sanders, and recent poll numbers put him at the back of the field. A Quinnipiac poll this week put him at 1 percent nationally, equal with former Sen. Jim Webb of Virginia and former Rhode Island Gov. Lincoln Chafee—and trailing front-runner Clinton by 56 points.
O'Malley's strategy hinges primarily on Iowa, where Clinton stumbled in 2008 and where the desire for a competitive primary seems to be strongest this time around. The former governor has at least a two-person staff in the state thus far: state director Jake Oeth and caucus director Joe O'Hern, who came on board in mid-May.
"Iowa ... seems like a natural place, and he does well there, enjoys it there," O'Malley senior adviser Bill Hyers told National Journal in April. "Iowa's a state where you've just got to spend a lot of time, and you've just got to grind it out ... and that's also why a lot of these people, especially underdogs, like Iowa so much, because it's where it's the most even playing field."
For O'Malley, success also depends on whether he can gain the support of the progressive wing of the party that's spent all of 2015 hoping for an Elizabeth Warren campaign. O'Malley's advisers think he would be the natural next choice for Warren supporters, but with Sanders' barnstorming social media blitz in full swing, that once-open niche is looking increasingly crowded.
O'Malley, a former mayor of Baltimore, has also had his tenure in Baltimore put under the microscope in recent weeks following the riots and unrest in the city this spring. Given where his announcement took place, O'Malley made reference to the situation, saying there are things the country can learn from the "flames" in the city.
"Baltimore is our country, and our country is Baltimore," O'Malley said. "For all of us who have given so much of our energies to making our city a safer, fairer, and more prosperous place, that was a heartbreaking night for all of us."
We want to hear what you think about this article. Submit a letter to the editor or write to letters@theatlantic.com.
Emily Schultheis
is a writer based in Berlin with a fellowship from the Institute of Current World Affairs. Her writing has appeared in
Foreign Policy, The Guardian,
and
Politico
, among other publications.