Loretta Lynch's Justice Department Just Launched a Full-Blown Offensive Against FIFA
The department unsealed a 47-count indictment Wednesday against 14 international soccer officials.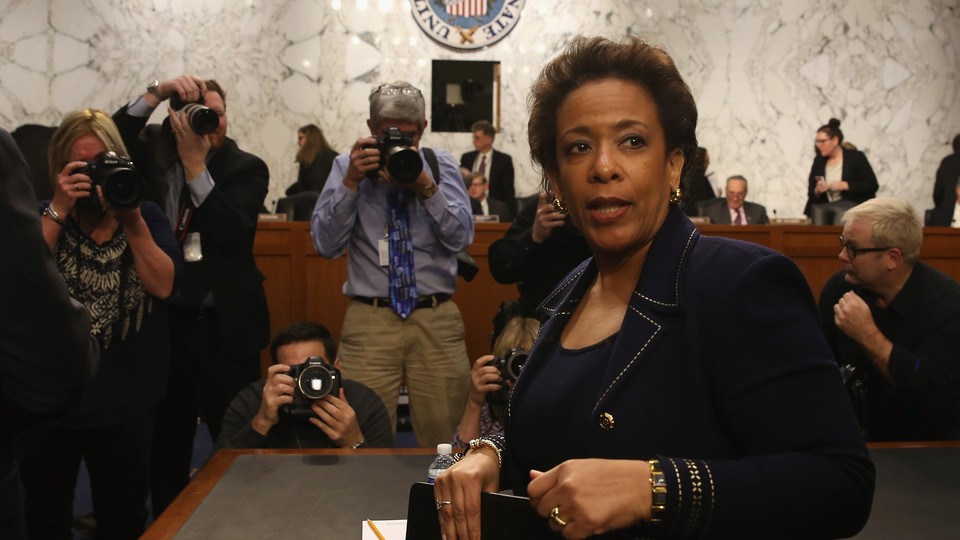 Loretta Lynch's Justice Department unsealed a 47-count indictment Wednesday morning laden with racketeering, corruption, and conspiracy charges against 14 defendants associated with FIFA, the world soccer association, and international soccer organizations.
It's the latest in a series of high-profile moves from the Justice Department since Lynch became attorney general last month, including its investigations into police misconduct in Baltimore. The indictment originated in the Eastern District of New York—where Lynch served as U.S. attorney until her confirmation—and was supported by an FBI investigation into FIFA's dealings.
The heavily detailed indictment details 12 individual schemes coordinated by various defendants over the last 25 or so years, including plots related to bidding for the 2010 World Cup, the 2011 FIFA presidential election, and next year's Centennial Copa America tournament.
In a press conference Wednesday morning, Lynch framed FIFA's actions as a betrayal of soccer's fans.
"Many of the individuals and organizations we will describe today were entrusted with keeping soccer open and accessible to all," she said. "They were expected to uphold the rules that keep soccer honest and to protect the integrity of the game. Instead they corrupted the business of worldwide soccer to serve their interests and to enrich themselves."
According to a Justice Department release, the defendants include high-ranking FIFA officials—including two of the organization's vice presidents—officials from soccer associations "that operate under the FIFA umbrella," and South American and U.S. marketing executives. The indictment comes as FIFA is slated to hold an election for president on Friday; it had been expected that the current leader, Sepp Blatter, would get a fifth term in office. Two corporations and four individual defendants named in the indictment have already pleaded guilty.
(RELATED: John McCain Wants FIFA to Take the World Cup Away From Russia)
In a statement, Lynch said the Justice Department plans to work with other nations to "end corrupt practices" within FIFA and "root out misconduct.
"The indictment alleges corruption that is rampant, systemic, and deep-rooted both abroad and here in the United States," Lynch said in a statement. "It spans at least two generations of soccer officials who, as alleged, have abused their positions of trust to acquire millions of dollars in bribes and kickbacks. And it has profoundly harmed a multitude of victims, from the youth leagues and developing countries that should benefit from the revenue generated by the commercial rights these organizations hold, to the fans at home and throughout the world whose support for the game makes those rights valuable."
Lynch at the press conference said the corruption within FIFA dates back to 1991. Since then, officials within international organized soccer "used their positions of trust within their respective organizations to solicit bribes from sports marketers in exchange for the commercial rights to their soccer tournaments."
"They did this over and over, year after year, tournament after tournament," Lynch said.
The indictment alleges that marketing executives paid out $150 million in kickbacks and bribes in order to secure rights to major soccer tournaments. According to The Guardian, the sale of these rights—which marketing companies "in turn" sell to radio and TV media companies—makes up much of FIFA's highly profitable business.
The Justice Department's actions against FIFA officials and associates have spanned continents in just the last few hours. In the early morning in Zurich, Swiss law enforcement arrested seven of the defendants "at the request of the United States," and they now face extradition to the U.S. And department officials reported that the Miami headquarters of CONCACAF, the organization governing soccer in the Americas, was served with a search warrant Wednesday morning.
Jeffrey Webb, a FIFA vice president and the president of CONCACAF, was one of the defendants named in the indictment who was arrested in Zurich Wednesday. His predecessor at CONCACAF, Jack Warner, was also named in the indictment.
Webb—a former Grand Cayman banking executive who, according to the indictment, owns property in Georgia—is Blatter's preferred heir to the FIFA empire. He previously was on the investigating end of a corruption probe: He launched an inquiry into Warner's conduct shortly after succeeding him in 2012. But the indictment describes how the change in leadership "did not usher in an era of reform" and Webb immediately engaged in "criminal schemes," among them allegedly accepting bribes from a sports marketing company for media rights to tournaments. Webb is also one of six defendants who the indictment alleges personally managed U.S. bank accounts over the course of the scheme.
Warner's name appears many times in the indictment, which alleges that he used his various positions within international soccer "for personal gain" for at least 25 years. In one of the more intricate allegations, Warner is accused of agreeing to bribes from South African soccer officials to support that country's bid for the 2010 World Cup, which was eventually successful. Warner—who'd "cultivated ties" with South African soccer representatives after a previous, failed bid—allegedly directed an unnamed associate to fly to Paris and, on his behalf, "accept a briefcase containing bundles of U.S. currency in $10,000 stacks in a hotel room" from a "high-ranking" South African soccer official.
Later, a coconspirator of Warner's discovered that high-level FIFA officials and the South African government and World Cup bid committee "were prepared to arrange" a $10 million payment from South Africa to the Caribbean Football Union "to support the African diaspora," the indictment alleges. The coconspirator believed the arrangement was in exchange for Warner and two other officials to vote for South Africa's bid for the World Cup, which the coconspirator alleges they did. After South Africa's government couldn't arrange for the funds to be transferred, FIFA—"using funds that would otherwise have gone from FIFA to South Africa to support the World Cup"—paid the $10 million itself to a bank account controlled by Warner. Warner later allegedly "diverted" a portion of the funds for "his personal use"—including paying his coconspirators.
Though the indictment notes that Webb and the other defendants didn't necessarily shirk their duties entirely—"they also helped pursue the principal purpose of the enterprise," a.k.a. actually managing international soccer—the defendants "corrupted" their organizations and helped each other cover up their activities.
Individual defendants will face "maximum terms of incarceration of 20 years" for charges related to racketeering and corruption, wire fraud, money laundering, and obstruction of justice, according to a Justice Department release. Several officials face additional charges that carry their own maximum incarceration terms. The corporate defendants, as part of their plea agreements, also face one year of probation and $500,000 in fines.
The indictment describes how the defendants since the 1990s "relied heavily on the United States financial system" in their alleged dealings. At Wednesday's press conference, Lynch outlined how they held meetings in the U.S., used U.S. banks and wires as they allegedly made bribe payments, and "planned to profit from their scheme in large part through promotional efforts directed at the growing U.S. market for soccer." Among a host of specific finance-related schemes, the indictment also alleges that officials established shell companies in tax havens and smuggled cash.
Switzerland's Office of the Attorney General also announced a criminal investigation into "suspicion of criminal mismanagement and of money laundering in connection with the allocation of the 2018 and 2022 Football World Cups." Though the probe is separate from the U.S. Justice Department's, the two countries are "coordinating their respective criminal proceedings," according to a Swiss government release.
Until Wednesday's events, the controversy surrounding FIFA ahead of Friday's election has largely centered on those two upcoming World Cups, for which Russia and Qatar, respectively, won bids. On Tuesday, Sens. John McCain and Robert Menendez sent a letter to FIFA calling on the organization to elect someone other than Blatter—who was not named in the indictment—as president. The two want a new leader who will yank the cup from Vladimir Putin's Russia because of its military conduct in Ukraine.
Following Lynch's release of the indictment, Russia's foreign ministry posted a statement to its website describing how the investigation is "clearly another case of illegal extraterrestrial use of U.S. law," according to an Agence France-Presse report.
"Once again we are calling on Washington to stop attempts to make justice far beyond its borders using its legal norms and to follow the generally accepted international legal procedures," the statement reads.
FBI Director James Comey said at the Justice Department press conference that investigators "will not stop" until the message is sent "that this is not the way things should be."
"If you touch our shores with your corrupt enterprise," Comey said, "you will be held accountable for that corruption. Nobody is above or beyond the law."