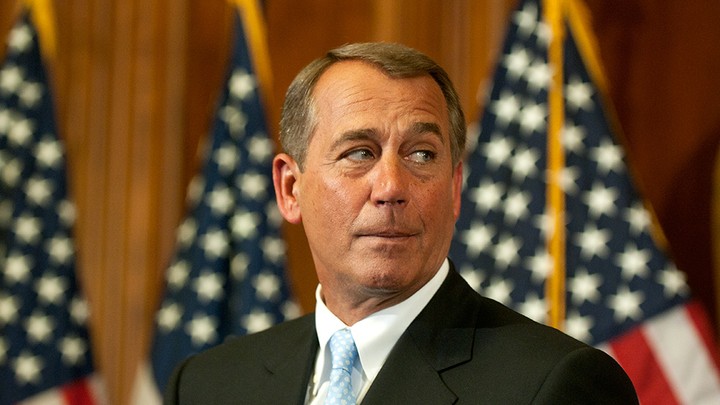 House Speaker John Boehner says you can't blame the Amtrak train crash on Republicans.
Boehner downright dismissed claims that underfunding for the rail system was responsible for the derailment in Philadelphia that killed at least seven people and injured 200 on Tuesday night.
"Are you really gonna ask such a stupid question?" Boehner said during his Thursday morning press conference when a reporter began to ask about Democratic concerns that Amtrak was underfunded because of Republicans. "They started this yesterday: 'It's all about funding. It's all about funding.' Well, obviously it is not about funding. The train was going twice the speed limit."
According to officials, Amtrak's Northeast Regional train 188 was barreling down the tracks at more than 100 miles per hour on a curved section of rail when all seven of its cars derailed. That part of the track has a speed limit of 50 miles per hour.
But during a House Appropriations Committee hearing on transportation-funding legislation Wednesday morning, just hours after the deadly crash, Democrats pointed to the accident as a reminder of Amtrak's funding problems. The cause of the derailment was not yet clear at the time of the hearing. The committee eventually voted 30-to-21 to approve the transportation bill, which would cut funds to Amtrak for fiscal year 2016 by about $260 million.
Boehner argued that, if anything, the House has done its job to ensure infrastructure and transportation safety.
"Adequate funds were there. No money has been cut for rail safety," Boehner said. "It's hard for me to imagine that people take the bait on some of the nonsense that gets spewed around here."
We want to hear what you think about this article. Submit a letter to the editor or write to letters@theatlantic.com.
Lauren Fox
is a congressional reporter at
U.S. News.
Her work has appeared in
Salon
,
MSNBC,
and
Columbia Journalism Review
.