Jeb Bush: The First Cuban-American President?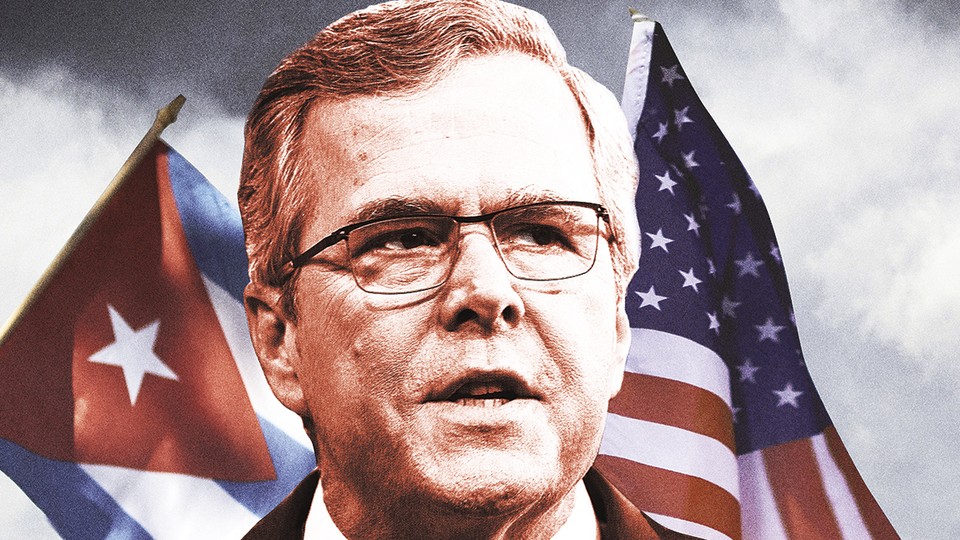 On a December afternoon last year—weeks before President Obama would announce that he was normalizing relations with Cuba—a group of about 800 Cuban-Americans gathered in a gilded ballroom at the Biltmore Hotel in Coral Gables, Florida. It was the annual luncheon of the U.S.-Cuba Democracy PAC, a political action committee dedicated to rewarding politicians who take a hard line against communist Cuba and punishing those who do not.
The event had no shortage of Cuban-American star power. Sen. Robert Menendez, chairman of the Senate Foreign Relations Committee, spoke via video; so did soon-to-be-presidential candidate Sen. Marco Rubio. Two Cuban-American politicians on the rise—Republican Rep. Carlos Curbelo and Florida's first Hispanic lieutenant governor, Carlos Lopez-Cantera—addressed the gathering in person. Both got standing ovations.
And yet, amid all these Cuban-American luminaries, it was a non-Cuban, Jeb Bush—serving as the luncheon's keynote speaker—who was greeted by the longest standing ovation of the afternoon. From the start of his speech, it was clear that Bush felt right at home with this crowd and knew exactly what they wanted to hear. His 20-minute-long address began in fluid Spanish, with shout-outs to prominent Cuban-Americans and their families—then transitioned to English for a withering denunciation of President Obama, business and political leaders who favor lifting sanctions against Cuba, and, of course, Fidel and Raul Castro themselves.
"The Castro brothers are on the wrong side of history. They are an unfortunate, sad, tragic relic of Cuba's past. But dying dictators eventually die," Bush told his audience, arching his eyebrows and gesturing with his hands. "And when they do, the chance for us to engage in a thoughtful, positive way to bring about democracy and freedom in Cuba will be led by leaders that are in this room."
(Illustration by Edel Rodriguez.)The sentiments on display that afternoon—the militant anti-Castro rhetoric, the exceedingly warm reception from a Cuban-American crowd—were nothing new for Jeb Bush; far from it. In 2016, there will be, for the first time, two politicians of Cuban descent—Marco Rubio and Ted Cruz—running for president, yet many Cuban-American power brokers say their loyalty ultimately lies with Jeb. Among those prominent Cuban-Americans who have already endorsed him are Florida Rep. Mario Díaz-Balart, former Florida Sen. Mel Martinez (who once called Bush the state's "first Cuban-American governor"), and Florida Rep. Ileana Ros-Lehtinen. "He is a charter member of the Cuban-American community," Ros-Lehtinen told me recently. "We call him one of our own."
Curbelo is so far neutral in the race, but like so many Cuban-Americans, he speaks about Jeb with enormous affection. "Especially for a lot of Cuban exiles, Governor Bush is like a son to them," he says. "I've heard a lot of people say that. They feel like they saw him grow up. They saw him go from being the son of someone who is very important in politics to a leader that never let anyone down, that has a strong record, humble, someone who is bicultural."
Hispanic politicians talk with awe about Bush's fluency in Spanish. Martinez told me about attending a trade mission to Mexico where he watched Bush conduct an entire press conference in Spanish, explaining the details of tariffs and international-trade agreements. "I was sitting there thinking, 'Would I have known that word?'"Š" recalls Martinez, who fled Castro's regime as a teenager. "We're talking some nuanced words. It went well beyond the everyday vocabulary you would use."
But Bush's facility with Hispanic culture isn't simply about his mastery of Spanish. Depending on the situation, Bush will use Cuban or Mexican slang and employ the Hispanic "sign language that speaks louder than whatever comes out of your mouth," says Jorge Arrizurieta, a Miami businessman and longtime Bush friend. For example, Arrizurieta explains, Bush has been known to tap his elbow with his palm when he thinks someone is being cheap, a common gesture among Cubans. "The governor is, in my opinion, one of the most aplatanado gringos you'll ever meet," he says, using a phrase that roughly translates to "he's gone native."
(RELATED: The Mystery of Columba Bush)
Indeed, spend enough time talking to people who know Jeb, and you can start to grasp how he might have once accidentally (and infamously) listed himself as Hispanic on a voter-registration form. "If he decides to run and is fortunate enough to win," Arrizurieta says, "I think he'd be our nation's first Hispanic president."
Understandably, much of the attention surrounding Jeb's connection to Hispanic culture has focused on his Mexican-American wife, Columba. But Bush's decades-long immersion in Miami's Cuban exile community—a community with a particular way of looking at politics and foreign policy—may be even more central to understanding his temperament, his worldview, and how he would conduct himself in the White House.
"It was very much like, 'This is our man in Washington, but our man and not some guy who came in from Texas,'"Š" recalls Xavier Suarez, Miami's first Cuban-born mayor. "I don't think any of us knew where he came from. It was almost like he was homegrown." Again and again, as I spoke to Cuban-Americans who knew Bush in the 1980s and 1990s, they found different ways to tell me the same thing: Jeb had become very much part of their family. "He sort of became fully conversant in the plight of the Cuban people," Martinez says of Bush's time in South Florida. "The whole exile experience is not something people told him. It's something he began to live."
"The Castro brothers are on the wrong side of history," Bush told the U.S.-Cuba Democracy PAC in December. (AP Photo/J Pat Carter)
WHEN JEB BUSH moved to Miami in 1981, the city had for some time been as tempestuous as it was beautiful. Miami had the world's second-largest Cuban population, and city politics centered more on Havana than Washington—with Fidel Castro regarded as the root of all problems. Exiles, some of whom had been trained by the CIA at the height of the Cold War, launched frequent vigilante boat runs against the island—and bombed the businesses and homes of those in the United States perceived to be sympathetic to Castro. (According to Ann Louise Bardach's Cuba Confidential, federal investigators estimated that between 1973 and 1976 alone, anti-Castro groups were responsible for more than 100 politically motivated attacks in South Florida.)
Bush was, by this point, no stranger to the Spanish-speaking world. He and Columba had met on the central plaza of León, Mexico, in 1970 during a 10th-grade work-study trip, and, as he wrote in his 2013 book, Immigration Wars, "I knew I wanted to marry her" after a few weeks. She did not speak English and would later say she had her doubts about dating an American boy from a prominent political family. But he persisted, and in 1974, the two were married in a small ceremony at the Catholic student center at the University of Texas, Austin—where he had majored in Latin American Studies.
It was through that relationship that Bush came to identify with Hispanic culture. Speaking to a convention of Hispanic evangelicals last month, Bush told the crowd he divides his life into "B.C. and A.C.: Before Columba and After Columba." (Bush did not comment for this story.) "He meets his bride, falls in love head over heels, and of course gets totally immersed in not only the language or the culture, but from a very personal, emotional perspective, becomes totally compatible with his wife, who had only known Mexico all her life," says Al Cardenas, a longtime Bush friend and adviser who first met Jeb during his father's 1980 campaign.
The couple settled in Houston, where Bush started working for Texas Commerce Bank. In 1977, the bank dispatched him to Venezuela to open a branch in the oil-rich country. He traveled throughout South America and relished the opportunity—"as a business experience," he wrote, "it was terrific for a guy my age"—but raising two small children in Caracas proved challenging. The family returned to the United States in 1979 to help George H."ŠW. Bush's campaign for president. Jeb was dispatched to Florida and Puerto Rico, where he and Columba served as Spanish-speaking surrogates.
Two months after his father was elected vice president, Bush and Columba settled in Miami, where Columba's mother and sister already lived. "I felt like it would be a better place to raise my children and for my wife to be happy," Bush told The Miami Herald in 2002. And it proved to be a place he fit in. "He had spent perhaps a good part of a decade assimilating culturally to Hispanic culture," Cardenas says. "So he was halfway there, and then when he met the Cuban-American community, that kind of completed the cycle of assimilation. And he adapted to it quite well."
According to friends and business associates, Bush spent a lot of time in Little Havana, the center of Cuban exile life in Miami. At first blush, Jeb cut an odd figure at restaurants and ventanitas, or walk-up coffee windows. But his fluency in Spanish and unassuming personality—the exact opposite of what Cubans expected from the son of a Washington power broker—gave him easy entrée to the Cuban diaspora, a conservative voting bloc basking in the glow of Ronald Reagan's anti-communist fervor. In the Cubans, Bush found a culture that prized conservative values. In Bush, the Cubans found a political champion. "It was kind of a mutual love attraction," Cardenas recalls.
Bush's mentor was Armando Codina, a powerful Cuban exile and prominent developer who had been the Florida chairman of George H."ŠW. Bush's unsuccessful White House campaign. Codina gave Bush a job as a leasing agent, and before long, the two formed a lucrative commercial real-estate partnership that would help reshape the Miami skyline and set Bush on a path to becoming a millionaire in his 30s. It also gave him access to Miami's Cuban community. Bush, recalls Suarez, who would serve as mayor from 1985 to 1993, "was perceived as being an equal partner with this very prominent Cuban-American who was then on a major upswing."
Jeb did not flaunt his family's political power. He didn't have to; his last name spoke volumes. Ordinary Cubans stuffed handwritten notes, some scrawled on napkins, into his hands, according to Ros-Lehtinen. The requests, she says, would come from the waitresses who served him his morning cafecito, the parking-lot attendants who watched his car. An undocumented relative was being deported; a grandmother hadn't received her Social Security checks—and Bush was a man with palanca, or the juice to move the levers of power.
(RELATED: Jeb Bush's Four Different Answers to the Same Iraq Question)
Because of a quirk of Cuban pronunciation, people called him "Jeff Bush," a name that still sticks today. ("There's something about the 'b' in Spanish," says Ros-Lehtinen. "I don't know what it is.") Some friends and allies say that Bush himself even developed a Cuban accent when he spoke Spanish, though others now call it "neutral." "He Cubanized himself," says Tony Cotarelo, former executive director of the Dade County Republican Party.
In Miami, Bush was exposed to a generation of Cubans still reeling from the loss of their homeland, and he appeared quick to grasp the importance of those stories. In 1982, for instance, he attended a ceremony dedicating a Little Havana community center to Manuel Artime, the civilian leader of the failed Bay of Pigs invasion, and read a letter in Spanish from his father to Artime's widow. "Miami is a city of victims," says Ninoska Pérez Castellón, a Cuban exile and influential commentator on the popular Radio Mambi station who has known Bush for decades. "You walk down the street and talk to someone who may have spent 10 years in prison as a political prisoner or their father may have been shot by a firing squad. "... Jeb knew what the community was about. He knew what Cubans had gone through."
Jeb Bush with his son Jebbie and his wife Columba start to watch the returns on TV as the polls close on Nov. 8, 1994. (Jon Kral/Miami Herald/TNS via Getty Images)THREE YEARS AFTER his arrival, Bush stepped into Miami politics, winning a seat on the executive committee of the Dade County GOP—and promptly declaring his bid for the chairmanship. Although he had helped on his father's campaigns, it was his first try at party politics, and he carefully laid the groundwork in a deeply divided organization. Some older, white members were displeased with what they perceived as a Cuban takeover of the GOP. Even among Hispanics, there was disagreement over how hard a line to take against communism.
One rival painted Bush's candidacy as part of a covert Castro operation to split the party; others felt the top slot should be in Hispanic hands. "Some people legitimately said that given that Cubans were the backbone of the party at the time, that the chair should be a Cuban," says Cotarelo, who helped Bush's campaign. But he added, "He respected them and they respected him, and he continued to pursue the position."
Drawing on the relationships he had forged in his father's campaign and in the Cuban business community, he held get-to-know-Jeb receptions and cultivated allies within the executive committee, the body that would ultimately vote on the chairmanship. According to the Herald, he also befriended the outgoing chairman, Roberto Godoy, probing him for details about the state of the party over early morning breakfasts.
Bush was so nervous about the election that he resumed his smoking habit (Marlboros), but he cast himself as a healer and ultimately notched an overwhelming majority of executive-committee votes—125-to-17. Within weeks of becoming chairman, Bush rallied with thousands on Cuban Independence Day in the parking lot of the Orange Bowl. Dressed in a white guayabera and speaking in Spanish, he told Cubans that they had an obligation to support Nicaraguan refugees fleeing repression. The value of freedom, he said, "is a lesson "... that is now being taught again by a new group of exiles."
(RELATED: Why Jeb Bush Can't Spend His Way to the Win)
In his new role, Bush recruited Cuban-American candidates for state legislative seats, even persuading some to switch parties and run as Republicans. For the first time, GOP challengers in South Florida were matching Democratic incumbents in fundraising and were flipping statehouse seats, due in no small part to Bush's financial prowess, Cotarelo told me. In 1989, Bush would manage Ros-Lehtinen's congressional campaign, helping elect the country's first Cuban-American member of Congress.
To reach voters in the exile community, he took to Miami's many Spanish-language talk-radio stations, where he spread the GOP's anti-communist message. The Cuban-American airwaves were an intimidating arena, full of denunciation and character assassination for those viewed as insufficiently anti-Castro. But by most accounts, Bush was a master, reveling in the thrust and parry. "My dad used to tell me, 'Come and listen to Jeb speak Spanish on the radio. It's better than yours,'"Š" recalls Art Estopinan, Ros-Lehtinen's chief of staff.
Within two and a half years of Bush coming into the chairman job, Republican registration in Dade County was up 58 percent. Ronald Reagan's aggressive anti-communism made the GOP seem a natural home for Cuban exiles, and Jeb seized the opportunity. "People think of him as this hoity-toity establishment guy going to country-club receptions, but he was mixing it right in there with our exile community," Ros-Lehtinen says. Bush became a fixture at Cuban celebrations, marched in anti-Castro demonstrations, and, working with the Latin Chamber of Commerce, handed out turkeys and toys to needy families during holidays—a tradition he still honors. He also joined with Cubans to support other anti-communist causes. In 1986, he spoke to a gathering of Dade County's Captive Nations Committee, a group of 100 refugees from Eastern European nations who had gathered to protest communism.
"We had no one to represent the Cuban-American community in Washington at a time when we were in the middle of the Cold War. He became the conduit of all our dreams and aspirations."
Bush continued to work in real estate during this time. He had been clear about his business ambitions from the outset. "I'd like to be very wealthy," he told a Miami News reporter in 1983, "and I'll be glad to let you know when I think I've reached my goal." Before long, Codina put Bush's name on the door and gave him a 40 percent stake in the company. "I have a very high regard for Jeb and consider him a very insightful and intelligent businessman," Codina told me in an e-mail. "He is a workaholic and his greatest strength is that he has a very strategic mind."
WITH HIS FATHER as vice president, Bush became the Cuban community's unofficial ambassador to Washington. "We had no senators. We had no members of Congress. We had no one to represent the Cuban-American community in Washington at a time when we were in the middle of the Cold War," Cardenas recalls. "He became the conduit of all our dreams and aspirations."
In 1985, for instance, Jeb wrote his father about the conditions of 52 Cubans being held in a detention center in El Paso, Texas, after arriving in the country with fraudulent documents. "The law is the law," he wrote, in a letter that is now in the archives at the George H."ŠW. Bush Presidential Library. "But shouldn't there be some compassion for children who are detained?" The vice president took it up with his staff. "This is heart breaking," he wrote in a note. "What can we do to help the children?" (C. Boyden Gray, counselor to the vice president, wrote Jeb to assure him that the conditions were "not jail-like," adding: "The problem, of course, is that treatment that is too comfortable only encourages more illegal entry into the country.")
One year later, when the Reagan administration initially refused to accept dozens of political prisoners from Cuba, Bush fired off a letter to the attorney general condemning the policy—which, Bush wrote, "has done more damage to the administration's support in the Cuban-American community than anything else in the last six years."
That same year, Bush wrote Thomas Collamore, his father's deputy assistant, recommending Colonel Juan Armando Montes for a military promotion. "If the promotion occurs, Armando will be the first General of Cuba origen [sic] in the U.S. Army," he wrote. "Can you let me know if your good offices can help?" (Collamore replied that the administration would let the process "run its natural course" since "Armed Services promotion boards react very negatively to any sort of political pressure, perceived or otherwise.")
Suarez, the Miami mayor, recalls a limo ride with Jeb and then""Vice President Bush in the mid-1980s. The group was en route to dedicate "Ronald Reagan Avenue" in Little Havana when the elder Bush quizzed his son on the country's immigration crisis. Jeb held court as if he were an immigration attorney, Suarez says. "I was a Cuban refugee. I had to be naturalized. "... I like to think I know a lot about the law, but I could barely follow Jeb's explanation on the Byzantine immigration laws. It was like 10 straight minutes of briefing his old man," Suarez recalls. Jeb spoke so passionately that "it was almost as if it were a personal matter. He always felt like he was one of us." In 1986, the Herald reported that Bush called immigration and State Department officials to help ease the path of a disabled Cuban girl into the United States so she could be reunited with her mother.
"I've seen enough politicians come to Miami. Some might be genuine; some pretend to know what the hell's going on. With Jeb, it's so genuine."
In retrospect, Bush's interventions with Washington did not always play well, however. In 1985, Miguel Recarey Jr., an eccentric Cuban exile who was once jailed for income-tax evasion, hired Bush to find office space for his fast-growing health maintenance organization—and later asked him to help obtain a federal waiver from Medicare rules that would allow his company to expand. Bush has acknowledged that he made at least one call to Washington to ensure Recarey would get a "fair hearing," something he said he often did for Floridians trying to cut through bureaucratic red tape. Officials in the Health and Human Services Department granted the waiver. But two years later, regulators shut down the HMO because it was insolvent, and authorities charged Recarey with bribery and embezzlement, among other crimes, in what was then the largest Medicare fraud in U.S. history. Recarey fled the country. (Years later, Bush wrote that he was unaware of Recarey's checkered past. "If I had any reason to believe that Recarey was anything other than the legitimate businessman he appeared to be, I would have had nothing to do with him," he explained. He also said age and experience had made him less gullible. "I have to have better radar," he told the St. Petersburg Times.)
Bush resigned as party chairman at the end of 1986 to become Florida's commerce secretary, but he left the post after less than two years to chair his father's presidential campaign in the state. Much of his effort was focused on Miami's Cuban exile community, which had grown sharply critical of what it saw as a softening of the Reagan administration's line toward Castro. Jeb took to Spanish-language radio to reassure Cubans that his father remained a bulwark against communism. He also rallied other immigrant communities. "We need your help," he told a crowd of 150 Nicaraguan exiles at a small-dollar fundraiser in the final months of the campaign, according to the Herald. "You are part of my family."
IT WAS A MARK OF Jeb's commitment to the Cuban community when, in 1989, he waded into the controversial case of Orlando Bosch, a pediatrician and right-wing Cuban activist who was believed by the Justice Department to have been responsible for dozens of bombings aimed at the Castro government, both here and abroad. Seen by American officials as an unreformed terrorist, Bosch was venerated in Miami's exile community as a hero. At the time, Bosch was in the Dade County jail awaiting deportation after being arrested for illegally entering the United States a year earlier. Officials linked him to 30 acts of sabotage and violence spanning at least a half-dozen countries, including the bombing of three ships and the attempted assassination of the Cuban ambassador to Argentina.
The case became a central issue in Ros-Lehtinen's campaign for an open congressional seat, with Bosch supporters marching through downtown, shutting down their own businesses, and staging hunger strikes. Ros-Lehtinen, along with much of Miami's political establishment, cast Bosch as a freedom fighter and lobbied the Bush administration for his release. Her potential opponents called for his deportation.
(RELATED: Iraq Stumble Opens Window Into Jeb Bush Presidency)
Bosch's son, William, staged a hunger strike in a Little Havana park known as Plaza de la Cubanidad. Flanked by palm trees and Cuban and American flags, he pitched a makeshift tent, fasted, and vowed to remain until George H."ŠW. Bush—by then the president—or his son agreed to talk. "I knew the president wasn't going to come," William Bosch told me recently. "I wanted one of them to help us out."
Jeb Bush heard the call. But William was diabetic, and by the time Jeb showed up, he was delirious and could barely speak. His sister Myriam told me that, after nearly 26 years, she could not recall specific details about the meeting, though she told reporters at the time that Bush mostly listened to the family's pleas but made no promises. "He was a part-of-the-community type of person," she told me. "I do remember he was very polite and very interested in seeing what he could do, if anything, to help the Cuban community."
Bush was not outspoken about the case. When the Herald asked him about his conversations with William Bosch, he refused to comment, only saying that his visit was on humanitarian grounds. But at least in the White House, the perception was that Jeb was a Bosch advocate. Presidential aides Sichan Siv and Shiree Sanchez wrote a memo to George H."ŠW. Bush saying that the Justice Department's decision to deny Bosch political asylum and deport him "has created a difficult political atmosphere in Miami," one that could imperil the GOP's chances of winning the open congressional seat. They noted that Bosch enjoyed broad-based support in the community. Among his key supporters, they wrote, is "your son Jeb." "All but Jeb," the aides explained, "have been publicly calling for a meeting at the White House in the hope that you will intervene."
"Quite a report!!" President Bush wrote to his chief of staff, John Sununu, in the margins of the memo. "I guess there's little more we can do, but these were my worst fears."
As the case wound its way through the courts, White House officials monitored the developments, marking up news clippings and sending them to each other. Eventually, in 1990, Bosch was released from prison. The New York Times reported that Jeb had lobbied his father's administration to free the activist. Later, when he was governor, Jeb would choose as his first Florida Supreme Court appointee Raoul Cantero III, one of Bosch's lawyers and the grandson of former Cuban dictator Fulgencio Batista. Cantero was the first Cuban-American on the state's high court.
At times during his father's presidency, Bush practically became an extension of the administration. On January 16, 1991, he called Otto Reich, a Havana-born lobbyist who had served as U.S. ambassador to Venezuela in the Reagan administration (and is now a member of Jeb's foreign policy advisory team). The United Nations Human Rights Commission was set to consider a resolution that would crack down on human-rights violations in Cuba, and the United States needed a diplomat to press the administration's case against the Communist regime. With the United States on the verge of war in Iraq and his father focused on the Middle East, Jeb was playing recruiter on behalf of the White House, Reich told me. It was a difficult mission that would require Reich to win support from Latin American countries that typically backed Cuba—and he wanted high-level backup. Reich says Bush assured him that he would tap the president if things stalled.
Before long, Reich's efforts hit a snag. He penned a handwritten note to the president on Hotel Bristol stationery asking him to call three key heads of state and faxed it to the White House. "Just to make sure, however, that people didn't think it was some kind of a prank from a lunatic, I called Jeb and said, 'Listen, I just sent a fax to the situation room, and you might want to ask your father to ask for it,'"Š" Reich recalls. Bush phoned the president, and, according to the Herald, worked with Ros-Lehtinen to lobby various embassies. Within days, opposing countries were changing their positions on the Cuba resolution, Reich says. The measure ultimately passed.
BUSH MADE CLEAR that he saw himself as an advocate for the Cuban community. "I don't think you can live in Miami and be interested in politics and have met as many people as I have and not feel a part of that effort," he told the Herald in 1991. By the early 1990s, he had become so identified with the exile community that Cuba's vice president blamed him for the poor relations between Havana and Washington, saying his influence had led President Bush to adopt "an attitude toward Cuba more irrational than any previous American president."
(RELATED: Jeb Bush Bets Voters Care More About Obama's Iraq Than His Brother's)
Yet he never seems to have become so enamored with the Cuban cause that he lost sight of his loyalty to his family. And so, even as Jeb pressed Cuban-Americans' case in Washington, he also pressed his father's case in Miami. That wasn't always an easy task. Unlike Reagan, whose soaring rhetoric made exiles swoon, the elder Bush never resonated in the world of Cuban politics. As the Iron Curtain fell in Europe, Cubans saw little change in Havana, and some exiles perceived the Bush administration as weak—even inching toward rapprochement. "The idea that some Cuban-Americans might have had at the time was that if you are the president or vice president, all you have to do is pick up the phone and things get done," says Frank Calzon, a longtime anti-Castro activist and former executive director of the Cuban American National Foundation.
It fell to Jeb to be his father's defender-in-chief. Calzon recalls a tense meeting between Jeb and a group of Cuban leaders who were making "over-the-top and completely inappropriate" demands of George H."ŠW. Bush because they felt he was not doing enough to topple Castro. (Calzon doesn't remember the exact context of the meeting, but he says it was when Bush was vice president.) Jeb kept his cool and asked them to reconsider their case. "He did not apologize. He did not say something was not true. Basically, he said: 'I understand your feelings. One has to get emotional about these things, but you're wrong. This administration, my dad, has not turned his back on the kinds of things you are talking about,'"Š" Calzon recalls. "I remember Jeb Bush speaking softly while other people were yelling."
Tensions hit a new high in 1992 when President Bush signaled his opposition to a bill from Representative Robert Torricelli of New Jersey that would strengthen trade restrictions on the island—a measure that his eventual Democratic opponent Bill Clinton supported. Jeb sought a solution. In a letter to the White House, he encouraged his father to consider an executive order that would ban the foreign subsidiaries of U.S. companies from trading with Cuba. "There must be a way to overcome the concerns of our allies and tighten the noose on Castro," he wrote. "If it can be done, then the Torricelli bill will disappear."
Jeb, who chaired his father's reelection campaign in Florida, was also doing damage control on another front. The Herald had published a story alleging that the State Department was cooperating with the Cuban government to curb vigilante attacks against the island. Frustrated by Castro's resilience, exiles were launching armed expeditions against Cuba. Some of these part-time commandos were even captured and sent to prison or executed by firing squad. The Herald report inflamed many in Miami's Cuban community, some of whom called the administration's cooperation a betrayal.
Appearing on Spanish-language radio, Jeb sought to dispel rumors that his father's administration had been infiltrated by Castro sympathizers. "I do not believe that the problem with the State Department in many cases is that they are traitors, but that they have their own agenda," he said. In the same letter in which he discussed the Torricelli bill, he also forwarded to his father a request from Cuban exile leaders who wanted a White House sit-down. They had collected more than 250,000 signatures for a petition asking the U.S. government to "recognize the right to belligerence of the Cuban people to fight for their freedom."
While Jeb would soon declare publicly that he opposed the vigilante runs, it was difficult, in an election year, to ignore the request of two powerful Cubans: Armando Pérez Roura, the director at Radio Mambi and a sort of kingmaker in exile politics, and Luis Andres Vargas Gomez, an anti-Castro activist who spent two decades in Cuban prisons for his involvement in the failed Bay of Pigs invasion. "I believe that a meeting would be beneficial," Jeb wrote to his father. "If someone could call me to discuss this, I would be appreciative."
President Bush told his son that he would take up the matter "right away." "State [Department] might have some problem with my meeting" with the exile leaders, Bush Sr. wrote to Brent Scowcroft, his national security adviser. "But I would like to do it unless there is a compelling reason not to." (According to Pérez Castellón, who served as a translator and intermediary for me with Pérez Roura, the meeting did in fact take place.)
A little more than a week before Election Day, President Bush came to Miami to sign the Torricelli bill—dubbed the Cuban Democracy Act—and declared, "I am certain in my heart that I will be the first American president to set foot in a free and independent Cuba." Hundreds of supporters chanted, "Viva Bush! Viva Bush!" Bush won Florida, but lost the general election—and Jeb quickly began making moves to launch his own political career.
REICH RECALLS having occasional lunches with Bush at a Cuban restaurant in downtown Miami in the late 1980s and early 1990s, and, after seeing how beloved he was, wrote a note to the elder Bush saying that his son should run for office. "I was struck by how popular he was, how many people came over to shake his hand. I said, 'He should run for mayor of Miami. He'd win hands down,'"Š" Reich told me. "Jeb was obviously thinking a little larger than mayor of Miami."
Jeb Bush is consoled by supporters after narrowly losing the 1994 gubernatorial election. Four years later, he won easily. (Chuck Fadely/Miami Herald/TNS via Getty Images)
In 1993, Jeb, then 40, declared his bid for Florida governor, challenging incumbent Lawton Chiles, a folksy icon in state politics. Unsurprisingly, his Miami headquarters was located on the edge of Little Havana, and his campaign was populated with many of the same Cuban-American activists and volunteers who had known him from his days as head of the Dade County GOP. Jeb and Columba "were as connected as any candidate could be to [the Cuban-American] community. They lived there. He worked there. That's where his campaign office was," says Cory Tilley, a former Bush aide who served as Bush's press secretary during the campaign. "Everybody has their home. He felt that was his base. "... He called upon those connections to run up vote totals in Miami."
After losing—by fewer than 64,000 votes in what was then the closest governor's race in Florida history—Bush returned to the business world and to Codina, who welcomed him back and restored his name to the business marquee. (The developer had removed it during the campaign.) He founded a think tank to study policy, converted to Catholicism—Columba's religion—and traveled the state to meet with minority groups he had largely ignored in the campaign.
But his loyalty to the Cuban community did not dissipate. In 1996, when Cuban jets shot down U.S. planes from an anti-Castro group seeking to help rafters in the Florida Straits, Bush attended a memorial service at the Orange Bowl. There, he sat in the stands with thousands of Cuban-Americans waving the flags of their home country and their adopted one. No entourage, no speech, no cameras. Cotarelo recalls that as people in the stands began to recognize Bush, they started applauding. "He showed up as a regular citizen," he told me. "I was very happy that he had attended by himself. It was not part of any politically motivated effort. He was a very natural person."
Years later, when Bush was governor, Pérez Castellón recalls that he was huddled with a group of exiles in the third-floor office of Felipe Valls—owner of the famous Cuban restaurant Versailles—when he fixed his attention on an elderly woman. It was Eva Barbas, the mother of one of the victims in the plane attack. Without saying a word, Bush got up, walked over to her, and embraced her, Pérez Castellón says. "For me, as well as many people there, it was not strange to see Jeb Bush act that way," she says. "He had been part of so many things that had happened in the Cuban community. "... I've seen enough politicians come to Miami. Some might be genuine; some pretend to know what the hell's going on. With Jeb, it's so genuine."
IN 1998, FACING a weaker opponent and striking a more moderate tone, Bush won the governorship easily. Cuban controversy, however, was not far behind. Barely a year into his first term, five-year-old Elián González was found floating on an inner tube in the Florida Straits after the boat carrying him capsized, killing his mother and several others. The boy's father—and the Cuban government—wanted him back on the island, but his Miami relatives argued that he should be allowed to stay in the United States after the treacherous journey. Quickly, the situation became a political firestorm.
Bush showed a delicate touch and sought a middle ground: He called for a custody hearing before a state judge, while recognizing that as governor he had little power to intervene in a federal immigration battle. Still, his affection for the Cuban-American community came through. A day after the U.S. government raided the house where Elián was staying—beginning the process of returning him to Cuba and sparking mass protests in Miami—a couple from Sarasota wrote Bush an email titled "Cuban anarchy" and implored him, "Please don't continue to pander to these people just for votes." The governor—an avid emailer, who corresponded with constituents throughout the five-month standoff—pushed back. "I am from Miami and I have worked and lived with Cuban Americans. They are, in their great majority, god fearing, patriotic Americans who I would imagine share your values," he replied. "Please don't fall prey to the national media stereotype of this group since it is not monolithic."
Bush sought a middle ground in dealing with the Elián González controversy.) (AP Photo/Mark Foley)During his brother's 2000 presidential race, Jeb kept a low profile for much of the campaign and focused on fundraising, but as the contest became close, he spent the final days of the election stumping in all corners of the state. On the eve of the election, he rallied seniors at a Spanish-language event in Miami, according to the Herald. "My political advisers tell me I have to speak in English," Jeb said. "I don't think so." He led the crowd in chants of his brother's middle initial: "Doble V"Š"Š! Doble V"Š"Š! Doble V"Š"Š! " Cuban-Americans voted overwhelmingly for Bush.
Jeb reprised his role as the Cuban exiles' ambassador to Washington during his brother's presidency. (This undoubtedly irked Fidel Castro, who called Jeb "the fat little brother in Florida" and suggested he go on a diet.) In 2001, Pérez Castellón recalls that Jeb helped arrange a small meeting with exile leaders and former political prisoners for the new president at the Colonnade Hotel in Coral Gables. "We all got to ask him questions," she says. "I think it was Jeb's way of familiarizing his brother on a first-person basis with Cuba's reality."
In 2003, the United States intercepted a Cuban boat that had been hijacked by 12 would-be refugees. After negotiating with Cuba to ensure none of them would be executed, the government handed them over to Cuban authorities, a move that stoked outrage among Miami's exiles and prompted a rare public critique from Jeb. "It's just not right," he told the Herald, adding that he had asked several senior administration officials to review what happened.
However, repeating the pattern from his father's presidency, Jeb was also quick to defend his brother's administration on Cuba. He said his brother was working to develop a "coherent policy" and that he would announce major changes before the 2004 election. "One incident is not what will be remembered about the record of my brother's administration," he said.
Behind the scenes, Jeb was helping to shape that policy, calling top officials to convey his concerns. "It was, 'These people are counting on us, counting on the Bush administration to represent their interests and keep its promises to them, to be creative in bringing about change on the island and not just kind of coast,'"Š" says Roger Noriega, who was George W. Bush's assistant secretary of state for Western Hemisphere affairs and is currently a foreign policy adviser to Jeb. "The governor was very interested in what more we could be doing to bring about change, that we be creative and proactive so people felt that their views were being heard and that we were keeping our promise." He adds: "It was very much reflecting his personal commitment to his community—and Miami, his hometown."
It wasn't just Cubans who Jeb was concerned about, to be sure. His interest in Latin America seemed to carry over to other groups as well. Noriega says that Jeb called him amid a Haitian refugee crisis, for example. "Quite frankly, he felt very concerned about people who were being returned to Haiti when it was unsecure," he told me. "This was not a technical debate about the law. It was about what's fair to folks and whether it's safe for people to be returned home."
NOW, BUSH'S OWN potential presidential bid comes at a momentous time for U.S.-Cuba relations. President Obama has restored diplomatic relations with the island and called on Congress to lift the country's 54-year-old trade embargo. In April, Obama and Raul Castro shook hands in the first full-fledged meeting between presidents of the two nations in more than a half-century.
These developments may or may not end up being a key issue in the presidential race. But Bush's relationship with the Cuban-American community may matter for other reasons. For one thing, there is the question of whether Bush can win over Hispanic voters in general, just as he once won over Cuban exiles. Noting the "personal, deep connection" between Bush and Cuban-Americans, Curbelo says, "I think the challenge for Jeb is: Can he replicate that with the broader American Hispanic community throughout the country? And I think the potential is certainly there."
Martinez told me that Bush's linguistic and cultural fluency with Hispanics would be transformative for the GOP: "That's a real power that Jeb will bring to the race in an increasingly important part of our community. His ability to go on Univision and Telemundo, to speak to the camera not just in an ad, not in accented Spanish that someone wrote for him, but to be able to have a conversation and go on the shows, it will be tremendously powerful."
Bush's experiences with Latin America are also significant insofar as they reveal something about his worldview as a whole. In February, in a speech to the Chicago Council on Global Affairs, Bush called his time in Venezuela "one of my most formative experiences." "I lived overseas in the Carter era," he explained, "where we saw firsthand what it was like to see the United States, this incredible country, lose respect of countries, because of a weak and vacillating foreign policy."
But his time in Miami was clearly formative as well. "His political views and values evolved as a result of his close proximity and close relationship with so many of us from the Cuban-American community," says Cardenas. "Listen, he spent most of his young life in foreign policy issues as a result of the community he lived in, the diaspora we all came from, and his taking seriously his role as a bridge between us and the administration. I believe that he had, as a very young man, matured his points of view on foreign policy before he had completed that cycle in domestic matters."
And what are those foreign policy views? "I think he had some ideas" on foreign policy before coming to South Florida, says Cotarelo, "but living in Miami just strengthened his convictions and kind of instilled in him support for the fight against totalitarian regimes." Díaz-Balart puts it this way: "I think the repressed, those that are struggling, have a very special place in his heart." "He's a big hawk on national defense, he understands peace through strength, he knows that we need a strong military," Ros-Lehtinen says. "Those are things the Cuban-American community, the Latin American communities, really understand."
"When you see people who have built their lives from nothing and fled their homeland with their families, you develop a sense of empathy for people who are vulnerable and that's important—but also a sense that the U.S. has to keep its promise to its people in terms of extending economic freedom and protecting political rights and the rule of law," Noriega says. "These are precious things, and he's grown into adulthood with people who have lost those things. That's reached beyond just the Cuban experience and the Western hemisphere. I'd say it's left a pretty indelible mark on how you see the world and the role we've played and the role we can play in the world."
What Cotarelo, Díaz-Balart, Ros-Lehtinen, and Noriega are all, in their own ways, describing is a view of international affairs that is grounded in moral absolutes: free nations versus dictatorships; allies versus traitors. This, perhaps more than anything else, is the defining feature of the Cuban exile worldview. It is also a set of instincts that, for better or for worse, were generally associated with the presidency of Jeb's brother—and that Jeb has often displayed when talking about Cuban issues, as well as the world at large.
Of course, while Jeb's history with the Cuban-American community has sometimes suggested that he would bring a heightened sense of moral clarity to foreign affairs, at other times his experiences with the Cuban exiles point to a pragmatic streak instead. Indeed, it is certainly possible to see Jeb's years-long championing of the anti-Castro cause mainly as the work of a savvy politician—one who knew how to ingratiate himself among the people whose votes he needed to launch his career. In this telling, Jeb's experiences among Cuban-Americans may reveal less about his actual foreign policy instincts and more about his dogged political skills.
But whatever his motivations (and they have surely at different points been complicated), it is undeniable that the Cuban exile community genuinely loves Jeb Bush, and that—whether for political purposes, or heartfelt ideological reasons, or some combination of both—this is exactly how he wants it. At the end of his U.S.-Cuba Democracy PAC speech in December—before leaving the stage to a parade of hugs and kisses—Jeb switched back to his flawless Spanish and told the crowd, "Yo estoy honrado de ser un soldado en tu ejercito." Translation: "I am honored to be a soldier in your army."
COVER SOURCE PHOTOS: (Flags) Getty Images/Joe Raedle; (Bush) Getty Images/AFP/Nicholas Kamm