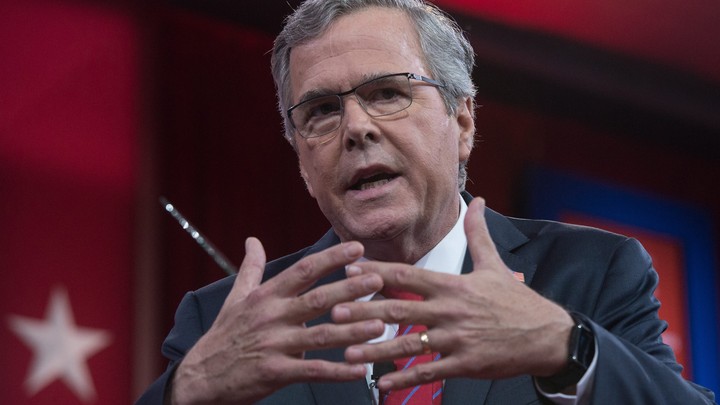 Jeb Bush's confident affirmative answer this week that he would have authorized the invasion of Iraq "knowing what we know now"? All a misinterpretation, he says.
On The Sean Hannity Show Tuesday, the former Florida governor said that he thought the question, asked by Fox News' Megyn Kelly during an interview that aired Monday night, was under the stipulation "given what you knew then."
"I don't know what that decision would have been. That's a hypothetical," he said. "The simple fact is mistakes were made."
The all-but-official presidential contender took a beating Tuesday from both the Left and Right over his initial answer to Kelly's question, when he responded that just like his brother, former President George W. Bush, he would have authorized the 2003 invasion.
"On the subject of Iraq, obviously very controversial, knowing what we know now, would you have authorized the invasion?" Kelly asked in the Monday interview.
"I would have," Bush responded without hesitation. "And so would Hillary Clinton, just to remind everybody. So would have everybody that was confronted by the intelligence they got."
Conservative radio-host Laura Ingraham said Tuesday that Bush's statement to Kelly was "just rubbish."
"You can't think going into Iraq now, as a sane human being, was the right thing to do," she said on her show.
The relatively softball interview with Hannity Tuesday offered a chance for Bush to clear the air. While he acknowledged that "clearly there were mistakes" made in the invasion, he blamed them on "faulty intelligence."
"In the last few years of my brother's presidency," he said, "the surge was quite effective."
We want to hear what you think about this article. Submit a letter to the editor or write to letters@theatlantic.com.
Rebecca Nelson
is a staff correspondent for
National Journal
. Her work has appeared in
TIME
,
Chicago
,
Ms.,
and
Washingtonian.