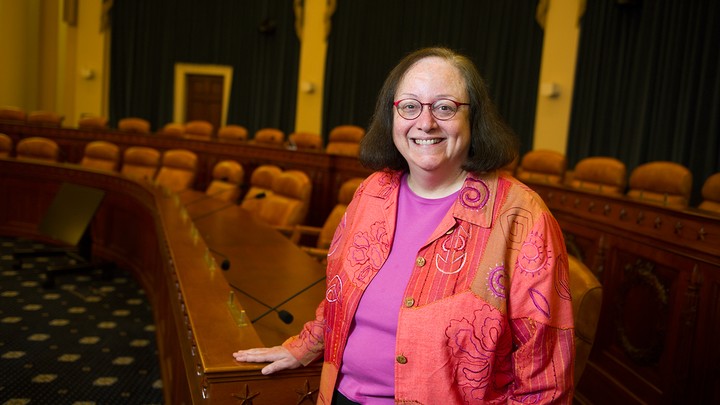 Janice Mays is one of Capitol Hill's most powerful behind-the-scenes policymakers—and a pioneer among women staffers in the House. But her demeanor is far from the hard-charging, career-climber stereotype so often perpetuated in Washington. After 40 years in the corridors of Congress, she still greets everyone as "sweetie" in her cheerful South Georgia drawl. She speaks idealistically of the House and the people it represents.
And in all her time on the Hill, she has acquired a secret weapon she swears by: candy.
"I tend to spend most of my day here putting out fires as they happen," Mays, 63, says. "I purposefully have candy jars in my office, so most of my staff will come through at some point in the day. So I will get to catch up, and there's always something going on in every area."
(RELATED: Why Some Male Members of Congress Won't Be Alone with Female Staffers) 
Mays is the staff director and chief counsel for Democrats on the House Ways and Means Committee, the panel with jurisdiction over taxes, trade, Social Security, and several other federal programs. She's been with the committee since 1975, when she took a job handling tax policy after she finished up law school at the University of Georgia.
Though she wasn't the policy expert then that she is now, she says opportunities abounded back then for ambitious young people.
"My timing was very good in the sense that it was after Watergate and doors were opening and jobs were plentiful," she says. (Democrats picked up 49 House seats in the cycle following the Watergate scandal, which in turn created even more jobs at the staff level). It didn't take her long to find a job that fit.
(RELATED: What's It Like to Be a Woman on Capitol Hill?) 
"I found very quickly I have a good gut," Mays says. "I have a good instinct for rational things. That helped me more than any particular expertise."
In the years since then, Mays has become the go-to adviser for Democrats on the committee—working for five chairmen and ranking members.
"She embodies the combinations that are ideal in every major staff person," says Rep. Sandy Levin of Michigan, the current ranking member. "That is intelligence, dedication, a sense of talking to people. She's absolutely superb. She has her eyes open, her ears open and a brilliant mind. "¦ She's a major presence. People will go to her for advice."
While she's had her hand in scores of landmark bills during her tenure (she counts the Tax Reform Act of 1986 as her biggest accomplishment; she also was involved in Social Security reforms in 1983 and 1984 that made the program more fiscally solvent), Mays becomes most animated when talking about the people she's had the chance to work with.
"It's the closest to working with family as you'll ever get," she says. "I still love it. I hate that the world is inured to Congress and only sees the bad. People are here trying to make people's lives better, and I think that's generally true on both sides of the aisle."
(RELATED: The 20 Most Powerful Women Staffers on Capitol Hill) 
Asked to name her favorite committee head over the years, she offers praise for all of them, including Reps. Dan Rostenkowski of Illinois and Charles Rangel of New York, both of whom came under ethics scandals during their tenures atop the panel. Just as those experiences have failed to cloud her view of Congress, Mays also offers few complaints about the indignities she dealt with as one of a few female staffers during her early years on the committee.
"The staff boss at the time did not pay me as well as the men," she says. "He did not believe I needed it, because I did not have a family to keep at home."
But she quickly followed that by noting the opportunities she had to jump into meaningful work. "The work was always there to be done. You had no less of it because you were a woman," she says. "I was an equal. It was more good than bad."
Mays was one of the early members of the Tax Coalition, a group of female tax professionals who had been excluded from the downtown Washington breakfast groups organized by their male colleagues. "Women decided to form their own group and began to network," she says. "We adapted."
While Washington has changed for the better in many respects, Mays has seen it become more partisan and less collegial. But if that has made her more of a realist (Capitol Hill veterans, she says, are all "naysayers" because dozens of failures have given them a good sense of what doesn't work), it has yet to turn her into a cynic. For that, she credits Levin.
"He's full of energy and full of ideas and is pretty amazing. He often has more energy than I have," she says of the man two decades her senior. "He refuses to be cynical and refuses to think you can't make a difference, even in the minority."
That attitude, Mays says, makes it easy to want to come into the office—as well as the energy of the young people on her staff.
"It is a wonderful place for a young person because you are thrown into the fray immediately," she says. "You are responsible for stuff immediately."
Mays recalled her own early time in Congress, when she expected to stay on the Hill for about two years, never knowing it would become her vocation. "People can come and make a difference, and if you want to come and work for your government, it is a high calling," she says.
We want to hear what you think about this article. Submit a letter to the editor or write to letters@theatlantic.com.
Alex Brown
is a Congressional correspondent at
National Journal.