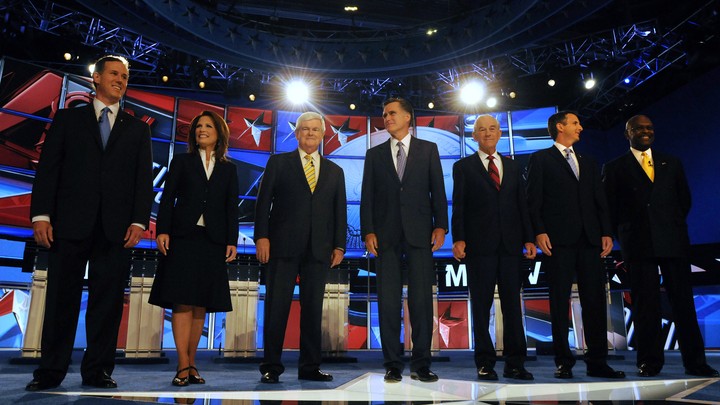 The pollsters at Quinnipiac said it best: "There are five leaders—or no leaders" in the race for the 2016 Republican nomination.
The university's latest presidential poll, released Thursday, shows that no candidate is commanding the 16-strong GOP field, with the "top" five contenders polling at 10 percent each. Five candidates fit squarely within its 3.8-point margin of error. And two—George Pataki, who announced his bid Thursday morning, and Rick Santorum, who entered the race Wednesday—don't even register.
This year, a poll like this could really matter: Candidates' numbers will determine who takes the stage at the first two GOP debates—putting a premium on high name recognition early in the race. But in a typical election cycle, a resounding "meh" from Republican voters at this point in the game wouldn't be a crushing blow.
We took a look at which candidates were the frontrunners among their own party's voters at around this point in past election cycles—18 months away from the actual election. We checked out data from each presidential contest going back to 2004 and included polls within a four-week period of May 28 each year.
May 2011: Mitt Romney
+ Mitt Romney delivers an address on health care reform in May 2011 in Michigan. (J.D. Pooley/Getty Images)
The 2012 election cycle was the debut of a new kind of Republican presidential primary, with an unusual number of candidates rotating through the spotlight. Though a portion of the contenders drew support from the toddler-aged tea party, in late May 2011 the leading contender was none other than mainstreamer Mitt Romney. He took in 17 percent of the vote from Republican and Republican-leaning voters in a May 26, 2011 Gallup poll.
But Romney's lead wasn't definitive. Sarah Palin came in two points behind the future nominee, and behind her three candidates—Ron Paul, Newt Gingrich, and Herman Cain—"essentially tie for third," according to Gallup's analysis. Santorum, who went on to win 11 primaries and caucuses in the 2012 cycle, merited just 2 percent of the vote—well within the four-point margin of error. So did libertarian Gary Johnson, who floated the idea of running again in an interview last month.
And 2012 was a fickle cycle: Before he dropped out of the race in early May 2011, Mike Huckabee was quasi-leading the GOP field in an April CNN poll.
May-June 2007: Rudy Giuliani and Hillary Clinton 
+ Hillary Clinton and Rudolph Giuliani talk on the parade route October 8, 2001 during the Columbus Day Parade in New York City. (Spencer Platt/Getty Images)
The 2008 primary cycle was murky 18 months out. In May and June 2007, former New York City mayor Rudy Giuliani led the Republican pack, according to two CNN/Opinion Research Corporation polls. But it was only by two percentage points, in a poll with a five-point margin of error. In May, Giuliani's support among registered Republicans stood at 25 percent, with Sen. John McCain in second place. By June, Giuliani's standing rose to 30 percent, while McCain dropped a percentage point behind former senator Fred Thompson, who came in at second with 19 percent.
On the Democratic side, things were a little easier to parse: In the May CNN/ORC poll of registered Democrats, Hillary Clinton beat Barack Obama by 14 points, with 38 percent of the vote. By the next month, they both took a statistically insignificant hit: Clinton came in with 35 percent of the vote, and Obama took in 23 percent. Both polls had a 4.5-point margin of error.
June 2003: Hillary Clinton (Yes, Again)
+ Hillary Clinton at a booksigning for her autobiography, 'Living History' at Waterstone's bookstore on July 3, 2003 in London, England. (Scott Barbour/Getty Images)
In a Quinnipiac Poll released June 11, 2003, the then-senator beat out nine of her fellow Democrats at 40 percent. Former senator Joe Lieberman—who was the vice presidential nominee in the 2000 cycle—came in second with 16 percent. And future presidential nominee John Kerry came in at a paltry 8 percent, two points behind third-place former congressman Dick Gephardt. Take Clinton—who two days before the poll's release said she had "no intention" of running—out of the equation, and the numbers don't radically change: Support for Lieberman gets a six-point bump, and Gephardt and Kerry snag an additional 7 percentage points each.
None of the those top candidates, though, beat out incumbent George W. Bush among Democratic, Republican, and independent voters. Clinton and Lieberman merited 40 percent in their respective fictional contests with Bush (who came in at 53 percent in both). And in a then-hypothetical Kerry-Bush race, the numbers widen a bit: Bush again took in 53 percent of support, while Kerry came in at 37 percent—about 11 points behind his real popular-vote result in the 2004 election.
Correction: An earlier version of this story misidentified Joe Lieberman as the vice presidential nominee in the 2004 cycle. He was the VP nominee in 2000.
We want to hear what you think about this article. Submit a letter to the editor or write to letters@theatlantic.com.
Nora Kelly
is a senior editor on
The Atlantic
's politics team.