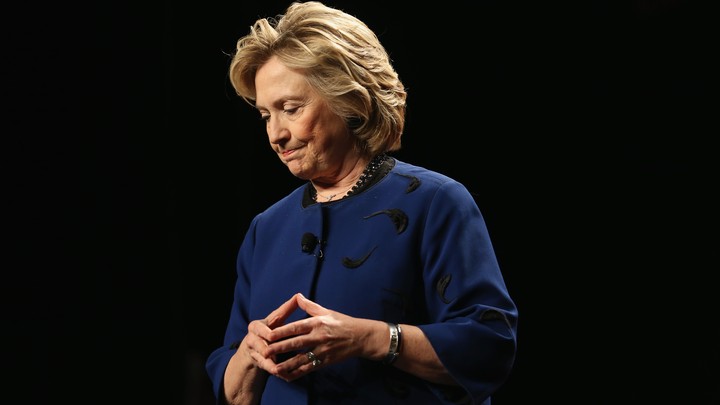 I don't believe her.
I don't believe Hillary Rodham Clinton when she says—as she did at a brief news conference on Tuesday—that she has no control over the release of her State Department email. "They're not mine. They belong to the State Department."  
I don't believe her because a person's actions are more revealing than words: She kept her government email on a secret server and, only under pressure from Congress, returned less than half of them to the State Department. She deleted the rest. She considered them hers.
I don't believe her when she says, "I want those emails out. Nobody has a bigger interest in those being released than I do."
(RELATED: Hillary Clinton Finally Takes Reporters' Questions in Iowa) 
I don't believe her because I've covered the Clintons since the 1980s and know how dedicated they are to what former Clinton spokesman Mike McCurry called "telling the truth slowly." The fact is that she would rather delay the document dump until early 2016—and then have the email released on a single day to overwhelm the media and allow her to declare herself exonerated. That was her strategic choice, Clinton advisers confirmed for me, until a federal judge ordered the State Department on Tuesday to release the email in stages.
I don't believe her answer to this question: Is there a conflict of interest in accepting huge speaking fees from special interests seeking government action? "No," she replied.
I don't believe her because I saw how hard Clinton and her husband, then-Arkansas Gov. Bill Clinton, worked to pass the state's first sweeping ethics initiative. I don't believe her because I've heard Clinton and her husband rail against GOP politicians who were guilty of less-obvious conflicts of interest. I don't believe her because there have been far too many credible news reports about the blurring of lines between family finances, the family foundation, and her political and government interests.
(RELATED: A Tough Question for 2016 Candidates) 
I believe the public has a right to know whether any of the deleted email involved correspondence about the Bill, Hillary & Chelsea Foundation or its donors. I believe she's getting bad advice: The hide-and-attack tactics of the 1990s won't work as well—if at all—in a post-Internet era that honors transparency, authenticity, and accountability.  
I believe she wants us to take her at her word, but we can't—not even those people like me who've known the Clintons long enough to respect their service and appreciate their many virtues. It hurts to witness the self-inflicted wounds and hemorrhaging of her credibility. But this is no time for sentimentality.
Blind faith doesn't get you elected president.
I do believe she's right about one thing. "I made a mistake," Clinton said about her Senate vote to authorize war against Iraq. "Plain and simple."
We want to hear what you think about this article. Submit a letter to the editor or write to letters@theatlantic.com.