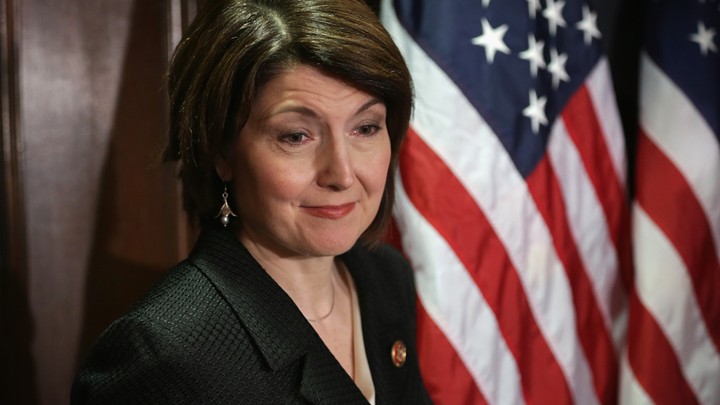 House Republican leaders did something almost unheard of Tuesday night: They whipped an abortion bill.
In a move that is usually taboo on so-called votes of conscience, the House Republican whip team circled the House floor during votes Tuesday evening, testing support for a controversial bill that aims to ban late-term abortions—though they were careful not to call it a whip operation.
The effort shows just how carefully GOP leaders are treading. They are not taking any chances after the bill was embarrassingly pulled from floor consideration in January on the anniversary of the Roe v. Wade Supreme Court decision over concerns from GOP women and moderates that it was insensitive to women who become pregnant as a result of rape.
(RELATED: A Look at Late-Term Abortion Restrictions, State by State) 
The Pain-Capable Unborn Child Protection Act will see a House vote Wednesday, after the Rules Committee late Tuesday night tacked on an amendment brokered by GOP members and outside antiabortion groups. Sources close to leadership were confident that the amendment, which strikes a controversial rape-reporting requirement and replaces it with a 48-hour waiting period, would smooth over concerns and glide the bill to passage.
The bill was pulled the first time because Republican women expressed strong concerns, and this time they were instrumental in brokering the new language. Acting as a go-between for members was Conference Chairwoman Cathy McMorris Rodgers, who promised antiabortion advocates at a rally outside the Capitol the same day the bill was pulled that it would be reconsidered. She held the initial meetings with outside groups soon after the bill was pulled in an effort to reestablish trust with many who were frustrated that leadership had made their decision.
"She was deeply dedicated to the pro-life cause, but the people who were on both sides of the internal conflict have a great deal of confidence and trust in her," said Rep. Trent Franks, the original sponsor of the bill. "She was an irreplaceable factor."
(RELATED: HHS Says All Methods of Birth Control Must Be Covered) 
Rep. Diane Black—a nurse—was instrumental in negotiating a final deal that helped find the middle ground between a rape-reporting requirement and no reporting requirement at all. Under the new version of the bill, women who are seeking late-term abortions from a pregnancy conceived through rape have to access medical help or counseling 48 hours prior to receiving the procedure, and the onus is on the physician to ensure that it happens. Franks described Black's proposal as a "turning point" in the negotiations, which had been dragging on since the bill fell apart on the floor earlier this year. Franks said Black personally approached him in the cloakroom just a few weeks ago.
"I would have voted for the bill with no exceptions. I'm a no-exceptions person. But there were legitimate concerns," Black said in an interview Tuesday. "We recognize that if a woman has a violent act such as rape, we need to be compassionate."
In some ways, being able to resurrect a bill restored trust in leadership among conservatives such as Franks. He credited leadership for not backing down from their commitment to get the bill passed out of the House, even as it stands very little chance of ever passing in the Senate—not to mention ever being signed by the president.
(RELATED: The Conservative Answer to Feminism) 
"He made a promise and he kept it, and that around here is gold," Franks said of Majority Leader Kevin McCarthy.
Other women who once spoke out against the original 20-week abortion ban because of the rape requirement said they were much more comfortable with the bill now.
"What had been an abortion bill had become a rape bill," said Republican Rep. Cynthia Lummis. "I believe this bill addresses that. My early concerns are alleviated."
While leaders were forced to pull the abortion bill from the floor before the anniversary of Roe v. Wade, the new legislation will be voted on during another significant anniversary: two years to the day that former abortion physician Kermit Gosnell was convicted for conducting illegal late-term abortions, including killing at least three live-born babies.
In a nod to outside groups who wanted to see more protections for unborn babies, the newest version of the bill also requires that a second physician be in the room at the time of the procedure if there is any indication that the fetus could survive. It also includes provisions dealing with infants born alive during an abortion procedure, an informed consent form for women seeking late-term abortions, and a right of civil action against abortion providers who do not follow the law.
We want to hear what you think about this article. Submit a letter to the editor or write to letters@theatlantic.com.
Daniel Newhauser is a staff correspondent for National Journal, where he primarily covers the House of Representatives. He was formerly a House leadership reporter for Roll Call, where he started as an intern in 2010 and quickly earned a slot as a beat reporter.
A native of San Antonio, Texas, Newhauser traveled further West to study journalism at Arizona State University's Walter Cronkite School of Journalism and Mass Communication and write for newspapers including the East Valley Tribune and the Green Valley News & Sun.
Lauren Fox
is a congressional reporter at
U.S. News.
Her work has appeared in
Salon
,
MSNBC,
and
Columbia Journalism Review
.