How Fox News Is (Still) Hurting the Republicans
"There is something about watching Fox News that leads people to do worse on these [factual] questions than those who don't watch any news at all." A political scientist on what Roger Ailes has wrought, including the problems he is creating for his own GOP.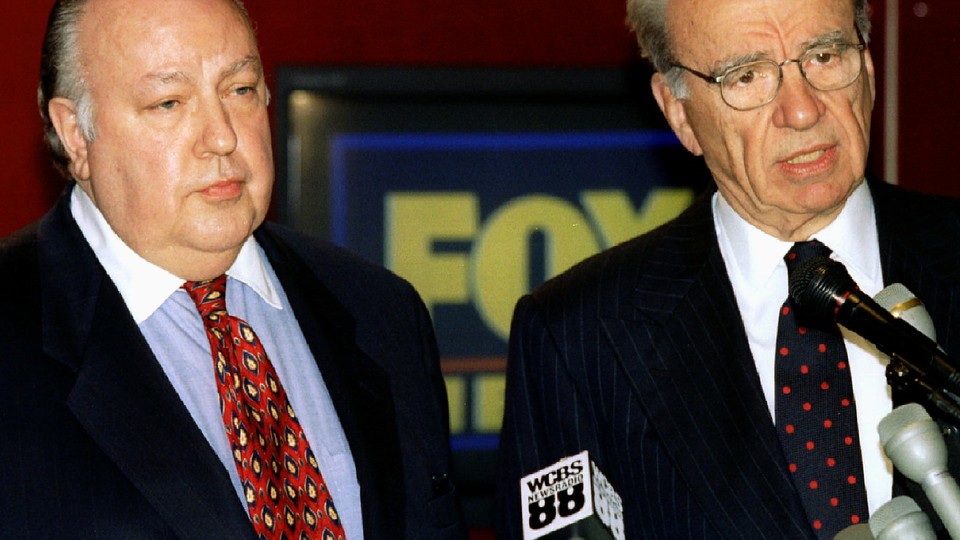 Let me recommend for your weekend reading, or for your weekday reading if you're seeing it then, a detailed study by Bruce Bartlett called "How Fox News Changed American Media and Political Dynamics." You can download the 18-page PDF from this site of the Social Science Research Network.
The idea that Fox News operates with different aims and by different norms from those of, say, the BBC is familiar. But this presentation is notable for two reasons.
The first is its source—for those who don't know, Barlett is a veteran of the Reagan and Bush-41 administrations and was an influential early proponent of supply-side / tax-cut economics. He also worked for Ron Paul. Since then he's harshly criticized the Bush-43 administration, but in no sense does he come at this as a Democratic party operative.
The second and more important reason is Bartlett's accumulation of detail showing (a) that Fox's core viewers are factually worse-informed than people who follow other sources, and even those who don't follow news at all, and (b) that the mode of perpetual outrage that is Fox's goal and effect has become a serious problem for the Republican party, in that it pushes its candidates to sound always-outraged themselves.
I recommend the whole thing, but here are a few samples. First, on misinformation, a quote from an academic study:
People who watch Fox News, the most popular of the 24-hour cable news networks, are 18-points less likely to know that Egyptians overthrew their government than those who watch no news at all (after controlling for other news sources, partisanship, education and other demographic factors). Fox News watchers are also 6-points less likely to know that Syrians have not yet overthrown their government than those who watch no news.

"Because of the controls for partisanship, we know these results are not just driven by Republicans or other groups being more likely to watch Fox News," said Dan Cassino, a professor of political science at Fairleigh Dickinson and an analyst for the PublicMind Poll. "Rather, the results show us that there is something about watching Fox News that leads people to do worse on these questions than those who don't watch any news at all."
Also:
Another problem is that Republican voters get so much of their news from Fox, which cheerleads whatever their candidates are doing or saying, that they suffer from wishful thinking and fail to see that they may not be doing as well as they imagine, or that their ideas are not connecting outside the narrow party base. As a recent academic study found:

'Exposure to programs featured on Fox News, such as those hosted by Bill O'Reilly and Sean Hannity, resulted in a greater wishful thinking effect by Romney supporters. In other words, while Romney supporters were substantially more likely to predict their candidate would win the 2012 presidential election, watching Fox News programming exacerbated this effect.'

It may be that some Republican Fox viewers became complacent and didn't work as hard as they might if they had been more aware of how badly Romney was doing in the final days of the campaign.
On mood, Bartlett includes this quote after the 2012 election from Lincoln Mitchell, a political scientist at Columbia:
'Fox has now become a problem for the Republican Party because it keeps a far right base mobilized and angry, making it hard for the party to move to the center or increase its appeal, as it must do to remain electorally competitive....One of the reasons Mitt Romney was so unable to pivot back to the center was due to the drumbeat at Fox, which contributed to forcing him to the right during the primary season.'
None of this is "news" to people who have followed the evolution of the media. But it is put together in a lucid and cumulatively effective manner that gives the arguments new heft. Thanks to Josh Marshall for pointing it out.
This paper also refreshes the question many people discussed after the Karl Rove / Megyn Kelly dustup on election night 2012 (when Kelly was operating in atypical "let's stop fooling ourselves" mode). When will Republicans who care about winning national elections, or actually governing, stop thinking of Fox as a help and start viewing it as a hindrance, and what will happen when they do?