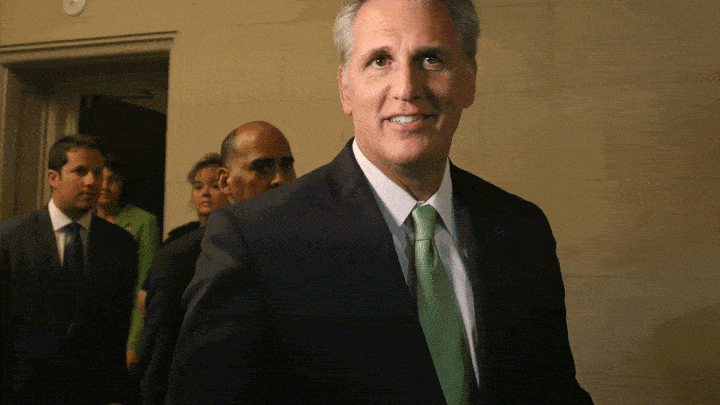 Majority Leader Kevin McCarthy started the week off beaming, and he may have cause to do so.
No, he wasn't still riding the high of his weekend trip to the Gerald R. Ford Presidential Library and Museum and burial site in Grand Rapids, Mich. The Californian had his mind instead on the work he had just done in Washington.
"For all the times I get all the different questions: 'What can we do? What can we not?' Let's just emphasize what we did last week," he said, proudly ticking off the bills the House passed the prior week: a controversial abortion bill, NSA spying reform and the defense authorization.
"Do you want to rave about last week?" he jabbed at a roomful of reporters.
Indeed, leadership is feeling confident heading into the first summer of the 114th Congress. For now, at least, Republican leaders believe they have put one of the rockiest Congressional starts in recent memory behind them, one during which Speaker John Boehner faced a revolt, several seemingly shoo-in bills were put on hold for lack of consensus and a mass of negative headlines dogged them.
"It was a rocky start, no doubt about it. I think the leadership would admit that," said Rep. Jim Jordan, pointing to education, border and abortion legislation that was pulled from the floor earlier this year. "Certainly there's been some improvement."
Chief Deputy Whip Patrick McHenry credits the turnaround to the week the House passed both a Republican budget—reconciling demands of both fiscal and defense defense hawks—and a deal that fixed a formula by which doctors who treat Medicare patients are paid.
"That was a big turning-point week, and it's really a testament to the leadership team gelling and actually getting their sea legs and working together," he said. "The Speaker made a play call and that play call broke a long-range logjam and it showed that we can legislate, that we can do big things, and some of the time they'll be bipartisan."
Of course, leaders will face several more tests soon, especially with the unsolved quandary of how to finance highways awaiting in July, the expiration of the Export-Import Bank looming in June and tough bills on trade and intelligence-gathering inching through the Senate. But heading into a weeklong recess, they are confident they have found a formula for success getting bills out of the House.
Rep. Lynn Westmoreland, a member of the GOP whip team who often aligns with conservatives, said part of the solution has been leadership doing more outreach and bringing a diversity of voices into the fold. He pointed to the bill that bans late-term abortions as an example. Earlier in the year, a compromise between women and moderates seemed impossible on the bill's much maligned rape-reporting requirement, but leadership and an orbit of members worked out a solution that passed the House handily (although the Senate may never take it up, and it likely wouldn't be signed by the president anyway).
Westmoreland, who sits on the Intelligence Committee, also cited the USA Freedom Act. The bill represents years of work and a compromise between civil libertarian-minded members such as Reps. Jim Sensenbrenner and John Conyers, and more hawkish members that include committee Chairman Devin Nunes.
"We've been able to put together some bills that can get 218 votes. That's been the important thing is seeing leadership work with different groups in trying to do that," Westmoreland said. "That's what we've been lacking. It's been, 'Here's the bill.' And now they've been trying to work between the different groups."
Inevitably, not everyone sees it that way. Conservatives in the House Freedom Caucus have raised a bevy of procedural complaints, though many do concede that the past few weeks have been better than the first six. On legislation imposing Congressional review over a nuclear drawdown deal with Iran and on the USA Freedom Act, critics on the right argue they have been shut out of the process.
"Conservatives are sidelined, but so are all members of the Republican conference," said Rep. Justin Amash, who wanted but was denied a chance to amend the NSA bill. He said legislation should be crafted as a compromise among all members, but "there's an effort to short-circuit that compromise, to start off with what they think is the final product instead of letting the will of the House work."
A top GOP leadership aide, however, shot back at that, noting that those two bills in particular represented a sensitive triangular balance between what could pass the House and the Senate while being signed by the president.
"You can't have a free-for-all every time," the aide said.
The Iran bill in particular was passed with far more Democratic input, and a high-ranking Democratic leadership aide noted that their side has been generally pleased with the level of outreach and input afforded them.
We want to hear what you think about this article. Submit a letter to the editor or write to letters@theatlantic.com.
Daniel Newhauser is a staff correspondent for National Journal, where he primarily covers the House of Representatives. He was formerly a House leadership reporter for Roll Call, where he started as an intern in 2010 and quickly earned a slot as a beat reporter.
A native of San Antonio, Texas, Newhauser traveled further West to study journalism at Arizona State University's Walter Cronkite School of Journalism and Mass Communication and write for newspapers including the East Valley Tribune and the Green Valley News & Sun.