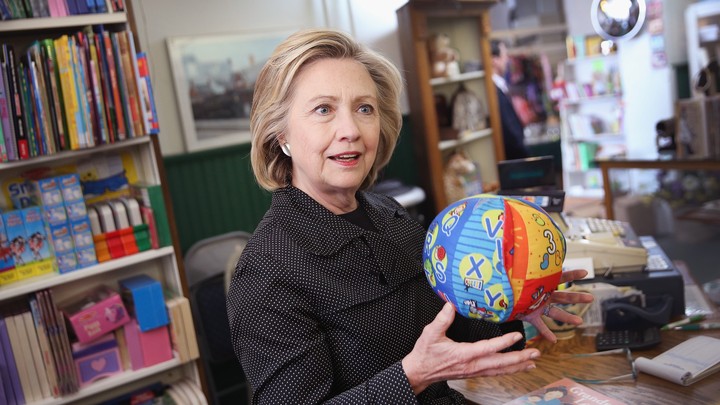 Hillary Clinton is suggesting that she supports making changes to the troubled national ethanol mandate, even as the Democratic White House frontrunner reassures Iowa voters that she backs turning crops into fuel.
Clinton has an op-ed in The Gazette of Cedar Rapids that broaches the future of biofuels, a big industry in the state that hosts the first nominating contest early next year, but steers clear of details.
She writes that the United States should continue supporting and "improving" the federal Renewable Fuel Standard, arguing that it can continue being a "powerful tool" to boost development of advanced biofuels and expand the role of renewables in the nation's fuel mix.
The op-ed arrives as the Environmental Protection Agency, which implements the RFS, is on the cusp of major decisions about the program. The RFS was created in a 2005 statute and expanded in a 2007 law that requires 36 billion gallons of ethanol and other biofuels to be included in the nation's motor fuel mix annually by 2022.
"[W]e also can't ignore significant changes to the energy landscape since the RFS was expanded in 2007," she writes. "We have to get the RFS back on track in a way that provides investors with the certainty they need, protects consumers, improves access to E15, E85, and biodiesel blends, and effectively drives the development of cellulosic and other advanced biofuels."
Clinton's GOP opponents also have been positioning themselves on ethanol ahead of the Iowa caucuses.
Rand Paul, for instance, is trying to stake out pro-ethanol terrain without supporting the RFS. He's instead pushing legislation that would back certain environmental requirements that he says are hindering adoption of higher ethanol levels in gasoline.
EPA is expected to release Friday or Monday the volume of renewable fuel that must be blended into the nation's fuel supply for 2014, 2015, and 2016. The agency is required to release the volume mandates annually, but did not finalize its 2014 volumes before the end of the year and is well past a deadline for 2015.
The release of all three proposals—required by Monday under a court settlement with oil producers and refiners—would kick-start renewed debate over the administration's treatment of ethanol, biodiesel and other renewable fuels.
Environmentalists, in rare harmony with the oil industry, have largely soured on traditional corn-based ethanol, albeit for different reasons. Green groups cite analyses showing that it does little to curb carbon emissions, while the oil industry calls the national ethanol blending mandate onerous.
There are several hurdles before the RFS. Next-wave biofuels such as cellulosic ethanol are reaching the market in much lower volumes than lawmakers envisioned eight years ago.
Meanwhile, infrastructure constraints and other hurdles are slowing the distribution of gasoline with ethanol levels higher than 10 percent, creating problems for the oil industry that must absorb growing amounts of renewable fuels.
Clinton's op-ed notes the role of biofuels in easing reliance on imports, while focusing heavily on more advanced types of biofuels beyond corn ethanol that offer the prospect of steep carbon reductions compared to petroleum.
"Renewable fuels can also play an important role in reducing carbon emissions and other sources of pollution, not just from cars and trucks on our interstates, but also from ships and airplanes. Rural innovators are finding new ways to produce low-carbon biofuels, using feedstocks ranging from algae to agricultural waste, with a range of applications," she writes.
Other parts of Clinton's op-ed offer support for rural green energy programs offered through the Agriculture Department, and more broadly cites the contributions of rural areas to the growth of wind power, which is also big in Iowa.
"The U.S. Department of Agriculture has a successful history of partnering with farmers, rural small businesses, and rural co-ops in deploying renewable energy and energy efficiency solutions. These programs should be expanded," Clinton writes.
She also takes a shot at her GOP rivals, noting there are candidates for president who support "wasteful" oil and gas subsidies, "block investments in new clean technologies", and deny climate science.
---
Jason Plautz contributed to this article
We want to hear what you think about this article. Submit a letter to the editor or write to letters@theatlantic.com.
Ben Geman
is an energy and environment correspondent at
National Journal