Hillary Clinton's Hill Whisperer
Amanda Renteria has run a Senate office and been a congressional candidate herself. Now she's leveraging those connections for Team Clinton.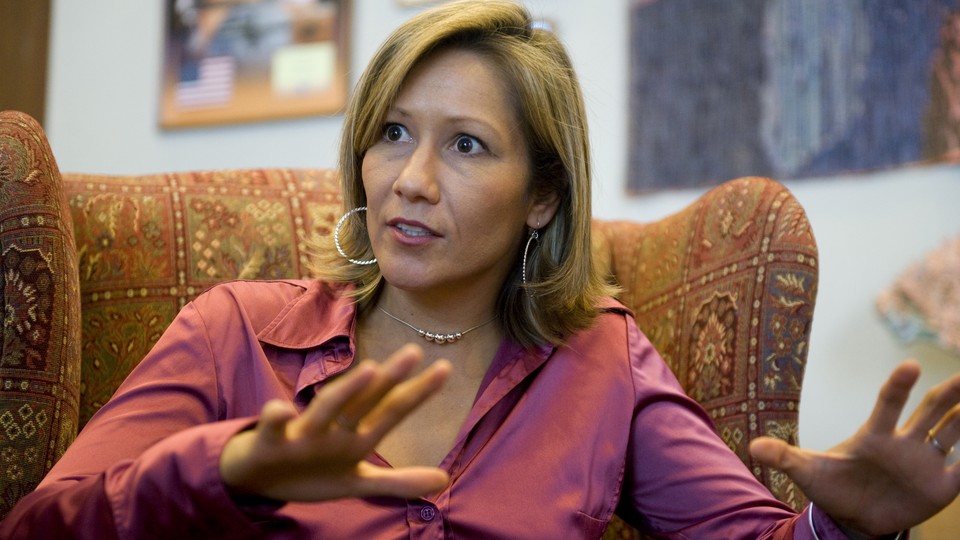 Eager to line up support from top members of the national Democratic Party, Hillary Clinton sent three of her senior aides to Capitol Hill last month. For the Clinton campaign, it was an opportunity to brief members of Congress on her plans, avoid any surprises, and shore up support among the party's electeds.
For Clinton's political director Amanda Renteria, it was a homecoming.
After running a failed congressional campaign in California last year, the 40-year-old former staffer for Sens. Dianne Feinstein and Debbie Stabenow returned to Capitol Hill in April as a top liaison between Team Hillary and some of the members she knows well from nearly a decade on the Hill.
Given her knowledge of working in (and running for) Congress and her sterling reputation among Democratic senators, Renteria could be a secret weapon for Clinton in keeping the campaign and the minority party in Congress on the same page.
"Oh, I was so proud of her," Stabenow said beamingly, reflecting on Renteria's performance in a closed-session luncheon with the Democratic senators. "I feel like it's one of the family, for me. "¦ I think she's very well-respected in the caucus. People were very excited to see that she is in this position. I think people have a lot of confidence in her."
In the three weeks since, Stabenow said several members have approached her to praise Renteria and her team of regional political directors for their quick responses to their queries about the campaign's views on policy, surrogacy needs, fundraising, and more. "She understands both the importance and the benefits of having members totally engaged and also the importance of being able to respond quickly with information," Stabenow said.
"I've worked on a lot of campaigns for a really long time and I'm shocked by how good this campaign is at keeping people in the loop. Usually this is the one thing that campaigns do badly. And in the past weeks, I've just been astounded," said Bill Sweeney, Stabenow's current chief of staff who served as Renteria's deputy. "I think that a lot of it really does stem from Amanda's leadership "¦ understanding that folks out here are trying our best to be helpful."
It's been a long and unusual road for Renteria, the daughter of a Mexican-immigrant father and Mexican-American mother, who was raised in California's Central Valley. After graduating from Stanford University, where she played both softball and basketball for the school, Renteria briefly worked at Goldman Sachs. Then she took a job teaching high school, left to get her MBA at Harvard, and then took a job as a budget analyst and consultant to the City of San Jose, before finally landing on Capitol Hill in 2005.
At age 30, Renteria took a job as a legislative aide to Feinstein, her home-state senator. Just two years later, she became the first Latina chief of staff in Senate history, working for Stabenow.
That quick rise was fueled not only Renteria's ambition and work ethic but her warmth and ability to quickly earn the trust of those she's working with, current and former Democratic staffers said.
Nowhere was that more evident than in the fight to pass a farm bill through both chambers of Congress last year. Renteria was instrumental in bridging the gap between not only the two parties, but the regional factions of members that grew up around the bill. That kind of coalition-building could be instrumental to the Clinton campaign, as the presumptive nominee faces criticism from the party's liberal wing.
And her relentless optimism helped to keep a team of warring staffers together. "That farm bill almost died about 20 different times I think," one former Senate Democratic staffer said. "But she ... was never sort of, dour. Even at sort of the darkest times she remained positive and determined. That's part of the reason why she's such an effective leader—because then everybody else said, if Amanda still thinks it's possible [then maybe it is]."
Renteria declined to be interviewed for this story, but Sweeney said he sees clearly how she'll translate her skills honed in the Senate to a presidential campaign. "Really, the job of the chief of staff is really just to keep everything running. She was really good at that, good at keeping the trains running on time, keeping everybody in the loop. And that's the key thing she's going to be doing at the Hillary campaign," he said.
After wrapping up the farm bill and seeing Stabenow reelected in a tough 2012 contest, Renteria left the Hill on a high note, preparing to return two years with a very different title: Congresswoman.
It didn't work out that way. Although California's 21st District was redrawn in 2012 to be much more favorable to Democrats and now is 72 percent Hispanic, Renteria lost to incumbent Republican David Valadao by almost 16 points.
The loss was difficult for the Democratic Congressional Campaign Committee, which helped to recruit Renteria for the seat. She was one of their most promising candidates for a seat that the party finally had a shot at after years of Republican control, executive director Kelly Ward said in an interview. But it was one of many in the 2014 cycle to swing toward Republicans, and the DCCC had to switch its focus to protecting its own incumbents rather than trying to make inroads in new territory.
In preparing for the 2016 election cycle, Renteria was the first candidate that the DCCC reached out to, Ward said. Ward had been impressed during the previous cycle by Renteria, a mother of two who she described as "warm, but tough." She was rumored to be considering a second run for Congress, but had told local reporters she was leaning towards running for an open California State Assembly seat.
"Her number one focus was going home and doing right by her community," Ward said.
As a candidate in 2014, Renteria did everything "110 percent," Ward said, and although it's often difficult for "doers" like Renteria, she handled the transition from staffer to candidate, who had to pass a lot of the work she typically did to a staff of her own, better than almost any other candidate Ward had seen.
The 2014 loss "was no fault of hers," Ward said.
And the California Democratic Party is hoping that the energy she brought to Democrats in the Central Valley will pay dividends in 2016, even without Renteria as a candidate. "She brought new people into the party because she "¦ just drew them in because she is so dynamic," Shawnda Westly, the party's executive director said in an interview. Renteria built an incredibly loyal volunteer base in the district that impressed Westly and other members, a skill she could use in building a team for Clinton as well.
The personal experience of campaigning for Congress clearly informs Renteria's work as political director for the Clinton campaign. But it also gives her another connection to members on Capitol Hill. The DCCC, too, has kept in touch with Renteria—not as a candidate, but as a liaison to help keep the campaign committee in the loop with Team Hillary.
"I'd love to have her as a candidate in a presidential election cycle," Ward said, but she understands why Renteria is moving on to the Hillary campaign rather than running another of her own. "I think she is going to do a great job."
Sweeney echoed that sentiment. "Frankly the best thing is if she was in Congress right now, the second best thing is her working to get Hillary elected," he said.